Artist Colin Raff lives almost every day like it's Halloween.
As one of Tumblr's most prominent and accomplished GIF tag editors, Raff has spent the last two years transforming his innermost thoughts and nightmares into animations fit for a Tim Burton film.
And despite the fact Raff's monochromatic GIFs often feature violent images, like a man shoving a round object into his head while a female ibex watches, he believes there's nothing freaky about his art at all.
"It's not so scary/haunting to me! I just aim for 'good,'" Raff said. "The artists I grew up liking (Goya, Bruegel, Ernst, etc.) mostly straddled that line as well, I suppose."
Straddling the line between the surreal and beautiful has paid off for Raff, a 30-something American living in Berlin, Germany. His GIFs regularly collect more than 500 notes each and have helped him recently land freelance work with Cartoon Hangover, a cartoon production label under Fred Seibert's Frederator Studios.
Raff is unsure what he will be doing this Halloween but all signs point to creating creepy GIFs while possibly wearing a custom mask he posted on Tumblr.
"I think Halloween as it currently functions might work as a kind of standardized masked carnival for everyone, now that such things aren't otherwise practiced everywhere, even though it seems they were much more prevalent in the past (every European town has its own old tradition of masked revelry, it seems)," he said. "Humans still want to wear masks, have that kind of fun. Especially kids."
In celebration of All Hallows' Eve, Raff curated a list of his top five favorite GIFs of all time.
1) 5,139 notes
"This has to be one of the first GIFs I made. At the time, I didn't know about any non-pop-culture 'art' GIFs, except maybe some op art things, but having taught myself to make digital photo collage faces to a certain degree of proficiency, I was eager to discover how to make them move. I also wished to use animation to bring positivity to hip hop, as close scrutiny of this GIF will doubtless reveal."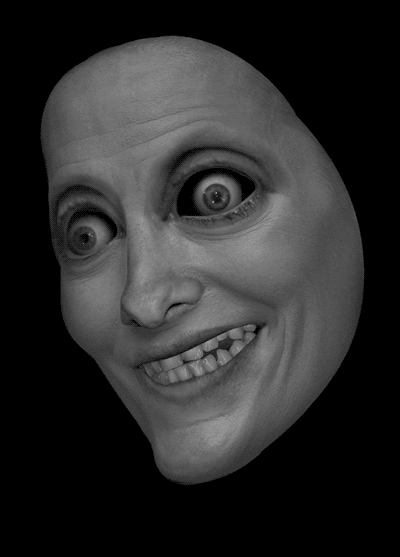 2) 3,607 notes
"This is possibly my favorite of my GIFs. Perhaps it's most apparent here that the technique of animation employed is stop-motion, whose great virtue isn't smoothness of motion (at all), but a loving attention to the creation of each frame. At 40 frames, it's among the longest of my GIFs, and the great agony involved in trying to make a long-ass GIF work on Tumblr (this one freezes at the '400.gif' Tumblr resizing) explains why I keep them short nowadays. I'm glad to be back at doing extended animations in the short films I'm making now."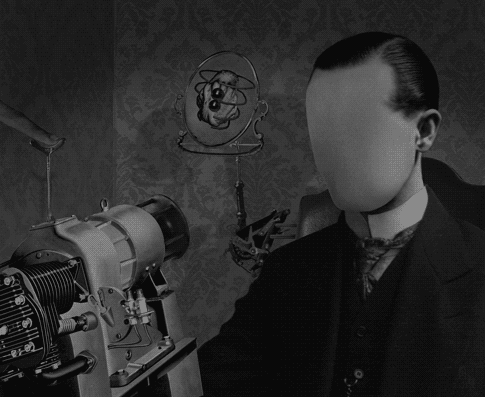 3) 1,090 notes
"Posted just before Halloween one year ago, this GIF exemplifies the sort of concept that people don't want to hear you babble about in casual conversation, even if, later, they like the finished product: 'It's as though one head is turning around, but they're all different heads turned at different angles, and so there'll be nine heads that… Oh, never mind.'"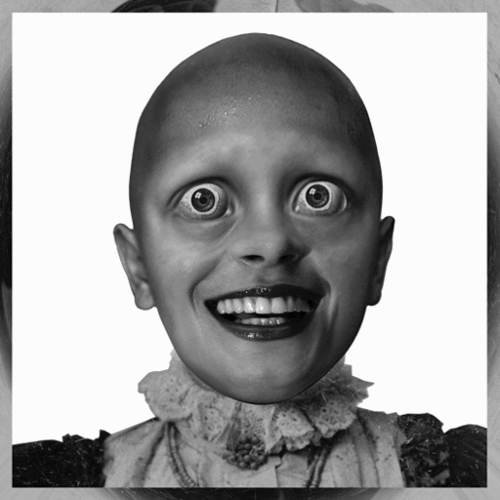 4) 1,320 notes
"A recurring character of mine is Electrotagoras, a baroque mummy, or how I envision a mummy would be if the nobility of, say, 17th c. Saxony were ritually embalmed. Having photographed plenty of skulls at the natural history museum, it still took ages to 'build' his head at different angles. His name comes from the Latin electrum, for amber, since I imagined a translucent resin exuded by a certain fictional insect (when threatened) as a part of the mummification recipe. Here he demonstrates the principles of martial arts."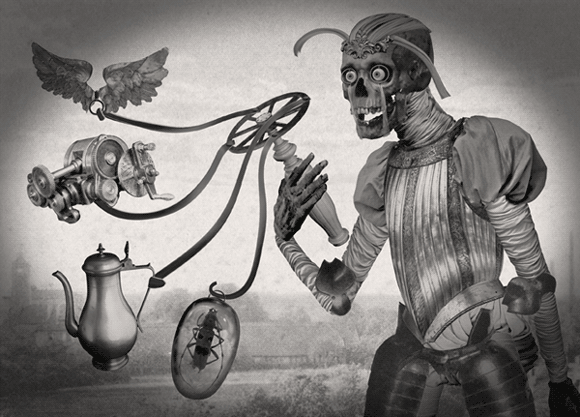 5) 517 notes
"This recent GIF includes another recurring figure: a puppenoptrid, an insect born headless that requires the head of a doll to complete itself and reach maturity. I'm told this must be viewed at the greatest possible size for maximum effect, so perhaps it's best if the viewer's nose hairs are grazing the screen."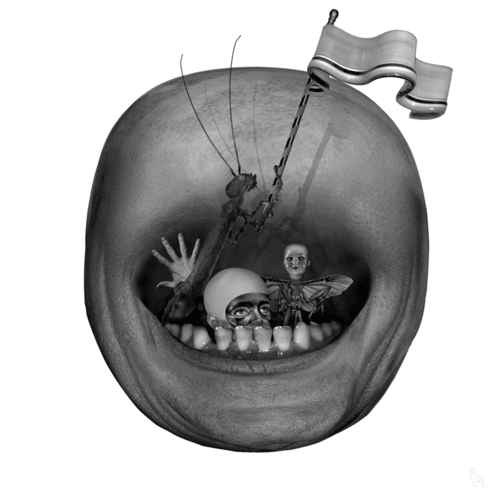 All GIFs, and today's Daily Dot doodle, created by Colin Raff