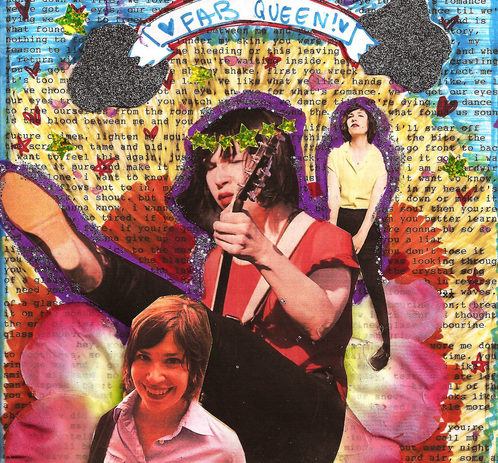 This story was produced by Tumblr Storyboard, Tumblr's in-house editorial arm.
She was a '90s riot grrrl, hung out with Kurt Cobain, and had a music blog on NPR. She worked briefly at an ad agency (Portland-based, of course) before she decided to write comedy; in Portlandia, the IFC sketch comedy series she co-created—now wrapping up its third season — she plays a feminist bookstore owner, new age helicopter mom, kinky greaser, newspaper blog editor, and, of course, herself (alongside creative partner Fred Armisen). Now she's got a new band, Wild Flag. And a shitload of blogs devoted to her every move.
In real life, though, Carrie Brownstein isn't quite so different from the fans who adore her. She once cried because she loved Madonna. She had a crush on Danny from New Kids on the Block. She wrote fan letters and plastered rock posters on her teenage bedroom wall. Portlandia, she says, is like its own version of a fan ballad—an ode to the endearing absurdities of her Pacific Northwest home. Here, Brownstein talks fandom, emoticons, and what was so great about the '90s.
You studied sociolinguistics in college. Is that like the use of emoticons?
Actually, kind of. Sociolinguistics examines the relationship between language and society. So what I did in college was mostly discourse analysis: looking at the ways people communicate via computers, social media, and phones, and the way that language changes. So yeah, emoticons, that would be part of it.
But you're not, like, xo-ing your online following.
I definitely am guilty of a few too many xos or xs. I think I'm mostly guilty of exclamation points. You know when you're in elementary school and you're learning punctuation, the exclamation point is rarely used. Like you think, "Oh, exclamation point, that's just for something really dramatic, or really hyperbolic." But now, with email or text, like if I don't put an exclamation point, people think I'm mad at them. Like I'm mad or just suicidal.
You're the subject of a whole lot of fan blogs on Tumblr. Who was your Harry Styles?
When I was really young, I was obsessed with Madonna. I remember crying to my mom that Madonna and I would never be friends, and feeling really heartbroken that we would never get to hang out. Which I think is a really common feeling when you love someone's music, or someone's style, and you just think, "Why can't we be friends? This person probably really understands me." I really loved Duran Duran in the '80s. I just thought that band was so cool. And I actually really loved the New Kids on the Block.
Did you hear they're reuniting?
I know! And I remember I could never decide who was the cutest. Like sometimes it was Jon, sometimes it was Jordan, you'd just switch your alliances a lot. The funniest thing about loving a boyband is there's that urge to pick the one you think you have the most possibility to be with. You know, you're like, "Well, I'm gonna love Danny, because he's like not as cute as the other ones so maybe I have a chance."
Poor Danny.
I know, poor Danny! And then I loved Jon who I think maybe turned out to be gay. That's probably why I loved him.
So what'd your mom say about you and Madonna?
She told me it was very unlikely that we would be friends, which turned out to be true.
Really? You've never met?
No, you know, I'm not Gwyneth Paltrow, so we never ended up being friends. And you know, now I don't think I want to. I mean, I haven't been as interested in Madonna for a long time, but I think it's often disappointing to meet people you admire. I guess we still have a chance, but now I rescind my offer. I'm taking back the fan letters!
Did Carrie Brownstein really write fan letters?
Yup, all of that. I would cut out pictures from magazines of actors and of bands. I loved old movie stars like Cary Grant and Gary Cooper. In high school, I got really into punk. I didn't write letters to Joey Ramone or Joe Strummer, but I would write letters to actors. The best I would ever get back was some kind of form letter or an autographed picture. I did all of it. Although you know what I didn't do: Some of my friends would bake bands cupcakes. I never did that.
Why, too desperate?
I always thought, "Well first of all, I'm a terrible cook, so it's not going to taste good." But I also just assumed they would throw it out, because, you know, you think it could be poisonous.
Has anyone ever sent you cupcakes?
Yes, and I have the same feeling. I always think, "I should trust this person," but the part of me that's a realist — or even slightly paranoid — thinks, like, well what if this person's trying to get me really high or kill me? But if I have friends around I just say, "Will you just eat this for me?" And sometimes they will.
Fan letters, cupcakes … Is it all part of coming of age?
It's part of relating to your environment, and figuring out who you are and how you want to express yourself. Sometimes I think with movies or with music or with television, a show or a song will help describe who you are or what you mean at a time when you're unable to express that for yourself. It's such a relief to listen to a song or watch a movie or television show and think, "That's it! That's how I feel." It's so validating. And the great thing about Tumblr, or fandom on the internet, is that you get to be a fan with other people … Tumblr sites tend to be these little love letters, whether it's to a fan or a person or a book or an animal. It's just this way that people can express themselves, and it's very personal and I think that that's very sweet.
Portlandia's now finishing up its third season. Were Portlanders hesitant fans of the show?
Portland isn't a city that's used to seeing itself on screen like L.A. or New York. So because Portlandia was one of the only shows that took place in Portland, I think there was a lot of pressure on it to be factual and realistic. I think once people got over that initial discomfort of seeing themselves reflected back, they were able to laugh.
By Jessica Bennett // Collage by Anna Feldmann