Halloween is the time of year when even the most serious of adults are allowed to unleash their zaniest, wackiest, and scariest sides. Our favorite celebrities are no exception to this rule, except they probably have more resources when it comes to decking out for their local Hollywood costume party.
So which celebrities had our favorite costumes of the night? It was a tough crowd, but in the end it was no contest.
1) Beyoncé and Blue Ivy as Janet and Michael Jackson
If there was any question at this point whether the Carters are the new reigning family of pop, Bey put it to rest last night by letting her two-year-old channel the spirit of MJ while she donned a version of Janet's iconic Rhythm Nation uniform. The Internet is still buzzing about the flashy duo, whose coordinated homages have the added effect of making Jay Z's flannel non-costume seem even more Dad-like.
Beyoncé and Blue as Janet and Michael https://t.co/yEGoAeFzca pic.twitter.com/u1ouq9Huak

— Rap-Up (@RapUp) October 31, 2014
Beyoncé and Blue Ivy dressed as Janet & Michael Jackson. #Halloween pic.twitter.com/OumL7S7vSu

— BEYONCÉ LEGION (@Bey_Legion) October 31, 2014
 2) Neil Patrick Harris and family as citizens of Gotham 
Continuing their yearly tradition of decking out in coordinated family garb, Neil Patrick Harris and husband David Burtka created their most elaborate group costume yet. Getting into their geeky side for Halloween, Harris, Burtka, and their twins Gideon and Harper entered Gotham for All Hallow's Eve and pulled off a splashy Batman ensemble: The twins made an adorable Batman and Batgirl, but Harris and Burtka stole the show as the Riddler and the Joker. Excellent cosplay combined with excellent family fun makes Halloween great for everyone.
Happy Halloween from Gotham City!! pic.twitter.com/3gzmG44iEf

— Neil Patrick Harris (@ActuallyNPH) October 31, 2014
 3) Katy Perry as a giant Cheeto 
While everyone else may be drawn to the orange-red cocoon, we can't tear our eyes away from Perry's Mona Lisa smile. Is it saying, "It's okay that I'm dressed as a giant flaming turd because I'm Katy Perry"? Or is it more, "God, I can't wait until I can rotate my head more than five degrees again"? Once again, she confounds our expectations.
Katy Perry the realest pic.twitter.com/rYlevhfIdw

— Tweet Like A Girl (@TweetLikeAGirI) October 31, 2014
 4) Daniel Radcliffe as Boba Fett 
Less because of the wow factor of the costume and more because it embodies what we love about Danrad: a sort of gawky awkwardness combined with the always-delightful contrast of Radcliffe's intelligence and self-effacing eloquence as he tells Ellen about the lack of Halloween celebrations in his life as a kid. It's okay, Dan—you spent your childhood cosplaying the hero everyone wants to be for Halloween.
5) Taylor Swift as a Pega…corn
We're choosing to read a savvy level of self-parody into the fact that Tay's costume this year is a hybrid of a unicorn (associated with virginal purity) and a pegasus (associated with wisdom and glory). Hey, if there's a better way to visually depict the Swiftian evolution that is 1989 we haven't found it.
Vote for the PEGACORN!!! https://t.co/gkF80WLHi5 pic.twitter.com/YQkf1LvqLk

— Taylor Swift World (@tswizzleworld13) November 1, 2014
  6) Ed Sheeran as Austin Powers  
The British crooner went full-on groovy mode for a Halloween night concert, Instagramming his costume from backstage and then going on to perform in costume.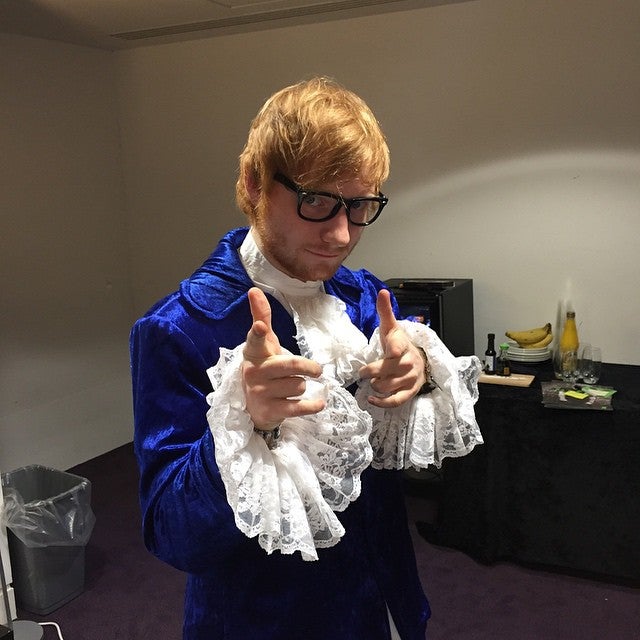 Photo via Instagram
What a way to spend Halloween. Thanks @edsheeran pic.twitter.com/m6N75Edjvf

— Kel (@Pops33) October 31, 2014
 7) Playboy Bunny Pamela Horton as Sexy George R. R. Martin 
Showing off its cheekiest sense of humor, Playboy's fantasy costume lineup this year was an androgynous geek-fest, featuring women getting all dolled up as "Sexy John Oliver," "Sexy Neil DeGrasse Tyson," "Sexy George Takei," and more. But by far the best of the bunch was "Sexy George R.R. Martin," featuring model Pamela Horton as the king of (not that kind of) fantasy.
The best part of all? GRRM's reaction to discovering the costume. "I can't say that I've ever had a thing for bearded women, but I have to confess, Sexy George R.R. Martin is… er… sexy," he wrote on his LiveJournal. "But there is something deeply disturbing about being turned on by yourself. Stranger than incest. Or even twincest."
We'll save the sexy GRMM/clone GRRM for next Halloween, George.
Screengrab via Playboy