Nevernudes, Blue Men, and les cousins dangereux, rejoice: The final countdown has begun.
After much anticipation, Netflix announced today that the fourth season of Arrested Development will return on May 26, 2013. And, much like they did with their popular political drama House of Cards, they will be releasing all 15 episodes at the same time.
"Arrested Development is now widely viewed as one of the top TV comedies of all time, and Mitch Hurwitz is bringing it to Netflix in a brand-new way, crafted for the on-demand generation that has come to discover the show in the years since it last appeared on TV," stated Netflix Chief Content Officer Ted Sarandos. 
"The highly anticipated return of this show is sure to make history all over again."
Not sure exactly what kind of history it previously made, but okay.
For his part, executive producer and series creator Mitch Hurwitz sees this as a culmination of a longtime dream of his.
"Finally my simple wish for the show is coming true: that it be broadcast every second around the clock to every television, computer, or mobile device in existence."
So, how has the Twittersphere reacted? 
People are losing their minds. Seriously. Just about every single one of the 46,000 tweets—according to social network analytics site Topsy—mentioning the show today is a proclamation of joy. You'd think Netflix was bringing The Wire back.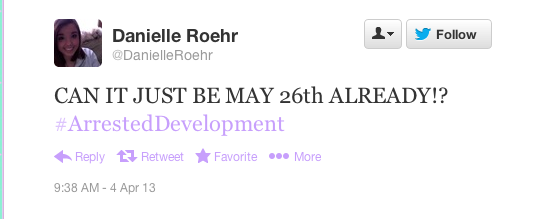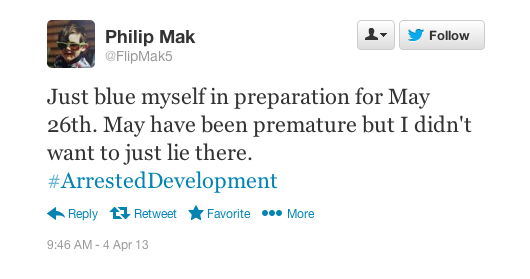 Thanks for the overshare, guy.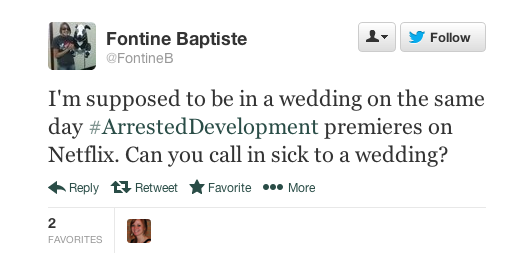 You should totally try that and get back to us with how your soon-to-be married friend reacted. We're sure it'll go over well.
It is. We checked.
A show that's been off the air for close to seven years, one that millions of people view through the rose-tinted glasses of nostalgia, and whose mythos has exponentially grown in that time? There's no way there's going to be some kind of letdown.
Photo via Mark Larson/Flickr