How does one reimagine a classically controversial novel about the all-consuming capitalism of the late 1980s? With a little help from Gmail's "relevant" advertising algorithms.
Putting a knowledge of post-postmodernism honed at Rhode Island School of Design's MFA program to devilish good use, Mimi Cabell and Jason Huff crafted an appropriately alienating edition of Bret Easton Ellis' American Psycho, a comedy of manners far more shocking and gruesome than the Mary Harron film it spawned. The pair simply emailed the text of the book back and forth, one page at a time, to generate its 21st century shadow (available as a PDF):
We collected the ads that appeared next to each email and used them to annotate the original text, page by page. In printing it as a perfect bound book, we erased the body of Ellis' text and left only chapter titles and constellations of our added footnotes. What remains is American Psycho, told through its chapter titles and annotated relational Google ads.
Given the virulent misogyny and racism of yuppie narrator Patrick Bateman, his cultish belief in the virtues of consumerism, and his deliberately tedious descriptions of pornographic violence inflicted upon all manner of innocents, could Google glean any useful data, and would it show a hint of sensitivity to the subject matter? Quite a bit, and no, not really:
In one scene, where first a dog and then a man are brutally murdered with a knife, Google supplied ample ads regarding knives and knife sharpeners. In another scene the ads disappeared altogether when the narrator makes a racial slur. Google's choice and use of standard ads unrelated to the content next to which they appeared offered an alternate window into how Google ads function—the ad for Crest Whitestrips Coupons appeared the highest number of times, next to both the most graphic and the most mundane sections of the book, leaving no clear logic as to how it was selected to appear.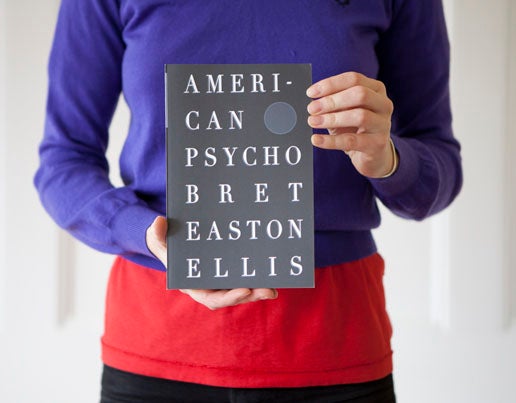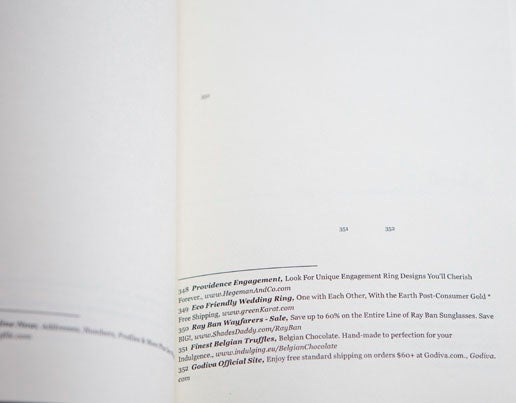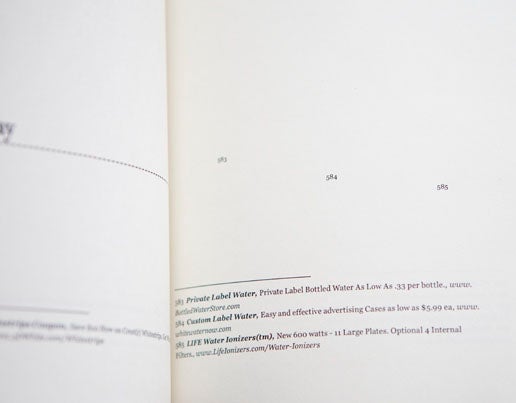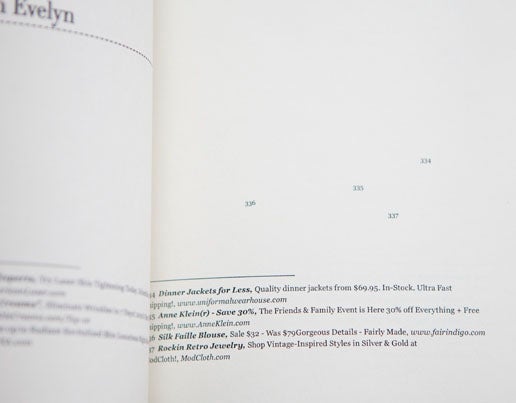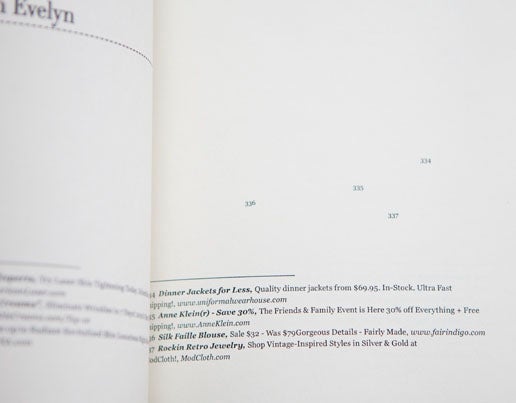 Photos via mimicabell.com
So there you have it: a book about the hollow superficiality of American culture, hollowed out and replaced with superficially apropos advertising. We're not sure the literary world can handle anything more meta, but something's bound to come along.
H/T Electric Literature | Photo by Maarten Van Damme/Flickr (CC BY 2.0)