By any stretch of the imagination, you'd call a celebrity wedding between a high-powered international lawyer and one of the world's most beautiful actors a success. But in the case of Amal Alamuddin's marriage to George Clooney, the focus has been on everything but the business success of the bride. Take the way Fox News led with its description of her on the couple's engagement in April: "She is beautiful—a lawyer and beautiful (she's good-looking enough that it's worth saying twice)."
Now that the pair tied the knot in Venice this weekend, one website has reframed the narrative of the Clooney-Alamuddin nuptials, with beautiful results. The Business Woman is dedicated to promoting and empowering women in their professional lives. The focus is immediately apparent in this screenshot of their writeup on Alamuddin: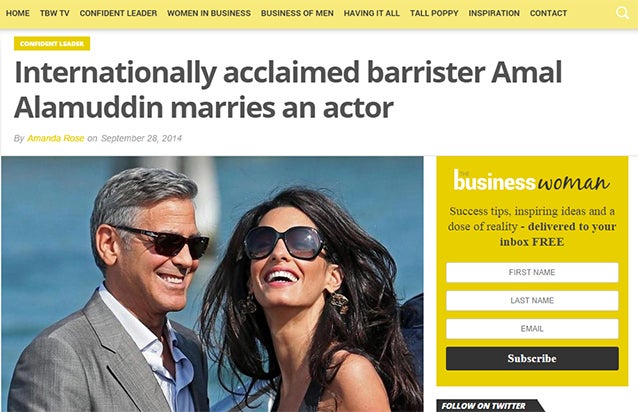 Screengrab via The Business Woman
The post savvily turns the tables on the disbelieving media that declared themselves shocked that Clooney, a long-standing bachelor, had finally popped the question:
Amal Alamuddin, a 36 year old London-based dual-qualified English barrister and New York litigation attorney who has long been a high-profile figure in international refugee and human rights law has gone against the trend for professional women in her field and married… an actor.
It then goes on to praise Alamuddin's many career accomplishments as a human rights lawyer, including her multiple degrees from top universities, and her defense of Wikileaks founder Julian Assange. Instead of gawking at her fun-loving fashion style, the piece frames her clothing choices in business terms instead of tabloid terms, noting that her quirky shoes are part of her overall personal brand.
The Business Woman also cheekily notes that Clooney seems a bit "clingy," referencing the predominance of photos of Alamuddin taken together with Clooney as a way to highlight the media's focus on her relationship to Clooney instead of her individual accomplishments and identity.
It's a viewpoint the Internet quickly cheered, as the piece, along with a screengrab of the heading, went viral.
Finally a headline gets it right. :) "@clairecohen1: This is brilliant. Via @timshearring pic.twitter.com/M6GDilrzmJ"

— Laila M-J (@Parisbug) September 28, 2014
The comments to the piece are currently overrun with people pointing out that Clooney gets all the media attention, not because he's a man, but because he's super-duper famous. While that's obvious, it's also clear most pieces about the couple have focused on Alamuddin's beauty first and her accomplishments second. It's nice to be reminded of how easy and fun it is to celebrate both.
Photo via Wikimedia Commons (CC BY-SA 3.0)