An artist's flower design has been censored by Facebook, allegedly due to misinformation about its similarities to a flower from what's known as the "suicide tree."
The original art, from Minnesota-based Olivia Herrick Design, depicts a simple white flower with the caption "What is yours will find you." It was first posted to Instagram in February 2019, and most recently reposted in April 2020. In the comments of that post, Herrick says the flower is a "white periwinkle," and responds to more recent inquiries about it reportedly being censored on Facebook, saying that a copyright report has been filed for the image against one account.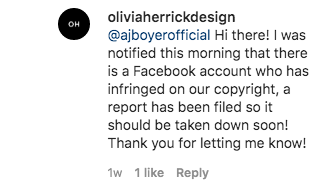 A comment on a recent Reddit thread about the censoring states: "I have seen it be hidden by the graphic image filter in several groups I'm in." Another states that at some point, people started sharing the image and claiming it was the flower of Cerbera odollam, a plant native to India whose seeds are toxic and have reportedly been involved in suicides and homicides in South Asia.
A post from June 30, which uses the Olivia Herrick image but the caption "Filipinos," is still up but has been filtered as "violent or graphic content." Another post used the image and original caption and was also censored. Elsewhere, commenters, in what appears to be a copy/paste situation, are claiming posts including the flower to be a "pro-suicide post disguised as a positivity post."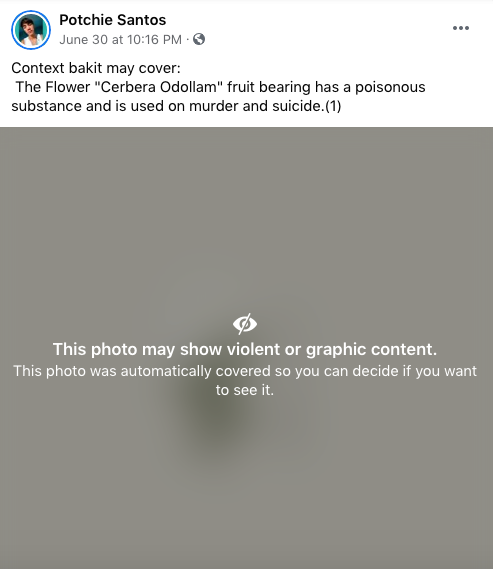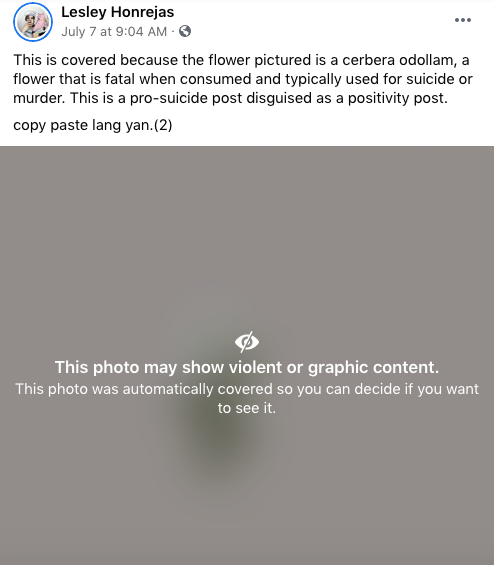 While it's unlikely that was Herrick's intent, it's not clear when the image was co-opted. If you search Cerbera odollam on Facebook, you can still find older posts. According to a 2016 post, the seeds were once listed for sale on eBay and Amazon. Around that same time, a trans woman in Illinois died after ingesting them.
We've reached out to Facebook and Herrick for comment.
Update 7/15 8:48am CT: Herrick provided the Daily Dot this statement on the matter: "I was made aware of the false narrative surrounding my artwork last week. The flower in the illustration in question was designed as a white periwinkle and I have not, will not, and would not ever, under any circumstance, post a pro-suicide message or create pro-suicide artwork. Any suggestion otherwise is patently false. I appreciate you taking the time to reach out for clarification."
For more information about suicide prevention or to speak with someone confidentially, contact the National Suicide Prevention Lifeline (U.S.) or Samaritans (U.K.).