As we reflect on the summer of 2019, it will be remembered for several reasons. Thanks to Megan Thee Stallion, we have Hot Girl Summer. Due to the popularity of hard seltzers, 2019 is also being known as White Claw summer. And, inexplicably, this is also becoming the summer that the phallus is having a moment.
It seems like all of a sudden, everywhere you look there are dicks. You've got illustrated dogs shaped like dicks. Erectable penis necklaces. And now, not exactly subtly, NARS Cosmetics has gifted the world an advertisement featuring a lipstick that looks like a penis.
In an ad uploaded to Instagram on Sunday, NARS promoted an exclusive Morocco matte warm cinnamon shade of nude lipstick. "When the nudes keep you up all night," the ad reads. "Reach the dawn with Morocco Lipstick, a warm cinnamon."
For some reason, NARS felt the best way to advertise this particular lipstick was by melting it and then speeding up the video and playing it in reverse. Incidentally, before the lipstick becomes whole again, it looks quite a lot like a penis!
The ad was flagged by journalist Yashar Ali, who tweeted it on Sunday evening. If the desired result was to get people talking about the ad, then NARS clearly succeeded. Whether this tactic will translate in sales is another story, however, as Meghan McCain and others weighed in with abject horror.
August 11, 2019
https://twitter.com/throwslikeagrrl/status/1160699704314740736
August 11, 2019
https://twitter.com/JoyAnnReid/status/1160883357640790017
August 12, 2019
But as others pointed out, this is just NARS being NARS:
https://twitter.com/MeghanMcCain/status/1160752313390125056
https://twitter.com/erinbiba/status/1160755981472714753
They know what they're doing. My favorite blush of theirs is called Orgasm. They have a Super Orgasm and a Deep Throat blush, too.

— Tam Hodge (@tamhodge) August 11, 2019
https://twitter.com/georginaytsoar/status/1160716570374615040
And the brand responded with a winky reply to at least one person who called them out on their shenanigans: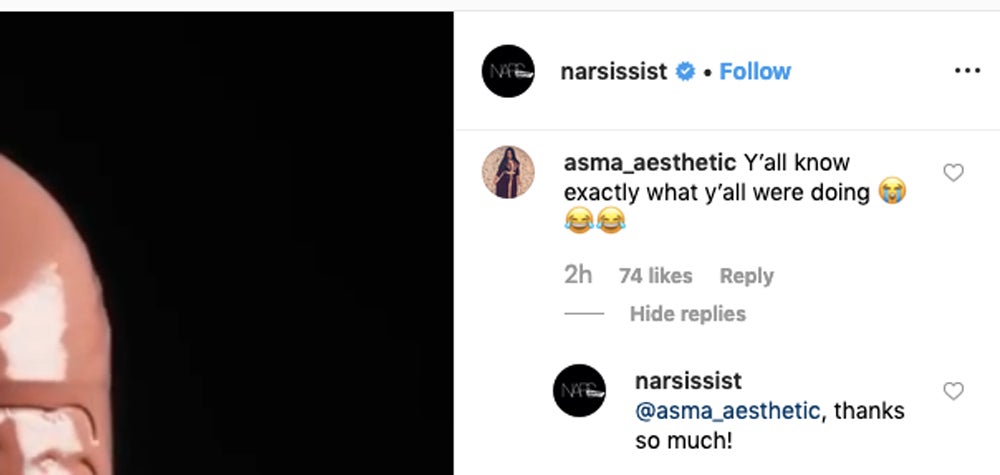 Anyone who has ever walked into a Sephora knows how overwhelming shopping for cosmetics can be, so you gotta have some respect for NARS. If nothing else, this surely sets this nude lipstick apart from the one million other brands out there. In other words, hate the game, not the player!
READ MORE: