Reddit's two for two on marriage proposals, delivering the second inadvertent shot to another happy couple in as many weeks.
Reddit is proving to be a popular hangout for wandering wedding photographers. Just a week after one redditor chanced to capture a couple's proposal, the same thing has happened again.
This time, the proposal took place in San Antonio, Tex., and the happy couple found their accidental engagement photographer on r/pics, just a few months after the fact.
In March, Penn State senior Kathryn Kotlarz flew from Happy Valley to San Antonio to visit her boyfriend, Kyle Townsend, a U.S. Navy man who was about to deploy to his command station in Jacksonville, NC. It was her spring break, and the timing had lined up perfectly. Townsend organized a trip to the Alamo on her first night.
"He was very eager for me to get dressed," Kotlarz told the Daily Dot. "He was also acting strange."
Unbeknownst to her, Townsend had a ring in his sock that was burning a hole through his ankle. A devout lover of history, he planned to propose to Kotlarz at the foot of the Alamo, and he'd hatched the perfect plan to set the scene: he'd asked a fellow tourist to take a picture of the two.
"Next thing I know, Kyle is on his knee taking a ring box out of his sock," Kotlarz said. "I was so shocked I took a step back, but once it hit me, I went and hugged him. The rest is a blur. Apparently he was so nervous that he forgot to say everything he had planned anyway."
The photographer snapped a few pictures of the scene, but he wasn't the only one. Nestled in at another angle was 56-year-old Austinite Ron Peregrim, who'd traveled to San Antonio for the day with his wife and camera.
"We had already spent most of the day on the Riverwalk, and we stopped at the Alamo around sunset," Peregrim told the Daily Dot. "I was taking some pictures of the surrounding skyscrapers with the setting sun on them, and was putting my camera away for the day when I saw the young man in dress blues getting down on one knee in front of his girl.
"By the time I got my camera ready, he had already proposed, but I got a shot of the hug afterwards with the ring in the box behind her back."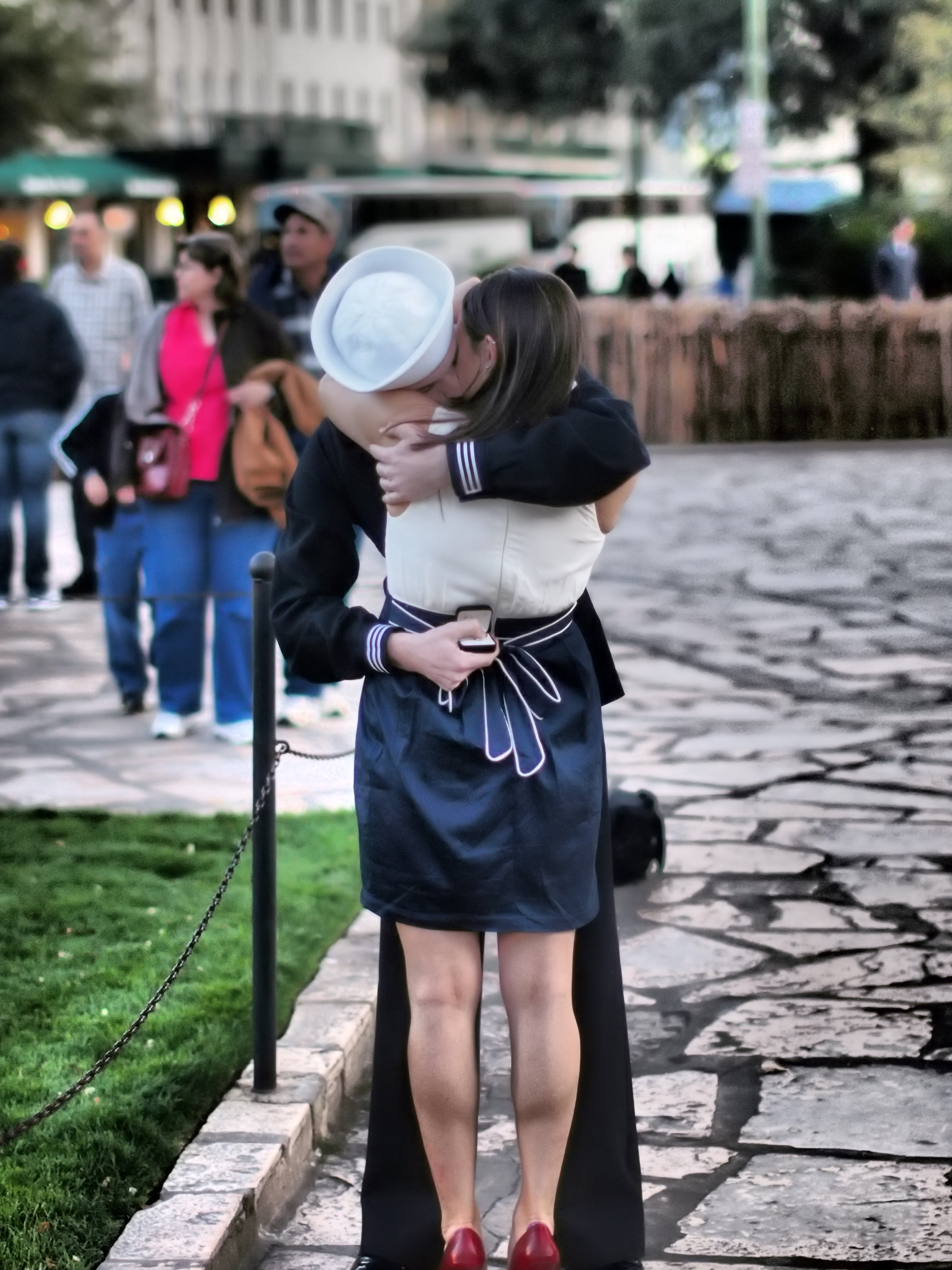 Peregrim passed up on offering the photos to the couple so that they could enjoy the moment, but, inspired by Bush's proposal photo success story last week, he decided to post the photos to Reddit in hopes of reconnecting.
"Do you know these two?" he posted to r/pics yesterday morning. "I want to send them a copy. He asked her to marry him in front of the Alamo in Texas."
It didn't take long for redditor girlinreallife to speak up and say that she knew the couple. She sent Kotlarz an email asking about it, and by 9:30 p.m. Central Time last night, the photos had arrived in Kotlarz's inbox.
"These new pictures however are from a different angle, and I like them a lot, maybe even more than the ones that were originally taken," Kotlarz said. "Although Kyle has yet to see the pictures since he's out in the desert with no Internet, I did tell him about this situation when he called last night and he's very excited about it too!"
Another week, another proposal photo sent that's found its proper home. Reddit, you're starting to get pretty good at this.
Photo via Ron Peregrim
Pure, uncut internet. Straight to your inbox.