The girl in the photo, Qian Hongyan, is currently training for the 2012 Paralympics. 
Every day, the Daily Dot finds something that people on Facebook are sharing and, in turn, shares it with you—with a little explanation. Here's today's share.
Hundreds of Facebook users are sympathetically sharing a photo of a poor, legless girl in China who used a basketball to get around, rather than a wheelchair or crutches.
"The Power of the Human Spirit is Shown at its Mightiest by this one little girl," reads the photo's caption. "She always smiles, always being cheerful. Be grateful With What You Have."
While the girl, Qian Hongyan, is very much real—she lost her legs in an accident in 2000, when she was three—the photo's accompanying text is a little misleading.
First, the photo notes her family is "poor and couldn't afford prosthetic legs"—even though she's clearly using prosthetic legs in the second picture.
The group that shared the photo is a bit of a mystery, too. It watermarked the image, with a typo, misnaming the Facebook page's URL and leading to a nonexistent site.
And the group itself, which is still active, links to a now-dead URL titled FactStock.com.
As for Qian, her life turned out better than anyone could have anticipated. She now has ambitions to represent China as a swimmer at the 2012 Paralympics this summer. In 2011, a Reuters photographer documented her training in a photo essay.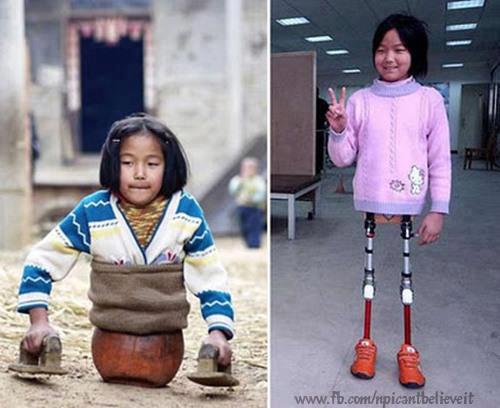 Photo via Facebook
Pure, uncut internet. Straight to your inbox.