Since we can't stop crying now that the Olympics have ended, here are three things worth seeing again to leave you with a lingering sense of Olympic glory.
On YouTube
It was a good few weeks for Great Britain. Not only did the brits flawlessly host the games, but they took home more medals than they have in more than 100 years, placing third in the medal count. Even the hard to impress tabloid, The Sun labeled their coverage as "65 medals and 114 heroes" and called it "astonishing." More amazing: 29 of those 65 were gold. Yay, Britain!
To celebrate the nation's newfound good cheer, Adidas released a video Sunday showcasing the achievements of Team GB's athletes. The three-minute video shows popular British athletes like gymnast Louis Smith, runner Jessica Ennis, and cyclist Victoria Pendleton lip-syncing to Queen's "Don't Stop Me Now." It's cute, and if you don't recognize them, David Beckham is in it.
On Tumblr
A lot of things happened during Sunday's closing ceremonies but the only act we will remember is a performance by the Spice Girls. Filled with energy we thought they left behind in the 90s, the ladies pointed, pranced, and pumped up everyone around the world with their special, one-off spectacle. It was so amazing I didn't even check Twitter for four minutes.
Gawker has grabbed video of it but we are enjoying the GIFs, because if there isn't a GIF, then it's probably not worth remembering. "RealityTVGIFs," which does the thankless task of creating GIFs from reality shows, watched the performance and made a wonderful string of moving pictures. Our favorite is one when the girls were dancing but Victoria Beckham couldn't possibly be bothered to dance. She's so over the reunion tour before it even started.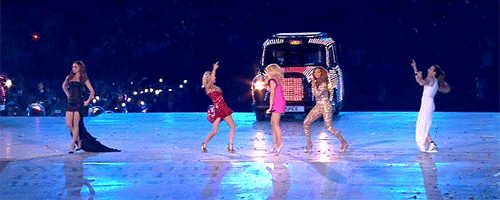 On Twitter

The closing ceremonies stirrup up many emotions from snarky Twitter users. The music selection alone had a powerful nostalgic effect. I mean, Spice Girls, Fatboy Slim, Beady Eye (which is not Oasis, OK?), and Muse, to name a few reminded us of our naive, emo, teenage years.
Then NBC trolled everyone by shoving The Who's performance into the late night. Many outraged people expressed their first world problems by tweeting at @NBCOlympics calling them a "disgrace" and "blithering idiots." I'm sure that'll show them.
Anyway! Let's all feel better and look at this picture that Spice Girl Mel B tweeted out of the ladies posing with notorious grumpypants Liam Gallagher. He's giving his best attempt at a smile. Mel B simply tweeted "Happy times!" Whatever you want to tell yourself, Mel.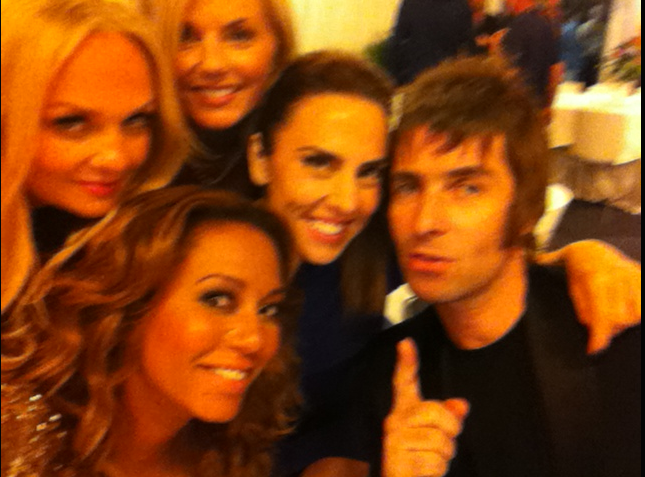 Photo via YouTube