Justine Sacco, the former PR director who became Internet-infamous Friday for joking about AIDS on Twitter before boarding a flight to South Africa, has issued an apology, blaming lack of personal experience with the AIDS crisis as the reason for her insensitivity.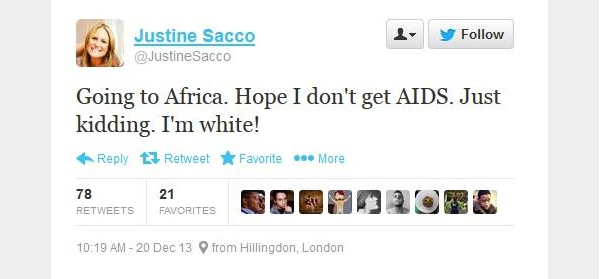 Sacco was fired by InterActive Corp—which owns Vimeo, OkCupid, and College Humor, among others—in the fallout from the tweet, but not before she captured the attention and wrath of the Twitter community. While Sacco was in the air, unaware of the ensuing storm, her comment was shared thousands of times and roundly damned with such vitriol that IAC was forced to respond publicly.
"This is an outrageous, offensive comment that does not reflect the views and values of IAC," the company told the International Business Times on Friday. "Unfortunately, the employee in question is unreachable on an international flight, but this is a very serious matter and we are taking appropriate action."
Sacco's unreachability was a key component to what made the saga so engaging. Twitter users followed with rapt attention, waiting for Sacco to land and discover the devastation wrought by her terrible, bigoted joke. The hashtag #HasJustineLandedYet popped up, as did parody Twitter accounts (@LOLJustineSacco, now suspended) and a website, justinesacco.com, which redirects to an HIV/AIDS charity. 
After landing Saturday, Sacco quickly deleted her Twitter, Facebook, and Instagram accounts and remained silent the rest of the day. 
On Sunday, she sent the following formal apology to South African newspaper The Star and to ABC News:
Words cannot express how sorry I am, and how necessary it is for me to apologize to the people of South Africa, who I have offended due to a needless and careless tweet. There is an AIDS crisis taking place in this country, that we read about in America, but do not live with or face on a continuous basis. Unfortunately, it is terribly easy to be cavalier about an epidemic that one has never witnessed firsthand.

For being insensitive to this crisis—which does not discriminate by race, gender or sexual orientation, but which terrifies us all uniformly—and to the millions of people living with the virus, I am ashamed.

This is my father's country, and I was born here. I cherish my ties to South Africa and my frequent visits, but I am in anguish knowing that my remarks have caused pain to so many people here; my family, friends and fellow South Africans. I am very sorry for the pain I caused.
H/T ABC News