In a polarized political landscape where Americans can't seem to agree on much of anything, there is one force of nature we nonetheless all revolved around this year: Meghan McCain.
Throughout 2019, the scion of the late Arizona Senator John McCain reliably made news.
Like, regularly made news. Rarely would a week go by when a comment she made didn't either enrage the left, the Trumpian right, or everyone. As one of the few "Never Trump Republicans" who remain in the pundit class, whatever she says is sure to alienate a lot of people.
The View, the ABC daytime show that McCain cohosts alongside four other women, has always had a resident conservative host to counterbalance outspoken liberal celebrities like Joy Behar and Whoopi Goldberg. Following in the footsteps of Elisabeth Hasselbeck, Nicolle Wallace, and Candace Cameron Bure, Meghan became The View's token conservative in late 2017.  
Though The View's resident conservatives have a reputation for causing media stirs, never has the show had anything like McCain. 
Meghan McCain has become a content ecosystem unto herself. She has a potentially viral moment on The View, it trends on Twitter, migrates to websites, becomes a meme, and riles up people just in time for her to do it all over again a day later.
You can set your watch to it, and you can almost get all the news you needed for the year simply by following McCain. 
Amy Klobuchar 2020 fever
On the day that Sen. Amy Klobuchar (D-Minn.) announced her presidential campaign in a blizzard, Joy and Meghan got into it. 
After a friendly, if chippy, back-and-forth among the other panelists on Amy Klobuchar's chances (the Minnesota senator has polled around 2% nationally throughout the race), McCain spoiled the fun by getting upset she wasn't allowed to opine. 
She said, "Can I say something now, is that okay? Do I have permission to speak now on Amy Klobuchar, we're all good?"
As McCain went on, Joy interrupted her, saying "If you're going to have a hissy fit, we can't continue."
The two-minute video has almost one million views on YouTube, which is probably more than the number of people who support Klobuchar. 
McCain tells us what's anti-Semitic
Here's @MeghanMcCain. Shabbat Shalom. pic.twitter.com/DvVH4pxKEf

— Eli Valley (@elivalley) March 8, 2019
In March, left-wing political cartoonist Eli Valley caricatured Meghan McCain, lampooning her right-wing stance on Israel and what he views as performative alignment with hard-liners there. 
After Meghan McCain repeatedly attacked Rep. Ilhan Omar's (D-Minn.) "anti-Semitism," (but what many on the left view simply as criticism of Israeli political policy), Valley penned a cartoon mocking McCain for attempting to speak on behalf of Jews.
McCain responded by tweeting, "This is one of the most anti-semitic things I've ever seen. Also, this reveals so much more about you than it does me…"
Valley is Jewish. McCain is not, but it really revealed how entitled a number of conservatives felt about their ability to opine on Israel and anti-Semitism this year. 
My father, my father, my father, my father, my father…
Me: Who invented the toaster strudel?
Gretchen Wieners: pic.twitter.com/86EplARzvM

— caleb stark (@calebstark) March 18, 2019
McCain's detractors have long mocked her as one of the Beltway's most famous nepotism cases, and she hasn't done much to refute that. 
The View faithful know that the co-host rarely misses a chance to invoke the name of her late father. Many view McCain as a clear-cut case of favoritism, as she began her career blogging about her dad's 2008 presidential run and much of her appeal as a pundit comes from her inside-baseball perspective that comes from access her father's provided.
So, Twitter user @calebstark dropped a nearly one-minute long video of McCain saying "My father." 
The elder McCain has long been revered as a respective statesman. For his daughter, whenever she invokes it, she's signaling she deserves the same kind of respect, regardless of whether she's earned it.
"You were at my wedding, Denise…"
you were at my wedding Denise….

— Meghan McCain (@MeghanMcCain) March 26, 2019
It's hard to go viral for dubious reasons three times in one month, but when it comes to internet ignominy, Meghan McCain is truly one of the greats.
Denise McCallister, a right-wing commentator for the Daily Wire and apparent McCain wedding guest, shared an article critiquing The View from a website (literally) called ilovemyfreedom.org, inspiring McCain's surprised and memeworthy response. 
The defunct website rebranded as TrendingPolitics.com, but this wonderful tweet still lives on and truly shows the aggrieved sense of self McCain constantly emits
Ben Gargleballs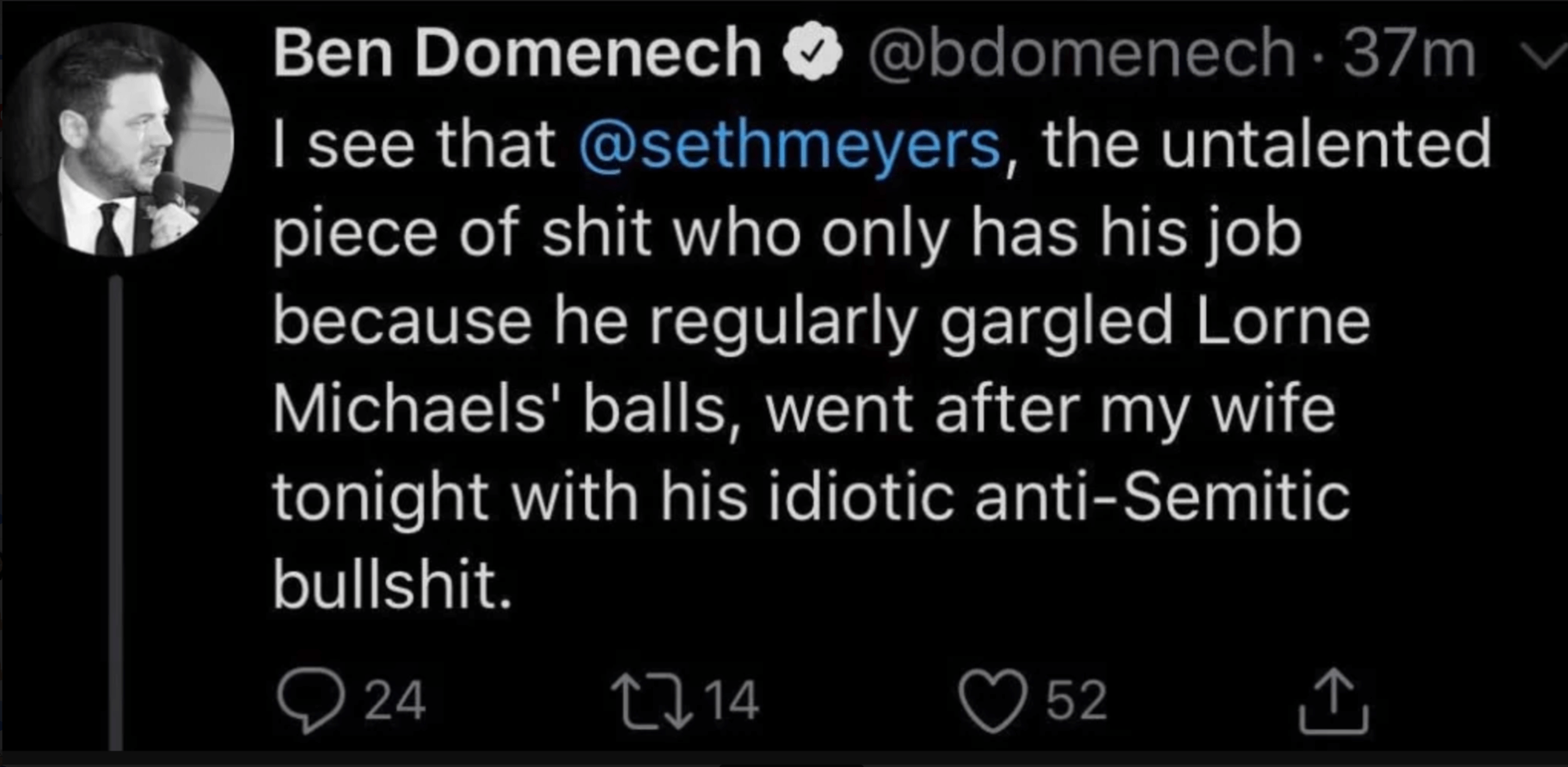 In the McCain household, it turns out that social media feuds are a family affair. Following criticism from late-night host Seth Meyers, McCain's husband Ben Domenech defended his wife with a homophobic Twitter tirade. 
Domenech's tweets came following a contentious appearance by McCain on Late Night in which Meyers called McCain's comments about Ilhan Omar "dangerous." 
Prior to her appearance on Late Night, McCain had spoken with George Stephanopoulos on This Week where she equated Omar with a synagogue shooter, saying, "When we're having conversations about anti-Semitism, we should be looking at the most extreme on both sides."
Domenech is the co-founder and publisher of the murkily funded conservative blog, The Federalist.
In one tweet, Domenech joked that while working at Saturday Night Live, Meyers "regularly gargled Lorne Michaels' balls."
The tweets have since been deleted, but McCain continues to offer her opinion on Omar. 
The Times comes calling
In May, the paper of record recognized that the tiffs between McCain and her liberal cohosts have become an essential part of the discourse. Times writer Amanda FitzSimmons dubbed The View "the most important political TV show in America." 
The article proved its thesis by examining the power of the show to land high-profile guests and exclusive appearances.
When the article ran, The View had already played host to over half of the announced presidential candidates, and the number has increased since.
The piece is perhaps most interesting in that it reveals the contentious relationship between Behar and McCain to be something of a performance. We learn that McCain's presence has boosted ratings, a good sign for Behar, who had been let go from the show prior to a recent reboot.
The article also reveals that Behar once gifted McCain a shirtless photo of Paul Ryan. McCain considers the former Republican congressman the "sexiest man alive."
Meghan wants out
Understandably tired of being the target of Whoopi and Joy's barbs and the internet's mockery, in July, the Daily Beast reported that Meghan was fed up with having her world view challenged on a daily basis. 
Over the summer, McCain considered not returning for the show's 23rd season (spoiler: she's still there). Sources told the Beast that despite the nearly seven-figure payday for her co-hosting duties, Meghan was starting to feel it wasn't worth it. 
She reportedly said the show leaves her "feeling like a caged animal" and "so exhausted and defeated."
Pam has no patience
Pamela Anderson has zero patience for John McCain's daughter pic.twitter.com/Z4LA8eZ90J

— jordan (@JordanUhl) September 6, 2019
Former Baywatch star turned left-wing activist Pamela Anderson sparred with McCain on a September episode of The View over Anderson ally Julian Assange. Though Anderson was ostensibly on the show to celebrate the 30th anniversary of her first of 14 Playboy cover appearances, the model often serves as an Assange surrogate when making public appearances. 
During the discussion, McCain asserted that Assange and WikiLeaks put American troops at risk through their release of government secrets. Anderson contested the claim. 
At the end of their interaction, Anderson said, "I think people like Edward Snowden and Chelsea Manning are heroes."
McCain storms away
lol Meghan McCain stormed off after Ana Navarro said "don't scream at me, i'm two feet away." pic.twitter.com/Gz2omi69LC

— Ibrahim (@ibrahimpols) September 20, 2019
A narrow ideological space separates McCain and Ana Navarro, a Republican who has fashioned herself a Twitter #Resistance figure in the era of Donald Trump. McCain and Navarro, a sometime panelist on The View, got into testy exchange about the government whistleblower who filed a complaint against Trump, which has led to an impeachment inquiry. 
McCain drew parallels to Julian Assange, while Navarro tried to draw a distinction between Trump's scandal around Hillary Clinton's emails. The argument ended with Ana remarking, "I'm two feet away. I don't need you to scream at me." 
During the ensuing commercial break, Meghan stormed off the set. 
Meghan interrupts Whoopi
After a fairly typical argument between Joy Behar and McCain regarding whether Tulsi Gabbard is a Russian asset, Whoopi tried to restore some civility to the conversation. 
Whoopi said: 
"You know what, let me tell you something about The View. This show has always had the ability to have different points of view which we respect around the table, and when we talk to each other we also exhibit respect.
So when I'm saying to you hold up because we're not hearing each other, I'm not trying to cut you off. I'm trying to get you heard."
McCain interrupted, "I don't think  you're trying to cut me off but…"
Whoopi shot back, "You're doing it right now."
A clip of the exchange has been watched nearly 200,000 times. 
Meghan tries to own Donald Trump Jr. 
It looked like Meghan was going to take a W for once when Donald Trump Jr. came on the show to promote his book Triggered. 
"Mr. Trump," she began. "A lot of Americans in politics miss character. And a lot of people miss the soul of this country. You and your family have hurt a lot of people and put a lot of people through a lot of pain…"
When she finished, Trump Jr. mounted a surprisingly passionate defense of his family, saying, "I understand that he's controversial. I understand that he's offended a lot of people. But I also understand that he took on the establishment and that's the premiere sin in American politics these days." 
He was rewarded with a big round of applause. 
From there, Don Jr. and his girlfriend Kimberly Guilfoyle came across as compassionate as they talked about their experiences with family grief. Whoopi and Joy tried to take shots at him after that, but the damage had been done. 
A clip of this exchange has racked up over two million views.
Suffice it to say, that didn't exactly go how Meghan had hoped. But, the same could probably said for the entire year of 2019. 
Although, if your Meghan McCain, everyone being annoyed by you is exactly what you want. 
READ MORE: