One of the WWE's biggest female stars said she was assaulted and body-shamed by a fan as she was leaving a pro wrestling pay-per-view event on Sunday.
According to PWinsider.com, via 411mania, WWE star Paige wrote on an Instagram Story that a fan had pie-faced her—essentially forcefully putting his hand on her face and pushing— while she was in the passenger seat of a car as she was leaving the Money in the Bank PPV show in Chicago. The fan also reportedly told Paige that she needed to lose weight. One witness who apparently was on the scene told Wrestlingnews.co that the man actually might have slapped Paige, whose real name is Saraya Bevis.
Wrote Paige on her Instagram Story: "To the 'fan' that decided to pie face me through my car window and then tell me to 'lose some weight Paige'.. you inspired me to keep being myself and eat whatever the f I want. Good luck with your karma!"
Here's the Instagram photo, captured by Wrestlingnews.co: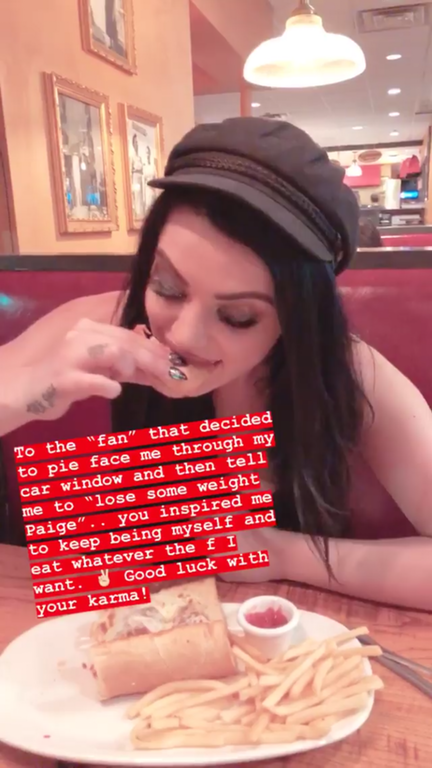 A YouTuber recorded this video, apparently after the incident. After taking a selfie with another fan, who explains to her that he's not an asshole, Paige is seen talking to a security guard.
https://www.youtube.com/watch?v=c10WMQsEVKI
Last year, nude photos of Paige were hacked and uploaded to the internet, and she tweeted, "Personal and private photos of mine were stolen and unfortunately they were shared publicly without my consent." Last July, Paige was suspended from the company for 60 days for the second violation of the WWE's wellness program.
Paige had to retire from the ring at the age of 25 after suffering a neck stinger while taking a kick to the back of the head from WWE star Sasha Banks. Paige—who is one of the co-stars of E!'s Total Divas—is now the on-air general manager of the WWE Smackdown show.
H/T Wrestlingnews.co