If you're a woman looking to learn more about a labiaplasty—an expensive, invasive reconstructive surgery—your first step is probably to just plug the term into Google. That will, almost inevitably, bring you to the Wikipedia article about the procedure. Women undergo a labiaplasty for either cosmetic purposes or for sex reassignment surgery, and it goes without saying they should approach the decision with a pretty thorough knowledge of what they're getting themselves into.
So what if that Wikipedia entry was actually just a subtle piece of advertising fluff?
…
Visit the website for Chicago plastic surgeon Otto Placik, and you'll find links to the "best mommy makeover in Chicago," otherwise known as labiaplasty. He also specializes in breast augmentation, tummy tuck, "Brazilian butt lift," and vaginal rejuvenation. His Facebook page is filled with images of beautiful models, positive reviews, and claims that the "beauty of plastic surgery can do wonders!"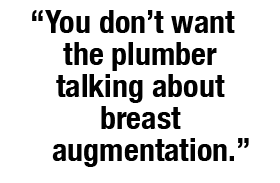 In fact, it's hard to find a negative review of Placik's practice anywhere online. Even his Yelp reviews are 100 percent positive, which rarely happens on the review site. (A negative 2011 review was removed for violating Yelp's content guidelines.)
For the past four years, Placik has also been an editor on Wikipedia. There, he's maintained a conspicuous interest in plastic surgery articles, frequently making edits and uploading images. He's even added before-and-after photos of his own patients to entries on abdominoplasty ("tummy tuck") and breast reduction. The descriptions of those photos included Placik's name and the location of his practice in Arlington Heights, Ill.
On his user page, Placik describes himself as a purveyor of knowledge:
"I consider Wikipedia to be an excellent source to gather and distribute valuable information. My goal is not so much to discuss detail of specific procedures, but to provide photographs. Personally, I believe 'a picture is worth a thousand words.'"
Since Wikipedia is a volunteer-run encyclopedia, it's difficult for users to maintain vigilance over every piece of info added to the site. Still, it didn't take long for other Wikipedia editors to notice Placik's interesting behavior. In 2009, a few users accused Placik of "spamming" the encyclopedia, after discovering that photos he added to the abdominoplasty and breast reduction articles both include Placik's name on their photo pages, and in the latter case, the location of his practice, Arlington Heights.
A full two years later, Wikipedians were finally ready to take action. In November 2011, a few users raised questions about Placik's recent edits to the labiaplasty entry. Placik had changed the "tone and presentation," wikipedian JHeald alleged, which made it "more technical, but also arguably less accessible and easy to read." More significantly, the editing downplayed concerns about whether it's normal and healthy for women's vulvas to differ in shape and size. It left editors wondering if his point of view was "deliberately being promoted to encourage a growing industry of lucrative unnecessary surgery."
While that specific complaint didn't go anywhere, a month later Wikipedians led a sockpuppet investigation into Placik's account, alleging that was just one of several accounts used to coordinate changes on plastic surgery articles. For instance, when a Wikipedian would change one of Placik's edits, another account—usually Mhazard9—would swoop in and change it back. The account, according to IP address comparisons, would sometimes edit within minutes of Placik.
In January 2013, user Jayen466—actually Andreas Kolbe, who tipped us to this story and is a moderator at Wikipedia criticism site Wikipediocracy—raised yet more concerns over conflict of interest problems and misinformation in the labiaplasty article:
I have just deleted a large amount of mumbo-jumbo claiming that any woman who has externally visible labia minora suffers from labial 'hypertrophy' which is an 'indication' for plastic surgery."
Wikipedians further raised suspicions about other sockpuppets in use—Sarahjjohnson123, Emilymiller123, and an anonymous IP address—which Placik claimed were employees in his office helping with entries. Whether these were sockpuppets or not, it seemed pretty clear that a small platoon of Wikipedia accounts was marching to Placik's orders.
In sockpuppet investigations, an administrator—volunteers with special rights and authority—attempts to determine if behavior was common between the accounts. There are a few ways to do this, including a look at the IP address of all the accounts suspected of sockpuppetry. (There are legitimate uses for sockpuppet accounts on Wikipedia.) If the IP—which ties back to the specific network on which you've connected to the Internet—matches, then that hints strongly of a single owner.
In Placik's case, the IP addresses were close enough that editors believed Placik and Mhazard9 might very well be the same person, and a side-by-side analysis of their editing history offered further evidence. They'd often edit within seconds of one another, and their writing style, investigators believed, was quite similar. Yet no immediate action was taken.
Placik's not the only plastic surgeon whom Wikipedians have charged with editing the encyclopedia to promote their own interests. Last year, a San Francisco doctor named Miguel Delgado, whose user page has since been removed, used Wikipedia to promote his "mommy makeover" procedure in a press release.
Occasionally, plastic surgeons even spar on Wikipedia over whose before-and-after photos should get prime placement. Placik was also involved in a spat with a user named Paravis, who's associated with an account allegedly owned by Pasadena plastic surgeon Michael Schwartz. Placik and Paravis engaged in several runarounds about the legitimacy of their photos, which amounted to a turf war over questionable plastic surgery shots. In the entry for abdominoplasty, photos from 2009 still include a link directly to Schwartz's website.
In January of this year, user Taylornate, a medical student according to his bio, expressed dismay over the inaction involving the sockpuppet investigation around Placik and Mhazard9, the accounts of which had been inactive at that time:
"I agree it would be pointless to spend effort on a stale account, but he's been around for 2.5 years — you really think he's gone because he's been inactive for a couple weeks?"
This is the ebb and flow of a Wikipedia investigation, as issues are raised, forgotten, raised again, re-assessed, and passed on. While this system of checks and balances plays out, it's fairly easy for a patient user to hide for a while, then sneak in edits without notice. If a user is banned, it's also fairly easy to return with a different account.
On Aug. 25, user Johnuniq said in an incident noticeboard:
Wikipedia is a sitting duck for the rather clever adverts that plastic surgeons can insert since many people contemplating surgery would come here seeking information. Some quality photos are helpful, but the pictures in question are often promotional, and the editing is disruptive. I'm not expressing a view on how the matter should be handled [at the minute]; I guess I'm not sure it can be handled."
Earlier this year, Andrew Leonard wrote about another Wikipedia editor who flew under the radar for years, named Qworty. He's accused of making "revenge edits" to pages associated with Amanda Filipacchi, who wrote about Wikipedia's segregation of female authors for the New York Times in April. This story illuminated Wikipedia's editorial gender imbalance, which universities are now attempting to fix.
Edit wars and vandalism plague the site as well. Wikipedia cofounder Larry Sanger recently explored the "moral bankruptcy" of the site's anonymous admins, such as one high-ranking admin who was allowed to continue editing after being banned for using sockpuppet accounts.
…
From his home in Chicago, Placik explained this collective crusade against him.
"Wikipedia's a very unique environment," he told the Daily Dot. "On the surface it seems transparent, but it's anything but. There's no doubt that in talking about certain procedures, there is an element of marketing… But you don't want the plumber talking about breast augmentation."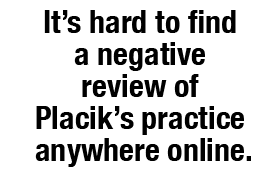 He says that, as a doctor, it's his job to delegate within his office. He took that tactic on Wikipedia, and sometimes asked office assistants to help with plastic surgery entries he found of value. One of the people who helped out was Mhazard9, whom Placik describes as a "writer" with an interest in Wikipedia. He declined to reveal his actual identity and initially described him as a "patient," before correcting himself.
He also says the fact that he performs procedures like labiaplasty might be to blame for the combative attitude towards him.
"For some reason, and I don't know if it's the feminist or anti-circumcision movement, they think I'm preying on vulnerable women," Placik explained.
"I treat patients who voluntarily come to me with a complaint of large labia. I do not force them to come to me; they do this of their own free will, so when I share my experience, why is this not just as valid as any other contributing physician discussing procedures they perform or illnesses they treat?"
"It amounts to censorship," he added. "They have people writing about labiaplasty that have never even performed one, and yet they have the ability to ban and censor me."
He also finds accountability lacking on Wikipedia.
"I am 100 percent responsible for my identity," he explained. "There is nothing I can't be held accountable for, but I have no idea who many of [these editors] are. They are petty people with the ability to slash and delete. There needs to be more personal accountability, and knowledge of who is entering the data." 
Both Mhazard9 and Placik's accounts are indefinitely blocked by Wikipedia admin Kim Dent-Brown, for abuse of editing privileges, and Placik is banned from writing or editing plastic surgery entries. His Wikimedia Commons page, which is independent of Wikipedia, is still up. (Dent-Brown declined to comment, preferring to keep all discussion of the case on Wikipedia itself.)
"It's a kangaroo court," Placik said of Wikipedia's system of editorial justice. "By the time it got to Kim Dent-Brown, I understood why he banned me, but it's like when someone's in class, and they're pulling your ponytail. I was provoked [over a period of time], but the teacher only saw the slap. I got kicked out of the sandbox."
It took four years for Placik to get kicked out of the sandbox, but his block can be appealed. And besides, this whole saga demonstrates just how easy it is to lay low for a while, then disrupt the editing process over a period of time. It's a conundrum that highlights both Wikipedia's ability to self-correct and its agonizingly slow pace at confronting problems. The labiaplasty entry is scrubbed of Placik's edits, but for how long?
Illustration by Max Fleishman, photo via Otto Placik/WIkimedia Commons