The self-diagnosing WebMD faithful are an interesting bunch: by and large, they're the sort of people who overreact to the slightest change in skin texture and believe that the symptoms of a sprained ankle may indicate foot cancer. Knowing their audience only too well, the website has delivered a tool essential for the true germaphobe: an interactive U.S. map that shows which regions are in the midst of a cold and flu pandemic, based on reported symptoms.
Sponsored by Mucinex—which, incidentally, is a horrible over-the-counter medication that will make you feel like you're choking to death on your own snot—the map allows you to zoom in on any given zip code to see how residents there are faring through the chilly, sneezy months of winter. I noticed that infection is only "Moderate" in Essex County, New Jersey, where I spent Christmas, but upon returning home to Manhattan, I entered the only New York City borough where the epidemic edges into "Severe" territory. Good thing I don't get invited to parties!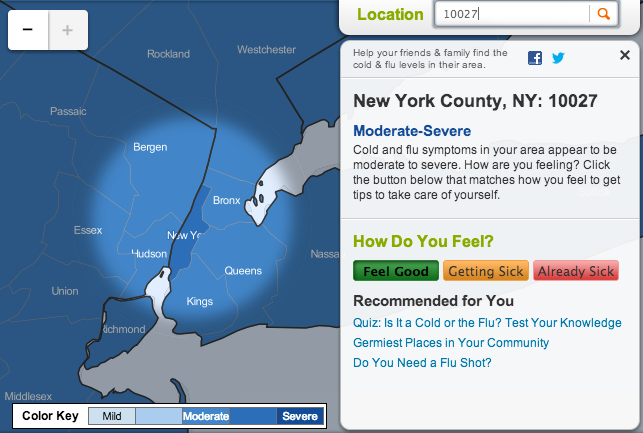 Once you've figured out the level of pernicious illness in your area, you can indicate how you're feeling in order to get some recommendations on what to do next. Sadly, there's no advice for people who got their flu shot and "Feel Good"—that's just not what WebMD does. The next best thing you can do is figure out which states to avoid: Texas, Georgia, and Alabama all seem on the verge of universal incapacitation. Meanwhile, Montana and Maine seem relatively virus-free. Guess it's off to the hinterlands till all this phlegminess and puking blows over.
Photo by Vince Galloro/Flickr