Tech

Tech

The gadgets, platforms, and software that make your digital life possible. if it bleeps, clicks or blinks, you'll find it here.

Internet Culture

Internet Culture

There's a community for everyone online.

Streaming

Streaming

You've cut the cord—now what?

IRL

IRL

Where your off- and online identities collide.

Social

Social

If it happens online, it's here.

Bazaar

Bazaar

The Bazaar specializes in the stuff you don't actually need…but you really, really want.
More allegedly stolen "Vogue" shots discovered by photographer Sion Fullana
One of the photos, which has since been deleted from Vogue Spain's Instagram account, was cropped, colored, and falsely tagged in Madrid.  
When Vogue Spain was recently accused of stealing original Instragram photos for its own account, the magazine quickly apologized.
But what Vogue Spain didn't do was comb through the 144 photos on its Instagram account to see what other photos were not theirs.
According to a screengrab provided to the Daily Dot by photographer Sion Fullana, Vogue Spain also stole a 2005 black-and-white photo taken in San Francisco by photographer Animesh Ray. Fullana said Vogue Spain lifted the photo, colored it, cropped it, and posted on its Instagram—claiming it was taken in Madrid.
The photo has since been removed from Vogue Spain's account.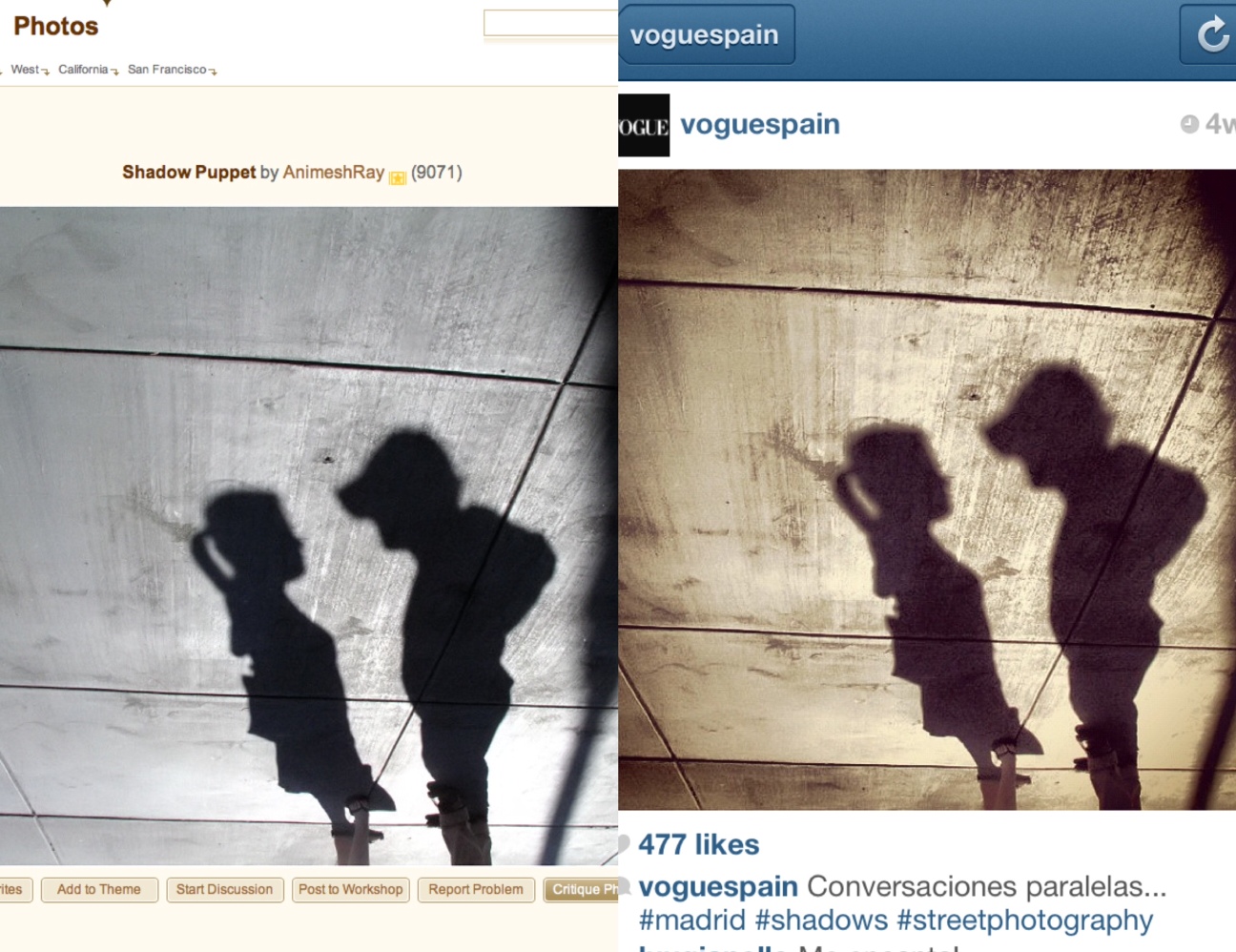 The same goes for a photograph from Mike Stimpson taken either from his Flickr or Instagram account by Vogue Spain. Fullana was unable to capture a screengrab of the image because the photo was removed from Vogue Spain's Instagram account after someone commented that it was not theirs.
Sometime last week Fullana discovered that two of his Instagram photographs has been posted on Vogue Spain's account without his permission. After apologizing for stealing his content, the magazine mentioned the possibility of compensating for the New York-based photographer Monday. Since then, according to Fullana, the publication has been "wishy-washy about what the actions towards my compensation should be" and has not made the process clear.
The Daily Dot has reached out multiple times to Vogue Spain's digital director for a comment.
"This is becoming much more than just me and my two photos," Fullana told the Daily Dot. "And they need to be taught a lesson on civic rules of the Internet and make them apologize and pay."
Fernando Alfonso III served as an early Reddit and 4chan reporter and the Daily Dot's first art director until 2016. He's gone on to report at Lexington's Herald-Leader and at the Houston Chronicle.
© The Daily Dot, all rights reserved.
Represented by Complex Media, Inc. for advertising sales.