Halloween is approaching, which means it's once again time to engage in traditional spooky-themed activities. But what about those of us for whom the outside world is the biggest horror of all? As fun as it is, Halloween also involves not-so-festive things like chilly temperatures, expensive candy, dealing with falling-down-drunk Draculas, and the inevitable after-effects of eating too many sweets.
The solution to these Hallo-woes is to spend your All Hallows' Eve inside away from the cacophony. There are many fun online activities that bring the spirit of Halloween right to your fingertips—and it's all free!
Trick-or-treating
The highlight of every Halloween is donning costumes and bumming candy from our neighbors, but maybe you haven't found a costume, have a chocolate allergy, or just plain hate your neighbors. Don't despair. There are plenty of virtual trick-or-treating options available.
Target is pairing up with Instagram to offer an online trick-or-treating experience dubbed "Haunted Hills." Now through Oct. 31, you can "visit" neighborhoods shown on the retail giant's Instagram feed and select "trick" (which leads to a fun Halloween craft project) or "treat" (which leads to a recipe for a Halloween-themed snack). This is essentially an Instagram choose-your-own-adventure game. I'm going to go out on a limb and assume that the crafts and snacks can all be produced with Target merchandise.

If you're more of a gamer than a shopper, you might be happy to learn that Guild Wars 2 is continuing the game series' popular "Blood and Madness" tradition by allowing players to stock up on various items, PvP conquests, and other exclusives as they explore one (or both) of the special storylines set up for the game.
If you're looking for a trick-or-treating experience that isn't as corporate, you can always amuse yourself with the online game "Trick For Treats," in which you control a sneaky little witch who uses a spider to scare the candy out of passing trick-or-treaters below.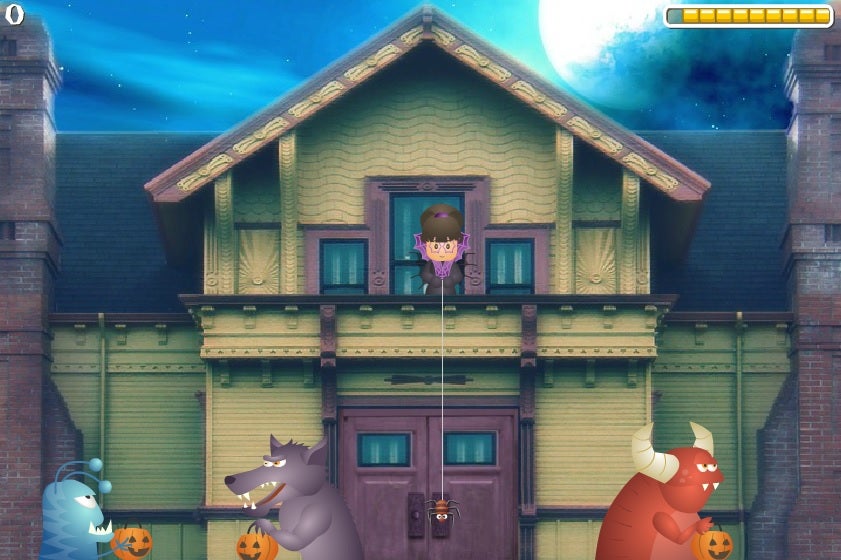 Screengrab via agame.com
Handing out candy
Maybe you've outgrown trick-or-treating—even the virtual kind—and prefer to stay indoors. If you'd rather not deal with neighborhood children bothering you for bite-sized candy, revisit your old pals at Homestar Runner to live out the experience in a virtual setting.
The Brothers Chaps' 2001 cartoon The House That Gave Sucky Candy is an interactive experience that delivers Coach Z, Strong Bad, and all of your favorites right to your door. All you have to do is glance at their costumes (including The Cheat dressed as the Hawaiian Punch mascot "Punchy") and hand them virtual Jujyfruits, apples, or even soup.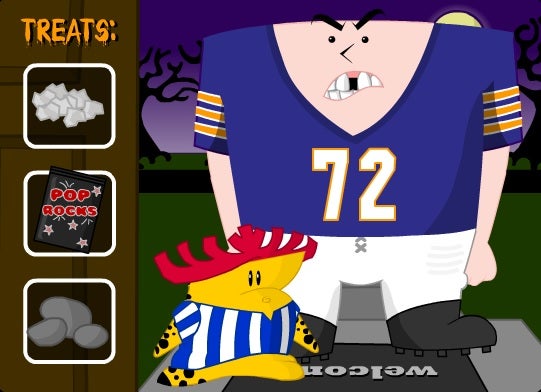 Screengrab via homestarrunner.com
If you want an encore, the interactive experience pops up again (albeit briefly) in the 2003 'toon 3 Times Halloween Funjob.
Halloween party
In the real world, Halloween parties subject you to drunk guests, drama galore, and, worst of all, the very real possibility of a super-lame party. Fortunately, there is a solution to this ordeal, and it comes—indirectly—courtesy of singer Adam Lambert.
Talented Artists of the Glamily, an Adam Lambert Facebook fan group, is throwing the Glambert Virtual Halloween Party. All you have to do is log onto Facebook—which, if you're looking for virtual Halloween ideas, is something you were probably going to do anyway—anytime on Oct. 31 and meet your fellow costumed friends/Lambert fans.
Explore a corn maze
Pumpkin patches and their adjacent corn mazes are always fun, but they can also involve large crowds, allergy triggers, and the threat of chainsaw-wielding maniacs. Fortunately, some opportunistic corn maze owners kept worrywarts in mind when they created a Google Street View version of their Edmonton corn maze.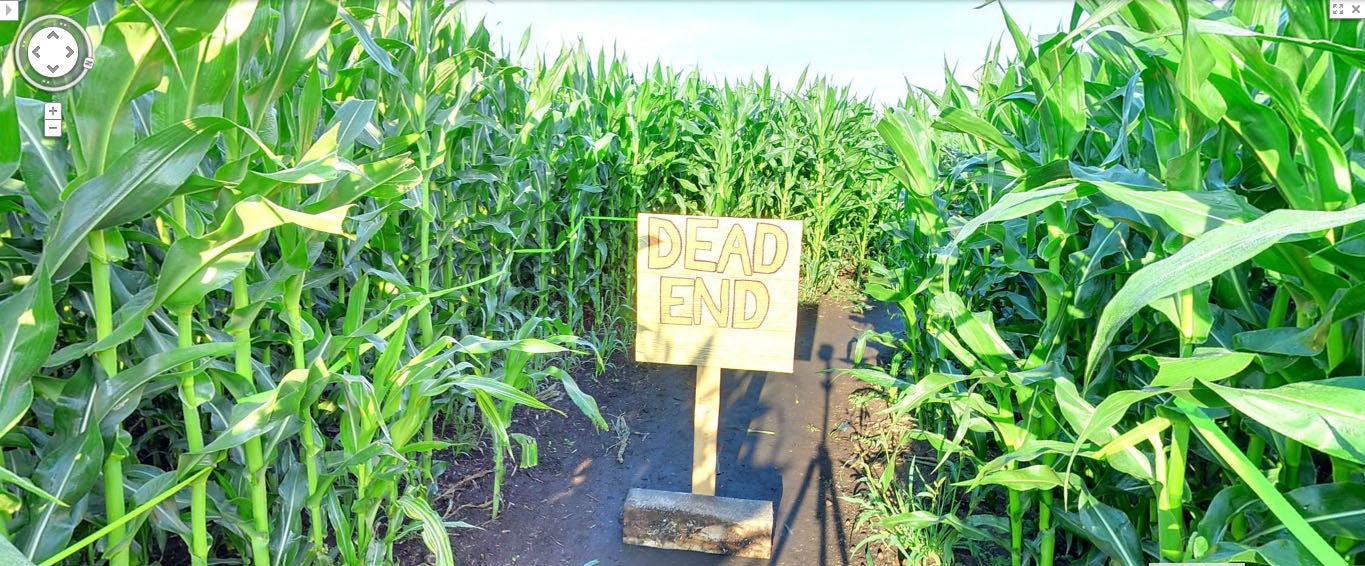 Image via Kyle Giesbrecht/Google Street View
Explore a haunted house
Police and shotgun-toting farmers have really put a damper on exploring old, possibly haunted houses and cemeteries. Thankfully, the fine folks at Halloweenishere.com have created an interactive, choose-your-own-adventure game that allows you to freely wander the creepy grounds of a haunted house.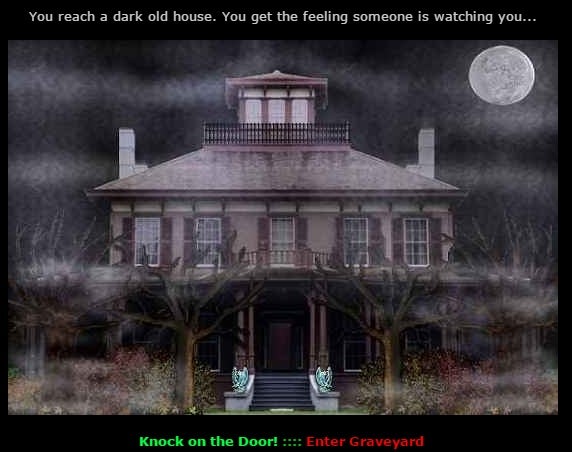 Screengrab via halloweenishere.com
Carve a pumpkin
Do you fail to see a justification for spending $20 on a gourd to get its disgusting innards all over you just so you can illuminate its hollow interior for exactly one night? If so, you'll want to check out Theoworlds' Carve Your Pumpkin Online, where you can carve to your heart's desire and—in a major triumph of the virtual over reality—erase your progress and start from a clean slate.
Even someone with the artistic skills of a blind porcupine can carve the Daily Dot's "D" logo into a virtual pumpkin.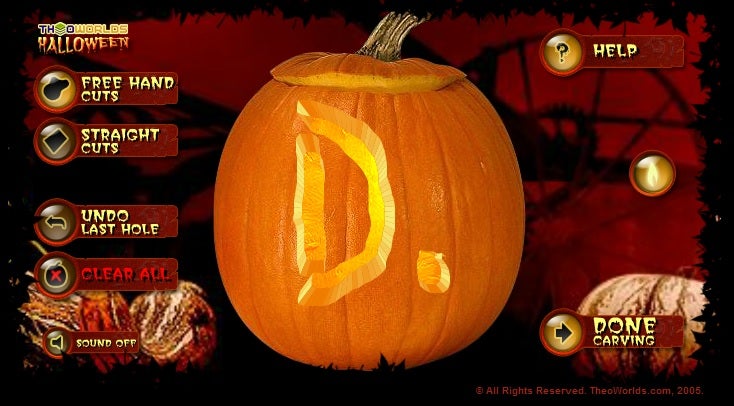 Screengrab via theoworlds.com
Take a haunted hayride 
Each fall brings more and more kinds of haunted attractions. Unfortunately, they all involve you shelling out anywhere from $30 to $70 to wait in long lines, only to have unemployed liberal arts majors covered in makeup and costumes lash out at you from cornstalks, hidden walls, thin air, etc.
This is where YouTube user Sharp Productions comes in. Ride along on the Los Angeles Haunted Hayride in Griffith Park and experience all of the glory of a rather spectacular haunted attraction without the crowds or expenses.
Read scary stories
Nothing captures the mood of Halloween like a truly chilling tale. Thankfully, Reddit offers plenty of terror (and you don't even need to go to r/4chan to access it).

R/nosleep is the most renowned of the bunch. The community collects real and imaginary tales, many of which become serial. The subreddit also helped launch the writing career of Dathan Auerbach in 2012, after his story Penpal earned him accolades.
R/TheTruthIsHere is a sister community to r/nosleep. Once it became apparent that r/nosleep was getting a little too heavy on the fiction, redditors with real-world frightening experiences flocked here. Now they use it to share their tales of IRL ghost encounters and other supernatural phenomenon.
R/LetsNotMeet is the place to go for true tales about decidedly creepy people. Read about your fellow redditors' weird experiences with neighbors, students, and public transportation passengers.
R/AbandonedPorn is filled with photographs of beautifully creepy abandoned places and structures. Tour everything from forgotten houses to abandoned hospitals to decaying amusement parks through the collective lens of this SFWPorn community.
Listen to scary sounds
Halloween is, of course, a time to ramp up the horrific sounds of the season, so get yourself into the mood with YouTube. Whether you're hosting a party, creating an ambience for visiting trick-or-treaters, or simply enjoy the sounds of wolf howls, this 12-hour-long video has you fully, unendingly covered.
Watch scary movies
Halloween is a time for horror movies; this is a given. Netflix certainly has you covered, with an abundance of titles ranging from obscure foreign horror films to more standard fare like Scream and Carrie. You can even watch special Halloween-themed episodes of your favorite TV shows like American Horror Story and Cheers.
If you don't have a Netflix account, however, all is not lost. Plenty of horror films have fallen into the public domain, with the most recent title being the 1980 flick Funeral Home. These movies capture the essence of the low-budget B-movies that Hollywood churned out in the mid-20th century. These films would later inspire horror host characters like Elvira, Mistress of the Dark, commentary series like Mystery Science Theater, and tribute films like The Rocky Horror Picture Show. Most, if not all, of these movies are available to watch on YouTube.
One such film is George A. Romero's classic masterpiece The Night of the Living Dead, the godfather of zombie movies. The terrifying 1968 epic chronicles the experience of citizens of a small rural town who get trapped in a farmhouse as the walking dead emerge from their graves and roam the Earth once again.
Oh, and if you aren't a fan of black-and-white, enjoy a colorized version.
Another excellent choice is Ed Wood's Plan 9 From Outer Space, which marked the final film appearance of Dracula star Bela Lugosi. Released in 1959, the film has gained a cult status because of how truly awful it is. To this very day, fans of bad cinema tune in to Plan 9 From Outer Space for a fun-filled night of laughing at the cringe-worthy dialogue, disjointed scenes, and awful special effects from the king of Hollywood B-movie directors.
Happy Halloween, Internet! Stay spooky, my friends.
Image via Joe Lanman/Flickr (CC BY 2.0)