With Halloween on its way, there are a lot of casual visitors on Tumblr's witchcraft, magic and paganism tags. Luckily, there are several pages that can set you on the right track to the real thing.
Tumblr is home to plenty of obscure and esoteric interest groups, from Napoleon fanfiction writers to collectors of ultra-weird porn, to wider communities like cosplayers and social justice activists. It can also look a lot like the online equivalent of a wall collage from your teenage goth phase, mostly because Tumblr is famously the home of "alternative" culture: the Addams Family to Facebook's Mean Girls.
In that intersection between unusual interest groups and Tumblr's love of gothic imagery, you find witchcraft. The only problem is, what with the overabundance of skeleton memes and supernatural TV fandoms, the lines between real and fictional "magic" can get blurred. Which is where blogs like Tumblr Coven come in handy.
Tumblr Coven is a handy introduction to the pagan and magic-using community, providing book recommendations and answering questions from novices. It might as well be a helpful FAQ page for a video game or recipe site, except the instructions in question are to do with banishing negative feelings, or contacting the dead. (A recent example: "Is there such a thing as dark magic?" According to Tumblr Coven, the answer's no.) It reblogs everything from wand-making tutorials to instructions on how to safely use an ouija board—advice that will probably be useful for a lot of people this Halloween.
Basically, it's Pinterest for people who believe in magic.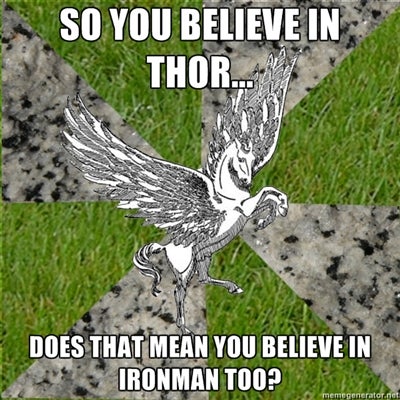 Image via fypaganpegasus /Tumblr
In many ways, the world of Tumblr paganism has a lot in common with online communities like fandom, with a seemingly endless variety of subcategories ("traditional witchcraft," anyone? Or "aztec reconstructionist"?) and viral image posts. There are even confession pages and memes with names like f*** yeah pagan pegasus and Wiccan Raven.
The pagan community was one of the early adopters of online social networking—and a Newsweek feature just explained how pagan culture is gaining popularity with millennials—so it's really no surprise that its Tumblr presence is flourishing. Not only are tag searches and askbox Q&As an ideal format for such a varied community, but blogs like Tumblr Coven can collate everything in one place. So, just in time for Halloween, we're able to learn plenty of useful information for first-time magic users, such how to operate the most useful tool in a witch's arsenal. (It's a chalkboard, in case you were wondering.)
H/T Newsweek | Photo via lamiadark/Tumblr