Who has time to read a whole blog like Jalopnik or Autoblog just to catch all the steamy details on a car you'll never own? Enter Tumblr. The microblogging service excels at posts that are purely visual. And given that you're unlikely to be handed the keys to anything as exotic as a McLaren F1 or a Koenigsegg, drooling over pictures may be as close as you get.
As we've begun to dig into the massive pile of Tumblr data we've collected at the Daily Dot, one thing is abundantly clear: Tumblr lovers are nothing if not aspirational. From fashions you'll never afford to people you'll never bed, Tumblr is chock-full of unfulfilled desire, that lust for just a little bit more. If you're dreaming of the millions you'll never make off a Facebook or Groupon IPO, Tumblr has the answers. 
Topping the list: Car Pornography
If you're looking for targets at which to sling those uncommitted ducats you have lying around, there are few lustworthy sites quite as lustworthy as Car Pornography. Car Pornography, or carpr0n as it's known on Tumblr, is the single most reposted Tumblr among the gas-huffing digerati. From the illicitly fast to the grudgingly eco-friendly, carpr0n seems to while away the days separating the merely droolworthy from the downright lustolicious. Whether something outrageous from the stable of American muscle or the refined and monied carriage houses of the European ruling class, if it moves and is covered in metal and paint, carpr0n has your fix.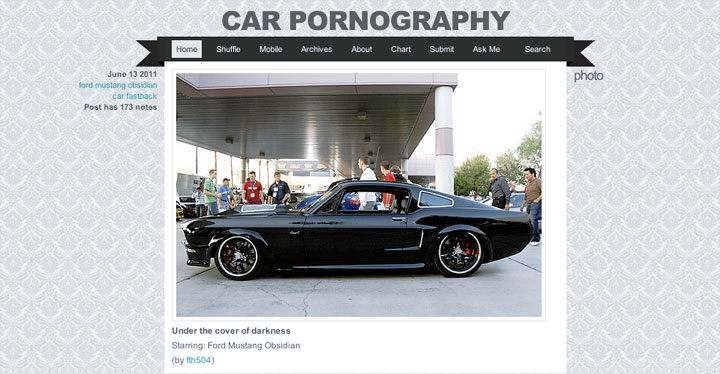 If there is nothing in automobiles for you past the 1970s, and your heart pumps pure and unadulterated Carroll Shelby blood, HotWheels is your first stop in Tumblr for everything you crave. From Hemi Cudas to vintage dragsters, HotWheels is comprised of exactly what you'd expect and nothing more. Jaw droppingly amazing pictures of raw hot American steel sitting still or in the heat of fierce battle. It's like daily updates to the leaded-gas era calendar that might have graced your Dad's garage in your youth. 
If you find yourself unswayed by the age-old arguments of American muscle vs. European style, surfing the feed of Tumblr's generic "cars" tag might just be your next stop. A random sampling tempts the eyes with such far ranging car-guy fanaticism as Fiat Abarth 1000's fighting tooth and nail against BMW's hottest 2 door of all time, juxtaposed nicely with the beauty of two mid-'60s Corvettes in repose. At the very least, you'll find new car-obsessed Tumblrs to follow.