When Chuck Alexander turned 29, he started a Tumblr called "29 Years, 365 Days." Every day, he posts a real-live human being's answer to the question, "What is your very best piece of advice?" The answers come from all kinds of people: for instance, Day 186's piece of advice came from some dude in Pittsburgh named Ted; Day 100's came from Mick Jones of The Clash. And they are equally useful!
"None of the quotes were taken from another source and pasted here," he writes on the blog. "All advice quotes were given directly to me from their respective author(s)."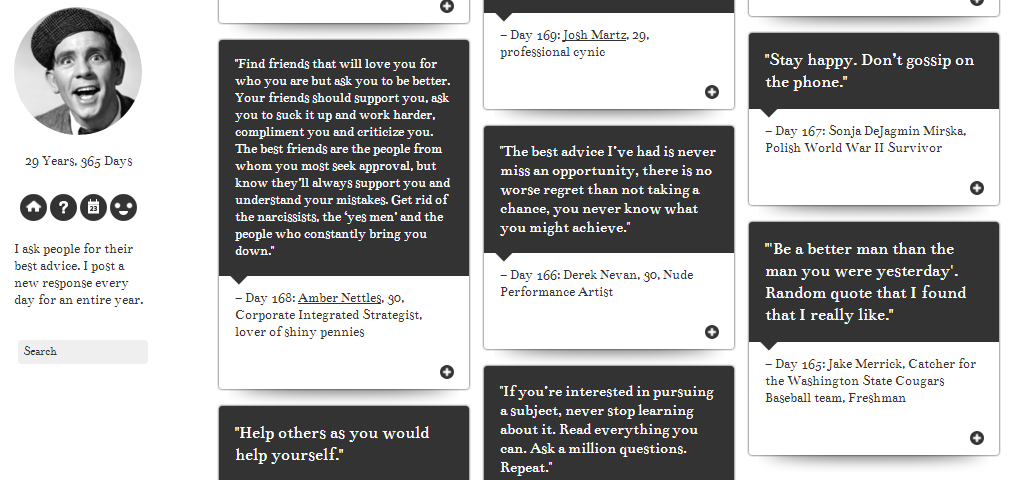 There are, of course, a lot of cliches: "Don't sweat the small stuff," etc. There's no getting around that, probably. But who knows! Maybe it's what you need to hear. Cliches have their uses.
But there are also some excellently original formulations of old ideas, like this, from Dexter creator Jeff Lindsay: "Keep smiling. It confuses people."
Meanwhile, professional horrifier R.L. Stine sagely reminds us, "Don't eat the yellow snow."
My personal favorite comes from New Girl actress Hannah Simone: "Stop talking." I could probably stand to keep this in mind more often.
Baby Cara, who is a baby, offers her wisdom as well. Perhaps the Tumblr has something you need to hear—or perhaps you have your own advice to offer.
Image via John Glass/Flickr