Opinion
Trans/Sex is a column about trans peoples' relationships with love, sex, and their bodies. Have a topic suggestion? Contact Ana Valens at [email protected] or @acvalens on Twitter.
. . .
How do you feel about dating, strap-ons, and adult games? Excited, hopefully.
For this month's Trans/Sex, I'm fielding questions from readers. If you missed out on the first wave, don't fret—I'm planning on doing more Q&A columns down the road. And if you ever have a question you want answered for a dedicated column, ping me over on Twitter or through email.
Without further ado, let's chat. All questions have been edited for clarity and brevity.
Disclosing your gender identity to dates
I think it's important for the general public to read about issues and challenges that reveal the personal issues trans people face, as that tends to create empathy. The more shared, the more trans people will be seen as individuals rather than issues. I would like to read more about finding a potential mate, dating, when and how to reveal private info, and building a relationship.
First off, thank you! This is an amazing suggestion and some incredibly important issues to keep in mind for future columns. One of the biggest challenges we face as trans women isn't just figuring out our bodies and our sex lives, but navigating the complexities of meeting others who aren't trans and disclosing our status, doubly so in areas where other trans people are few and far between (such as rural parts of the U.S.).
The internet is always going to be one of the best ways to meet partners. Hookup apps and dating services let you screen potential dates, and they provide a barrier between yourself and a match who has no concept of the word "boundaries." As for specific services, OKCupid is a household name at this point, and its sheer popularity makes it a fantastic choice. Bumble's 24-hour window and women-speak-first approach makes it a decent option, as well. Personally, I've had more success matching with people on Bumble than Tinder. There's also Grindr, which is one of the best ways to meet cis men to hook up with, albeit your mileage may vary. Some cis guys are legitimately interested in meeting other trans women, and others are just looking to fulfill an objectifying fetish. You can also find t4t (trans-for-trans) match-ups on Grindr or pair with another queer person.
All that said, your dating pool is only as good as the area you're in, so it's difficult to give advice for specific regions. For more information about the challenges of online dating, check out my first column for Trans/Sex.
Building a successful relationship actually isn't all that different from any other sort of relationship. Communication, trust, honesty, and mutual respect are key. As for disclosing, I think it really depends on who you're going to be with. Personally speaking, I bring up my gender identity while I'm still texting with a cis date. Doubly so if we're shooting off lewd pictures to each other or flirting. With other trans people, it's usually implicitly understood that our transness is a non-issue if we both already know we're trans. Still, at some point, both of us still need to talk about our genitals, what words we prefer for them, and how we like them touched (if at all). So no matter who you're sleeping with, communication is still important.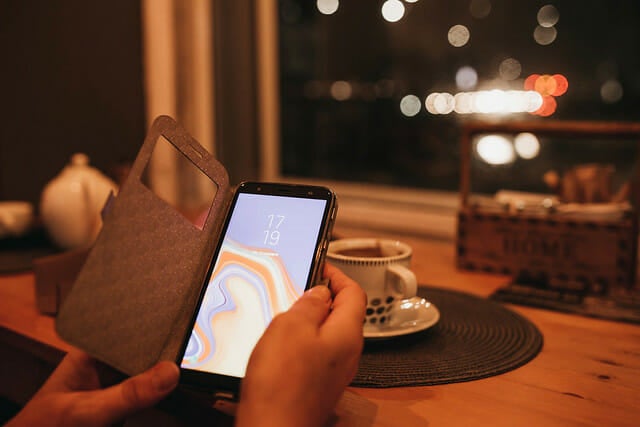 Journalist Sessi Kuwabara Blanchard pens the column "MTF & DTF" for Vice Identity. When I reached out to her, she told me about some of the complexities of hooking up with cis men. For her, communication is "almost easier with randos" because "the conversation is much more upfront" and much less about getting to know each other personally.
"So in the cases where I'm simply just chatting with a guy on a hook-up app, I make clear in those messages that I am a pure-bred bottom, though I am down for some touching of the ol' penis, as long as I can mediate it," Blanchard told me. "Sort of differently, if I'm courting a guy and we've been on a date and then things are getting steamy in the bedroom or something, I like to have those conversations while we're still just kissing and we're fully clothed. If I'm actually into a guy […] I wait until we're actually heading down the road towards sex (because with dates, you never know whether that will come to fruition), but then bring it up."
While I highly recommend disclosing your gender identity with a date in a safe and public place, keep in mind that the onus is never on you to out yourself, and that it isn't your fault if you find yourself in an uncomfortable or dangerous situation. Trans people disclose to protect themselves from harassment and violence, not to placate a cis person's feelings. We shouldn't live in a society that assumes all women were assigned female at birth and all men were assigned male. Until then, sometimes disclosure is the safest option.
At the very least, talking about your body ahead of time is the key to good sex.
"The worst thing is when you're butt naked and their hand is on your inner thigh and they say something like 'can I suck your cock' and you just want to die," Blanchard said. "I find it so hard in that situation to be like, 'one, the word cock is the last way I'd describe the thing between my legs, and two, I don't want you to go down on me right now.'"
T4Strap-On
One thought I've had, curiously, is strap-ons for non-op trans women, or just other ways to penetrate without one's biology wanting to do that? I know hollow strap-ons marketed toward men exist, but I have no idea if they're good or functional or comfortable in any way or if any are created for trans women in particular.
Ah, strap-on sex. All things considered, there isn't that much of a difference between a trans woman and a cis woman topping. A lot of the same rules apply: You'll need a harness, appropriate lube for the toy, and a dildo that fits your partner's orifices. Don't grab a strap-on with a huge girth if your lover is just getting started with anal penetration.
Before you pick up a dildo, pick out a gender-affirming harness. The article is nearly six years old now, but Autostraddle's advice on harnesses for trans women is a phenomenal start. In my case, I love Spareparts' Tomboi Harness Briefs. They're comfortable to wear, and because the harness is built more like a pair of briefs than a flimsy set of straps, it still gives plenty of room to move your genitals around or tuck them. Other popular contenders include RodeoH's line-up and the rather femme Sasha couture lingerie harness, also from Spareparts.
As for choosing a strap-on, I don't recommend using a hollow dildo. They're built primarily for cis men with penises that struggle to maintain an erection or are somewhat small, and while trans women can theoretically use one, it won't be as pleasurable. Most aren't gender-affirming; the Enhanced Male's hollow strap-on selection, for example, largely retails toward cis men. Enhanced Male's products also come with harnesses that may be dysphoria-inducing for trans women.
"I would just find something that you and your partner find mutually sexy," sex educator Octavia Leona Kohner told me.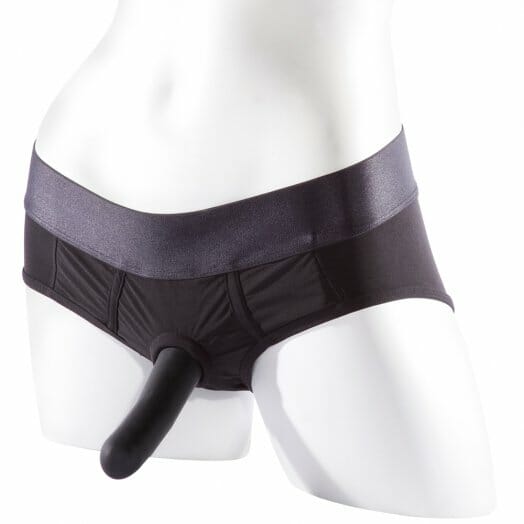 If you're interested in finding ways to make your biology work with you for penetrative sex, erectile dysfunction medication can help. You can also try replacing spironolactone with increased doses of estrogen via injections. Check out last month's column on erectile dysfunction and trans women for more information. Because using medication may be complicated, dysphoria-inducing, or just too uncomfortable for some trans women, it's more of an alternative solution than my go-to recommendation.
Other than anal and vaginal penetration, I'm a big fan of "face fucking," or forcibly thrusting your clit in and out of your partner's mouth while straddling them. This works well even without a full erection, and it can be quite pleasurable for both parties. If you're more focused on the sensation of fucking someone, there are also various forms of dry humping that you can try. A personal favorite of mine involves thrusting against the perineum to stimulate the prostate. Or you can grind against your partner's ass without physically penetrating it.
Trans people + porn games = ?
(Note: The following question is an adaptation of a DM sent to me by an adult game developer.)
I'm developing an adult video game and wanted to ask: What kind of terminology is best to identify male bodies with female genitalia, and female bodies with male genitalia?
This is a good question. First off, it isn't necessarily accurate to describe a woman with a penis as someone with a "female body and male genitalia," nor a man with a vagina as having a "male body with female genitalia." Doing so implies a "male" body is actually a cisgender man's body, and a "female" body is a cisgender woman's. In reality, if trans women are women and trans men are men, then trans women's bodies are also female bodies, and trans men's bodies are also men's bodies. Anything suggesting otherwise is cisnormative, i.e., implies trans people are a deviation from the cisgender norm. That language treats us like weird perversions who should emulate cisness as much as possible.
That said, I recommend using language that treats trans and trans-coded bodies the same as cisgender ones. For example, if you need to describe a pre-op or non-op trans woman's body as having a penis, I would suggest clarifying when cis women also have a vagina. For instance, you should use both "female character with vagina" and "female character with penis," instead of just "female character" and "female character with penis." For trans men, go with "male character with penis" and "male character with vagina." For nonbinary options, you can use terms such as "nonbinary character with penis," "nonbinary character with vagina," "nonbinary character with a penis and breasts," etc. These descriptions are affirming because they don't suggest that "female" automatically equates to "cisgender," and they also give room for alternate terms if "trans" or "transgender" would break the player's immersion in the setting.
Lastly, if you happen to be creating an adult game with customizable characters and are interested in fantastical representations of trans women's penises (such as "futanari"), I suggest providing options to customize the character's genitals by feminizing various parts. Let players make her cock smaller, less likely to get hard, stay erect for shorter periods of time, or orgasm clear fluid instead of semen. This means more work on the creator's part, but it provides a much more realistic experience that's sure to excite both trans players and those attracted to their bodies.
Got five minutes? We'd love to hear from you. Help shape our journalism and be entered to win an Amazon gift card by filling out our 2019 reader survey.