Tinder profiles have become their own sociological experiments: People pose with tigers and show off their goodwill to get dates, and some users have taken artistic license with particularly creepy guys. Your profile pic can make or break you.
Tinder Guys Posing With Art is the latest blog to explore this phenomenon. Created by Houston-based artist Sally Glass [full disclosure: Glass is a friend of mine], the Tumblr collects various photos of men posing in the vicinity of art, sort of an extension of the Tinder Girls Posing at LACMA blog. She says she picked up on this trend after casually swiping through the app.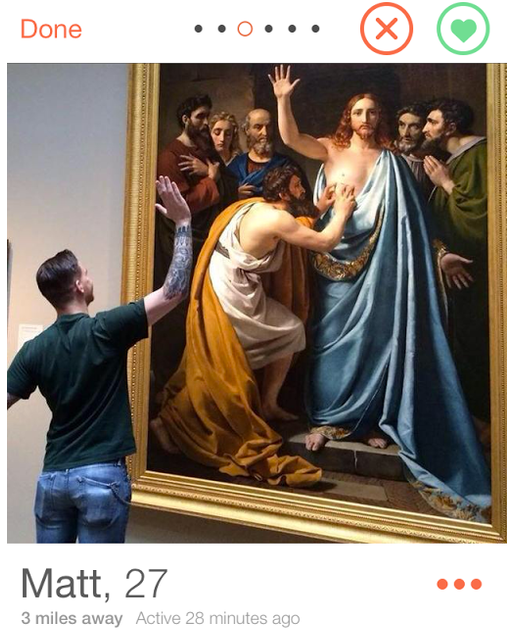 "Tinder has always been a casual thing," Glass explained. "Pretty soon, after I tried it for the first time, I started seeing guys here and there posing with, or climbing all over, artwork. I guess it was that I was doing a lot of research and writing about art, so I was naturally inclined to figure out what certain pieces were. I thought it was funny that I'd much rather scour Tinder for photos of dudes with art than actually go on a date with one."
Glass doesn't just post the profile photos; she includes an actual photo of the art in question, along with the artist's name and the name of the work, for context.
"Once I started collecting the screenshots, I figured a way to make it actually interesting would be to try to pair up the guys' pics with high-quality images of the art itself," she said, "so that it wasn't just the punchline, but an actual thoughtful, educational thing. While also making fun of dudes."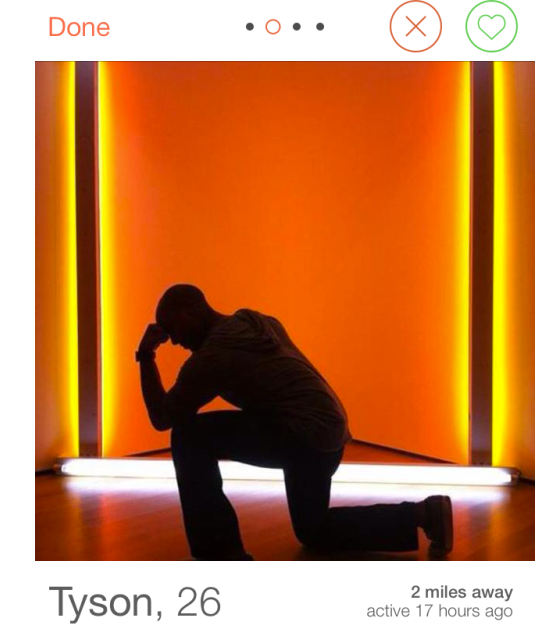 While there's an educational aspect to the Tumblr, Glass says it's also about offering "more to absorb than simply pages and pages of the same thing."
"Plus, on a more personal level, it's a document of my experience as a single woman bored with the ways in which this technology is presented to me," she added. "And more bored with the options. So bored, in fact, that I'd rather make a funny archival project than find a life partner through a smartphone app.
"I also totally got into the challenge of like, 'Who the fuck is the artist? I must figure this out.'"
Photo via Jeffrey/Flickr (CC BY-ND 2.0)