Today in "women can't just do their damn jobs in peace," #teacherbae started trending on Twitter because a woman who dared to have curves is being judged for the way she's dressed.
Last week, a teacher who goes by Paris Monroe on social media uploaded a few photos of herself in her classroom to Instagram. Most of them are of her wearing heels and knee-length dresses with high collars, and in one she's even wearing a cardigan. Perfectly acceptable work attire. However, people started coming after her, saying she was dressed inappropriately.
"Thank God my teachers did not look like this coming up or I would not have learned anything! #Geesh," wrote one. Others took to Twitter to complain about her attire.
https://twitter.com/Bossip/status/775331507162537984
The teacher, who has since been identified as Patrice Brown, told the Daily Dot Monday, "I just wish they would respect me and focus on the positive and what truly matters—which is educating the children of the future generations and providing and caring for them." (As of Tuesday, Sept. 13, she has set her Instagram to private.)
Once #teacherbae began trending, however, more people started standing up for Brown. Many said it's not the dresses that people are finding inappropriate—it's that Brown has a curvy body.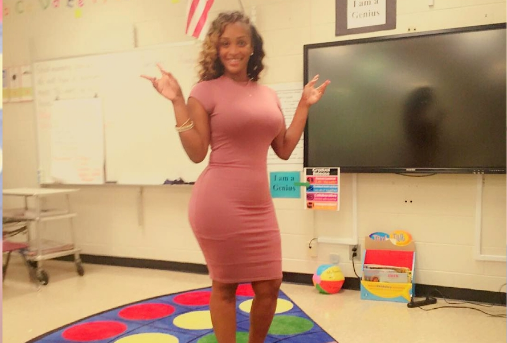 And besides, according to Instagram, she won teacher of the month at her school, so it's not like the clothes are keeping her from doing her job.
https://twitter.com/JayJazzi/status/775195483027410944
https://twitter.com/DatAinoDamPuppy/status/775312471628193792
Women hating on #Teacherbae now but later this week they'll be out here saying "Stop sexualizing women!!"

— 6'5 Giannis (@Super_Stud2100) September 12, 2016
https://twitter.com/SaintZayn/status/775354866273320961
I twitter searched #teacherbae and saw a deluge of stupid tweets about what women should and should not wear at work and now my head hurts.

— Dante. (@brotherdante) September 12, 2016
Treating women with large breasts, hips, or butts as inherently sexual has long been profoundly unfair. At Thought Catalog, Becky Brinkerhoff wrote about this conundrum within her conservative Christian community. Because of her breasts, she was accused by teachers of showing too much cleavage, even if she was perfectly covered up. "My curvy figure—the one that I could not help myself from having—automatically labelled me as sinful. I was being guilted for something that I couldn't change. I was being held to an impossible standard of modesty—one that my body simply could not comply with."
Women have been not only judged, but outright punished because of this double standard. In 2010, a Citibank employee says she was fired because the men in her office thought she dressed inappropriately. When she pointed out she was wearing the same clothing as other women in the office, "They said their body shapes were different from mine, and I drew too much attention," she told the Village Voice. Citibank denied her claims, and did not enter a settlement with her.
This is also an issue that disproportionately affects women of color. For Fusion, Fariha Róisín wrote, "Women of color are so often sexualized through misplaced exotification, before we're old enough to gauge how the holes toiling inside of our bodies serve a purpose… We are simultaneously told we are 'undesirable' by the glaring lack of representation, and that we are, simultaneously, too sexual."
It's hard to imagine a man being chastised, fired, or otherwise judged for wearing an outfit that covered 75 percent of his body. It's also hard to imagine a white woman with small breasts and hips being called out for wearing a similarly modest dress. Luckily, #teacherbae's school seems to think she's doing just fine.
Update, Sept. 12, 1:18pm CT: Includes comments from Brown.
Editor's note: Since publishing, "Paris Monroe" has set her account to private and has been identified as Patrice Brown. The piece now reflects these changes.