Last week forensic science teacher Susan McCoy, of Pebblebrook High, Georgia, decided to express inaccurate opinions on Breonna Taylor's death, delivered as part of an impromptu lecture on how not to be shot by the police to her high school students over Zoom.
Taylor was fatally shot in March 2020 in her Louisville, Kentucky apartment hallway by police. Authorities were executing a no-knock warrant shortly after midnight.
McCoy claimed that Taylor was responsible for her own death because "she put herself in that position by hanging out with somebody she shouldn't have been with." She added: "When you hang out with people with guns who shoot at cops you're likely to get caught in the crossfire."
McCoy, who didn't actually know Taylor's name, referring to her as "Breonna someone," went on to say that her death had nothing to do with the "color of her skin," as it was the natural result of the company she kept.
When McCoy's students attempted to correct her by pointing out that Taylor wasn't "hanging out with a guy who was wanted on charges," and the man the warrant pertained to was actually already in custody, McCoy doubled down. Repeatedly insisting "It's sad but she put herself in that position," she defended the police's actions on the grounds that they had a no-knock warrant, ending with the claim that they "had proof he shot first." Taylor's boyfriend, Kenneth Walker, did shoot first reportedly assuming an intruder was breaking in, hitting an officer in the leg.
McCoy's students recorded the incident and shared it online where it quickly went viral beginning on Friday, leading to an ongoing call for McCoy to be fired.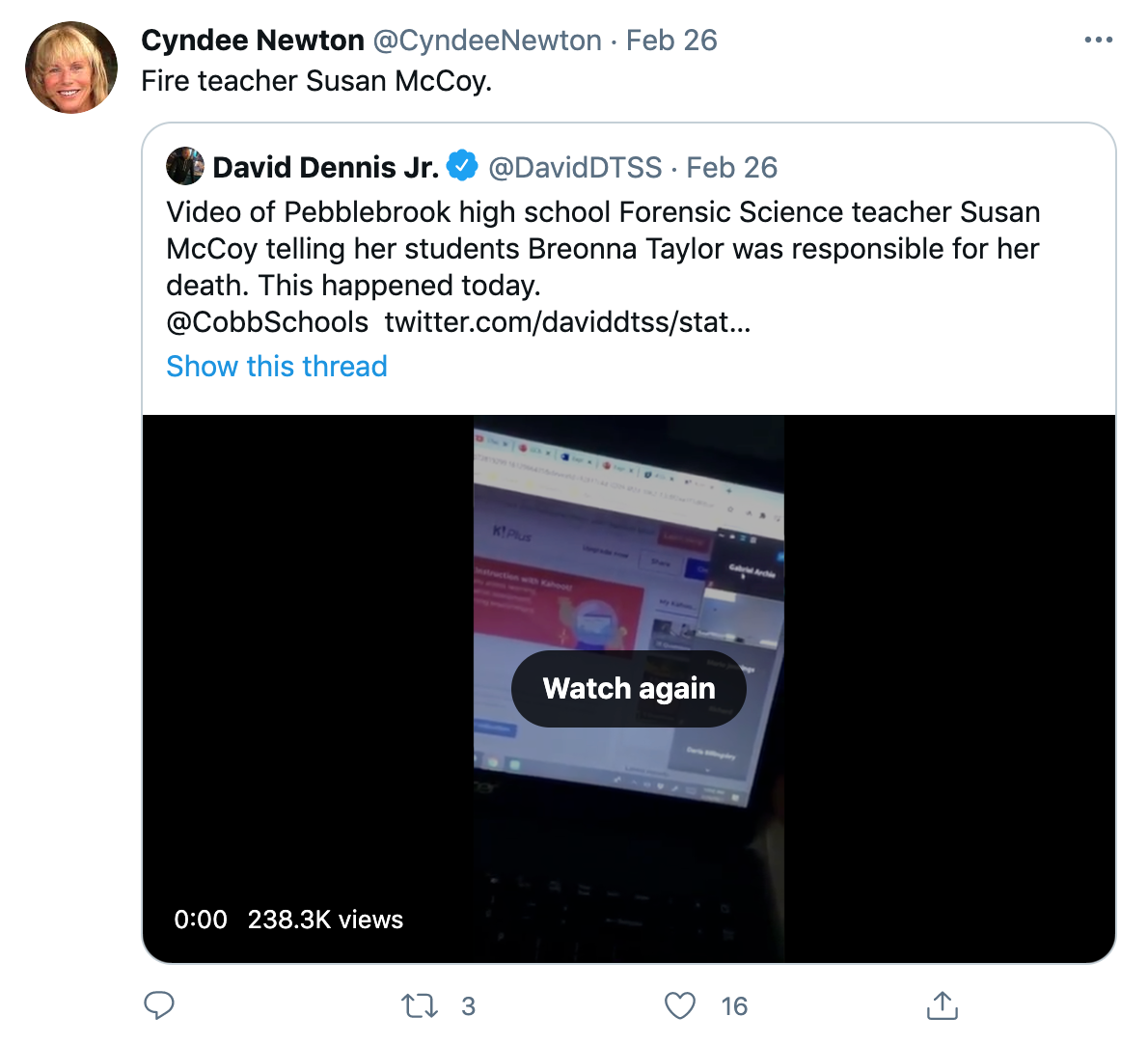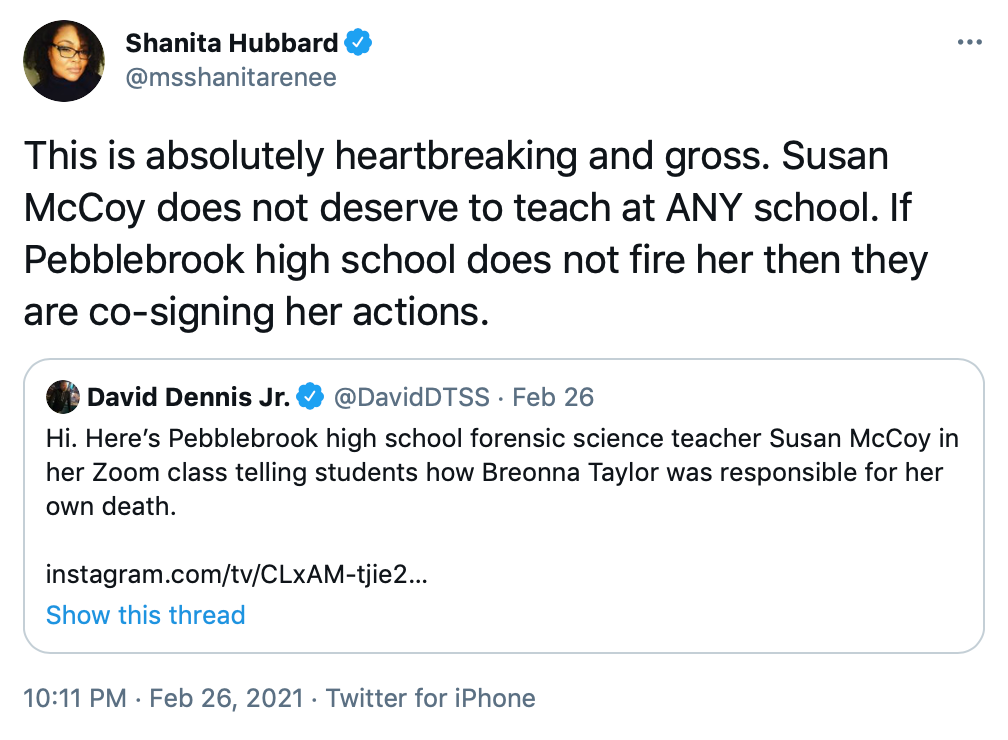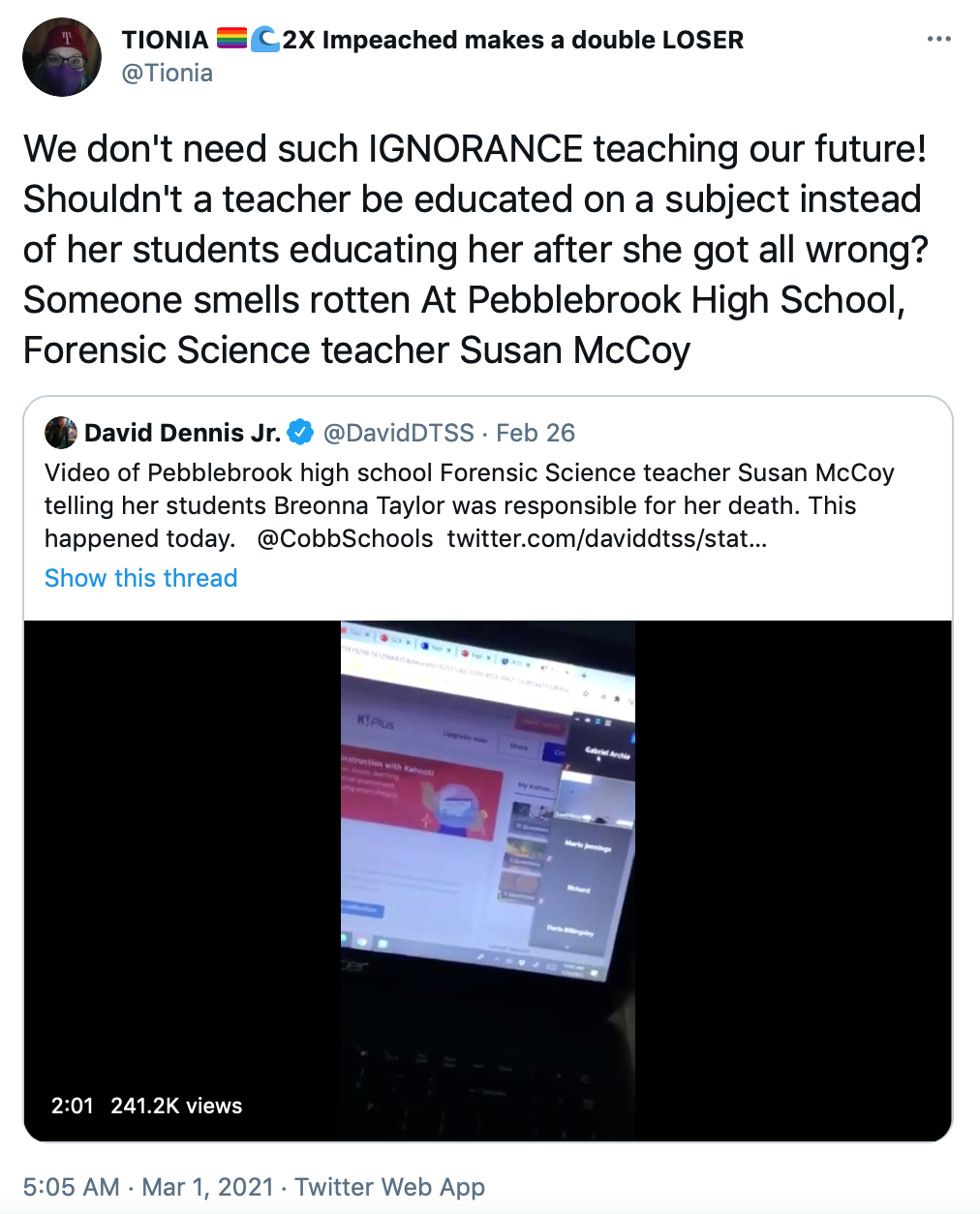 The school has responded to the numerous complaints raised over McCoy's lesson by stating that an investigation is underway, as well as by emphasizing the school's alleged values of empathy, respect, and appreciation of diversity.
McCoy has since released a video apology for her comments about Taylor, acknowledging that she should not have spoken on something she was "very ignorant" about.
However, that apology fell short for many, in particular the lack of an attempt to correct the misinformation she presented as fact during her Zoom class. To some viewers, it was an apology for getting caught rather than a sincere expression of remorse.