Every New York City resident has at least one crazy subway story, but this one might take the cake.
A woman freaking out on her boyfriend for giving her AIDS was captured via cellphone video and put up on YouTube yesterday. The woman loudly accuses the man, who is wearing a hoodie and blocking his face, of infecting her with the disease, tells him she's going to give AIDS to other people on the train, and gets angry at the guy filming on his iPhone. (The guy filming also yells, "WorldStar!" when they start fighting, a reference to the Internet's favorite hub for fight videos, WorldStarHipHop.)
Lol check out my NEW Comedy prank video. .Tell a friend~ https://t.co/fp4kEUgx7v

— Zaida Pugh (@msmuffin226) October 3, 2013
The man tries to restrain her and tells her, "You gave yourself AIDS." It's unclear if she's accusing him of cheating or vice versa, but the conversation gets increasingly heated on the packed subway train.
On Reddit, someone pointed out that laughing at the video is awful because, if true, it's basically a woman confronting her murderer. If that guy truly gave her AIDS, then he's lucky she didn't do worse than yell at him on the train. And from his responses, it seems like he's not disputing her diagnosis, just disagreeing that he was source of the virus. (If she was just diagnosed, as she says, she most likely has HIV rather than full-blown AIDS, but dissecting her justified anger is just splitting hairs.)
"You have the AIDS now, that's it," he tells her.
"What am I supposed to do? Move on?" she asks. 
The video also perfectly captures subway riders in New York, who don't even move or flinch and barely get involved in the insanity in front of them. Many don't look up, or have headphones in. Just a typical day on the train.
Only in the end, when he picks her up and starts to pull her off the train do people intervene, yelling at him to leave her alone. They eventually convince him to leave her as the doors close with him on the platform at Church Ave. in Brooklyn and her on the train. It's really scary.
Since every potentially viral YouTube video could just be a stunt, and many commenters are saying this whole thing might be performance art, hopefully the woman in the video doesn't really have HIV. But if she does, that scumbag dude got off easy. 
The end of the video directs you to this woman's Facebook page, where she hints it's all fake: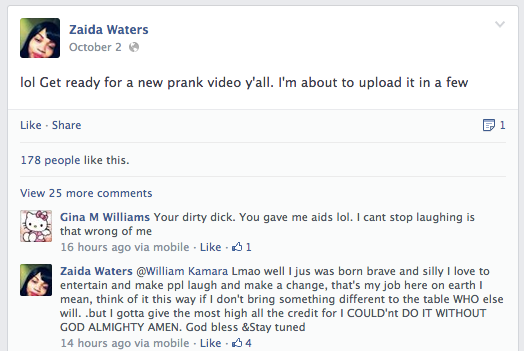 Correction: This fight was staged. On Facebook, the woman who apparently produced the video, Zaida "MsMuffin" Waters, says that the whole video was "a brave and silly" prank. She runs a website and YouTube channel also dedicated to pranks. 
Screengrab via YouTube