When you're a fan of a TV show, your love of the program doesn't start and end with the story. You probably love everything from the characters to the setting. It's why there's such a demand out there from viewers to buy items seen on or inspired by TV shows. And now it's also sparked the creation of quite a few websites eager to fill the need, such as ShopTV.
If you're a fashionable fan, then you might be eyeing the styles worn by your favorite characters more than anything else. The problem is, where do you find their looks? Luckily if you're obsessed with owning what Olivia Pope's been wearing on Scandal, now Style On Screen can help find it for you.
Less than a year old, fans can ask the site via Twitter to help them track down fashions they've seen on TV. Once they receive a request, Style On Screen tries to find out what it is and where you can buy it. A majority of the interaction takes place on Twitter, with the website tweeting back links to where viewers can find the style, but the site is also growing a blog where they occasionally share the pieces they've discovered side by side with their appearances on TV.
Style on Screen CEO and founder Kingsley Maunder told the Daily Dot how Twitter users talking about TV shows was the inspiration for the website. He didn't see anyone filling the need when people were asking where they could find certain products.
@MichelleLDunbar Jess wears sold out dress by Alice + Olivia: https://t.co/V2UOOvQSiQ; find similar at @nordstrom: https://t.co/VZN53TK5oK :)

— Style on Screen (@styleonscreen) April 30, 2014
So how do they find these looks? Maunder said that when there's such a demand from viewers for a product, it's in the best interests of everyone associated with the product to promote it, so they often receive help tracking it down from the source.
"The brands want additional exposure, as do the PR companies they work with, the stylists who dress the celebs, and the TV shows themselves. So where possible they provide us with the information we need. We also work with a fantastic community of style spotters who love to help people find outfits," he said.
According to Maunder, the biggest challenge they face when trying to fulfill requests is when the outfit is not in season or sold out. In those instances they try to find the best alternative for fans.
"The same is true if an outfit is too expensive. We then offer a look for less, while still providing a great style match," he said.
Wondering what styles are hot with TV fans this year? For outfits, Maunder said Giuliana Rancic's award show dresses, Pharrell's hat, and the dress worn by Sam Faiers during the finale of U.K.'s Celebrity Big Brother have been some of the unexpected, stand-out hits so far.
As for their most requested shows, here are a few of the most popular programs people are just dying to wear fashions from.
1) The Mindy Project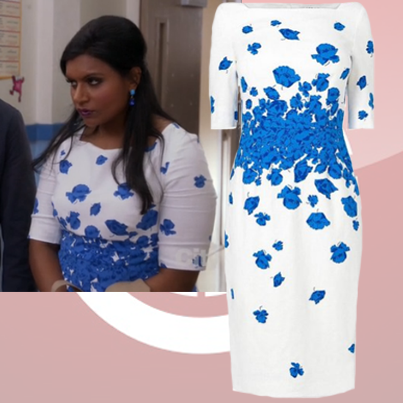 People can't get enough of Mindy Kaling's style, whether she's casual or dressy. One recent style request from the show was for this white and blue floral dress which Style On Screen discovered is from LK Bennett.
2) Pretty Little Liars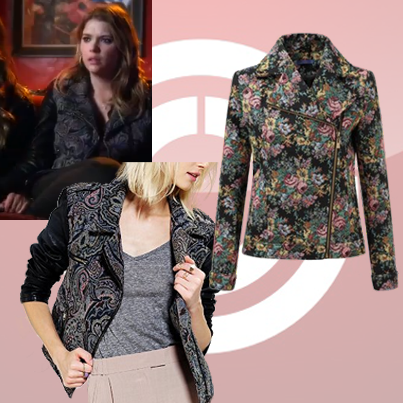 The teens on Pretty Little Liars can be quite stylish, so it's no surprise they're one of the most popular dramas Style On Screen receives questions about. One viewer recently asked where they could find Hanna's tapestry biker jacket. The item was originally from Urban Outfitters but sold out, so the website found an alternative match at Joe Browns.
3) Award Shows
Who hasn't seen a beautiful gown while watching the Grammy Awards, Oscars, or BAFTA Awards and wondered where they could find it? Style On Screen receives a lot of questions about the fashions on award shows. Of course not everyone can afford these celebrity looks, so they will find a cheaper but similar style. For example, viewers were eager to know where Bette Midler found her Oscars red carpet gown this year. Style On Screen discovered it was part of Reem Acra's 2014 fall collection and found a version of the dress at Phase Eight.
4) New Girl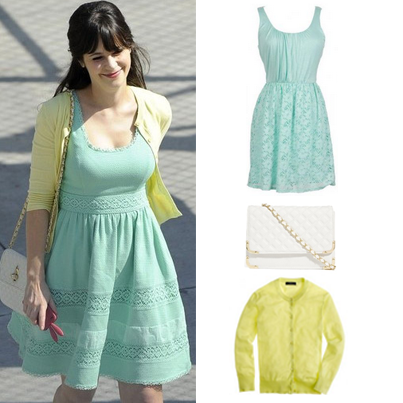 Zooey Deschanel owns the adorable, fashionable look on this comedy. People love her sense of style and are just dying to add it to their wardrobes. Here's one of many requests Style On Screen has received for a look from the show. Her mint green dress by Jessica Simpson was sold out and now so is the alternative the website found! The cute yellow cardigan is still available at J.Crew though and the quilted bag can still be bought at ASOS.
Screenshot via Fox/YouTube and photos via StyleOnScreen.tv