A Brighton, U.K., woman who married herself in 2015 has since dated someone, broken up with him, then helped that guy become a "sologamist," or someone who marries themselves. And yet she hasn't broken a single vow.
Going on U.K. show This Morning, 38-year-old writer Sophie Tanner explained that being a sologamist wasn't about solely being committed to herself in a romantic sense, nor did it mean she was swearing off all other people for a devout life. Tanner had "married herself" more than two years ago after years of researching sologamy for her book, and held a full ceremony complete with a bridal party, white wedding dress, and vows.
"Self-marriage is about self-love, and it's saying that self-compassion and self-care is as important as romantic love," Tanner said. "It doesn't mean you're rejecting all other meaningful relationships in your life and becoming a nun forever more. It means you're rejecting bad relationships."
"Isn't [self-love] something that one should feel about themselves anyway, so we don't need to go through a whole ceremony?" one of the show's hosts asked.
"Absolutely," Tanner replied, "if only there was a bit more self-love in the world. But this is a statement which looks to raise the profile of self-love, saying it's as important as romantic love, and doing it as a formal ceremony as anyone else would have a wedding."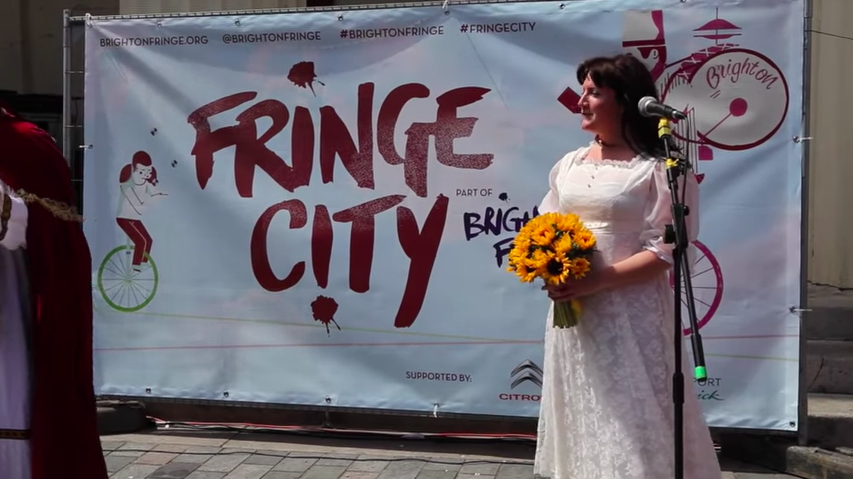 During her two-plus years of self-marriage, Tanner met Ruari Barrett, who also made an appearance on the show. The pair dated for five months before Tanner realized that she wasn't keeping her commitments to herself—Barrett, a polyamorist at the time, wanted to keep the relationship casual, while Tanner wanted something more committed. So, in line with her commitment to self-love and rejecting negative relationships, Tanner said goodbye.
Two months later, Barrett realized that he felt emotionally drained as a polyamorist and wanted to follow in Tanner's footsteps and commit to self-love. As a result, Barrett said he no longer has "a need" to be polyamorous (though, for the record, loving yourself and being polyamorous aren't mutually exclusive).
Though she and Barrett didn't work out, Tanner makes one thing clear—should she find another person who she will want to spend the rest of her life with, she won't need to annul her self-marriage in order to commit. After all, why would you ever quit on loving yourself?
"Marrying yourself is a long-life commitment to be responsible for your own happiness, so divorce is not an option," Tanner said.
Watch the full interview with Tanner and Barrett below:
H/T Independent