You know the Airing of Grievances during Festivus, where you're supposed to sit at the front of the table and detail all the times your family members have disappointed you in the last year?
Well, Festivus came a little early this year for redditor throwwwwwaway29, who posted a spreadsheet, purportedly sent to her work email by her husband, detailing all the times she'd denied him sex in the last month or so. 
The spreadsheet (click to expand):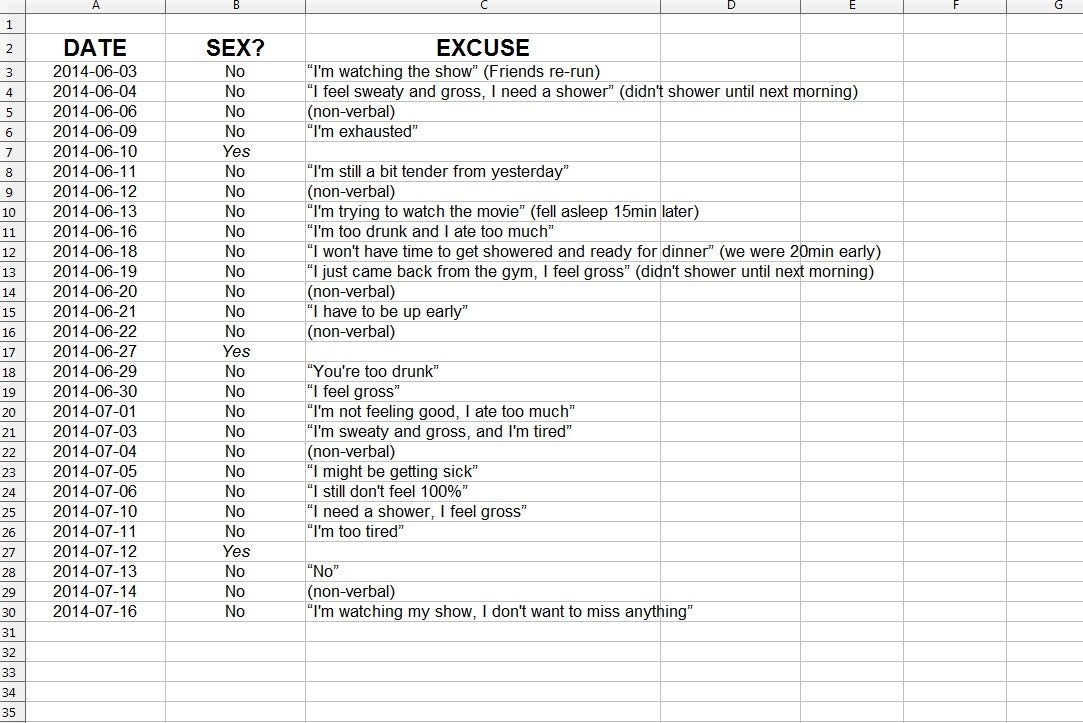 Here's how throwwwwaway29 explains it, in a post on r/relationships:
Yesterday morning, while in a taxi on the way to the airport, Husband sends a message to my work email which is connected to my phone. He's never done this, we always communicate in person or by text. I open it up, and it's a sarcastic diatribe basically saying he won't miss me for the 10 days I'm gone. Attached is a SPREADSHEET of all the times he has tried to initiate sex since June 1st, with a column for my "excuses", using verbatim quotes of why I didn't feel like having sex at that very moment. According to his 'document', we've only had sex 3 times in the last 7 weeks, out of 27 "attempts" on his part.
Although one would imagine a person this petty and childish doesn't deserve to get laid to begin with, the OP insists her husband isn't usually like this: "This is a side of him I have never seen before—bitter, immature, full of hatred." She's spent the last 24 hours trying to get hold of him, to no avail, and spent last night crying herself to sleep, she said.
Of course, because she posted her story on Reddit, many commenters did the exact opposite of sympathizing with her predicament. Instead, they took the opportunity to tell her what a selfish bitch she was being, and how awful it was that she would not greet her husband every evening with her vulva laid out and fully garnished on a silver platter.
"Gotta be honest, my guess is that OP has given the same excuses or denied sex a lot and then acted like it hasn't been denied often," one commenter wrote. Another chimed in: "Now you know how it feels to be unloved and left on your own. I hope that is all he is trying to convey and not out banging hookers while you are gone. Have sex with your husband!"
It's a shame so many dudes on the Internet think this is good advice. Women aren't not obligated to "give you sex" whenever you want it, without worrying about you making stupid spreadsheets or "banging hookers" in retaliation. We can give the sad husband credit for his excellent Microsoft Excel skills. (Tom Ley at Deadspin noticed the "yes" marks are all italicized, like the hubby's high-fiving himself.) They'll come in handy for his next spreadsheet, where he keeps tabs on how many nights he's spent alone.
H/T Deadspin | Photo by Guian Bollsay/Flickr (CC BY SA 2.0)