Actress Melissa Barrera has reportedly been fired from her role in Scream VII after posting on social media in support of Palestine.
According to One Take News, the actress was "quietly let go" from the movie, which also stars Jenna Ortega, Mason Gooding, and Jasmine Savoy Brown, as a result of "controversial statements amid the Israel-Palestine crisis." Barrera played Sam Carpenter in Scream VI, which premiered this year.
Her comments, which appeared on her Instagram story, were screenshotted and posted on Reddit.
"I too come from a colonized country," Barrera wrote, adding a Mexican flag. "Palestine WILL be free."
Barrera also has the watermelon emoji in her Instagram bio, a symbol which signifies support for Palestine.
Barrera has also shared multiple reels and Instagram posts on her Instagram story indicating her support of Palestine, calling for a ceasefire, and expressing solidarity with U.S. Representative Rashida Tlaib, a Palestinian-American congresswoman who was censured in the House of Representatives earlier this month after criticizing the Israeli government.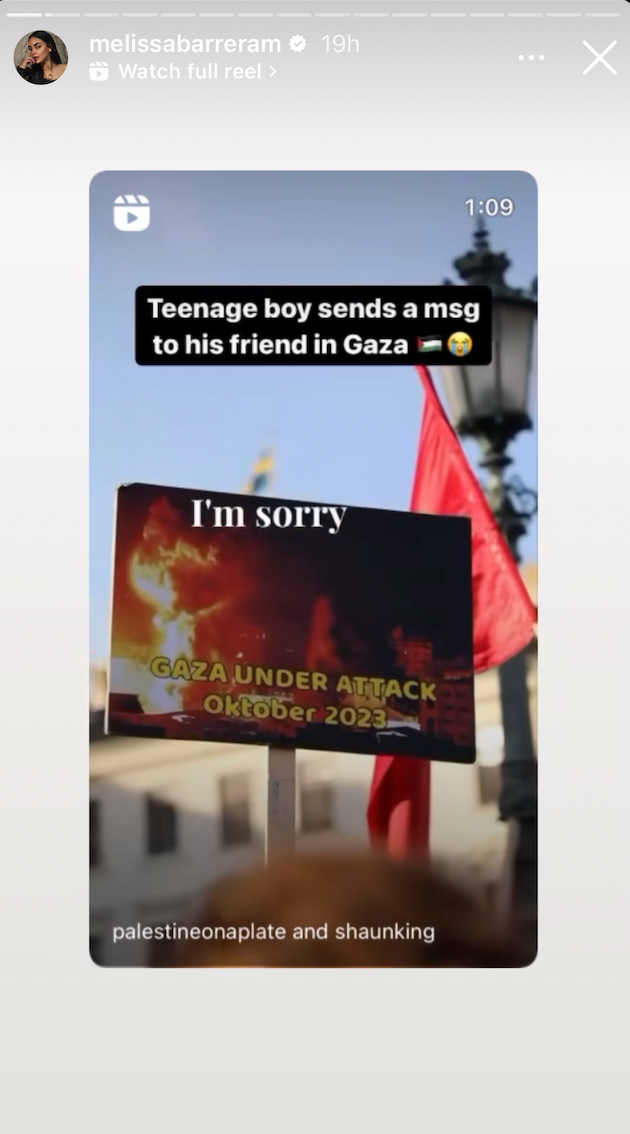 Barrera isn't the only celebrity to have reportedly lost a professional opportunity after expressing solidarity with Palestine amid Israel's attacks on Gaza: The Daily Mail reported that actress Susan Sarandon, who has been regularly attending and speaking at pro-Palestine protests, was dropped by her agent, United Talent Agency, after saying that Americans scared to be Jewish amid the war are "getting a taste of what it feels like to be Muslim in America."
The Daily Dot has reached out to representatives for Barrera and Sarandon via phone.

We crawl the web so you don't have to.
Sign up for the Daily Dot newsletter to get the best and worst of the internet in your inbox every day.