Scout Willis, the daughter of Demi Moore and Bruce Willis, thought Instagram was behaving like a giant boob when the site took down one of her photos, citing a violation of community guidelines. So she decided to retaliate by showing her own, taking a topless stroll around Manhattan to protest Instagram's anti-nudity policy.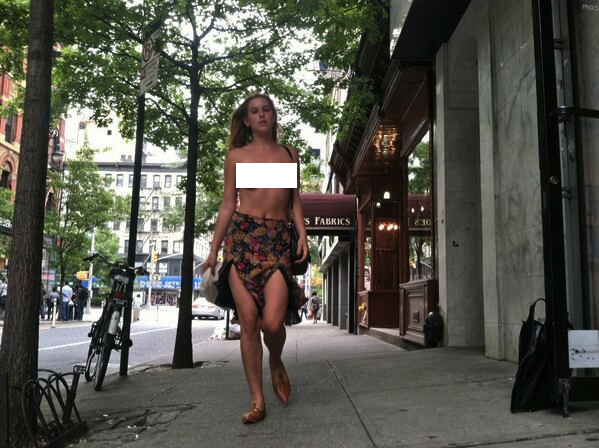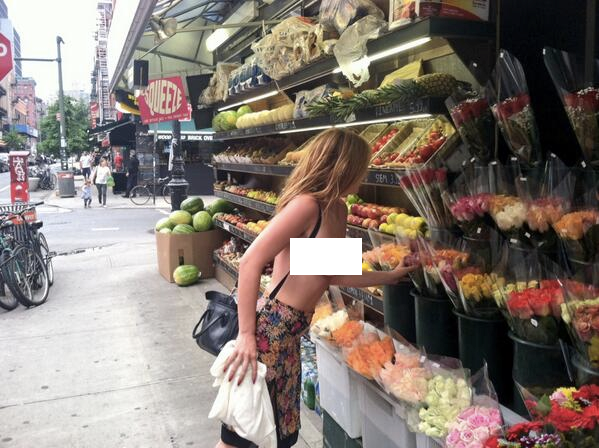 Via Scout Willis/Twitter
On Tuesday, Willis tweeted photos of herself using the hashtag #freethenipple. The pictures, taken by professional photog Mario Sorrenti, were captioned "Legal in NYC but not on @instagram" and "What @Instagram won't let you see."
Public female toplessness has been legal in New York City since 1992. But while it's legal for women to bare their breasts outdoors, police continue to arrest them. 
A documentary film, Free the Nipple, is about the fight against these censorship laws in New York City. The MPAA, of course, limited its exposure by giving the film a NC-17 rating. Spurred on by a topless Miley Cyrus, a hashtag in support of the film, #freethenipple, popped up in late 2013.
Willis's crusade against Instagram's prudishness appears to have started last week, when Instagram removed a photo of a sweatshirt she designed that featured an image of two topless models. She was, to put it mildly, displeased:
Made a new Instagram,gonna post lots of beautiful photos of naked women I think.Tasteful, non aggressive, whomever wants to see can, if not

— Scout LaRue Willis (@Scout_Willis) May 27, 2014
Not even 24 hours before getting kicked off again…. pic.twitter.com/J4iGB2r2Jz

— Scout LaRue Willis (@Scout_Willis) May 27, 2014
A) fine👌 B) got flagged and removed from @instagram pic.twitter.com/IZ80lrXJRc

— Scout LaRue Willis (@Scout_Willis) May 27, 2014
@instagram pictures of breast cancer survivors have been flagged+deleted but this is super #sick and #hot amiright??? pic.twitter.com/zMRvftipfg

— Scout LaRue Willis (@Scout_Willis) May 27, 2014
Since then, Willis has been on a nonstop quest to get Instagram to acknowledge the existence of breasts, specifically her own. She's been sharing photos of breasts. She's been tweeting about breasts. She even changed her middle name on Instagram to "Areola." (Her account is currently disabled).
But it wasn't until she stripped down on Manhattan's Lower East Side that her quest to bare breasts on social media started getting real attention. From the looks of her Twitter, most people are applauding her efforts, tweeting in support of her cause. 
For now, Willis is still furiously tweeting at Instagram in protest of their anti-nudity policy. When I asked her if they had responded yet on Twitter, she was just as succinct as she was, er, topless that one time:
"@ej_dickson: Hi @Scout_Willis have you heard from Instagram since your protest?" No

— Scout LaRue Willis (@Scout_Willis) May 28, 2014
H/T Mirror UK | Photo via Scout Willis/Twitter