Earlier this week, many Americans were stuck inside their apartments as a result of the polar vortex, a bout of extremely cold weather that swept the Northeast. A few days and a few million "#GODDAMNITSCOLD" hashtags later, new data reveals how America passed the time while warding off the frigid weather.
Turns out the "vortex" part was really just a whirlwind of James Deen clips.
According to data from Pornhub, the world's biggest XXX streaming site, there was a huge spike in traffic on Jan. 7 and 8, when temperatures had plummeted to the low single digits: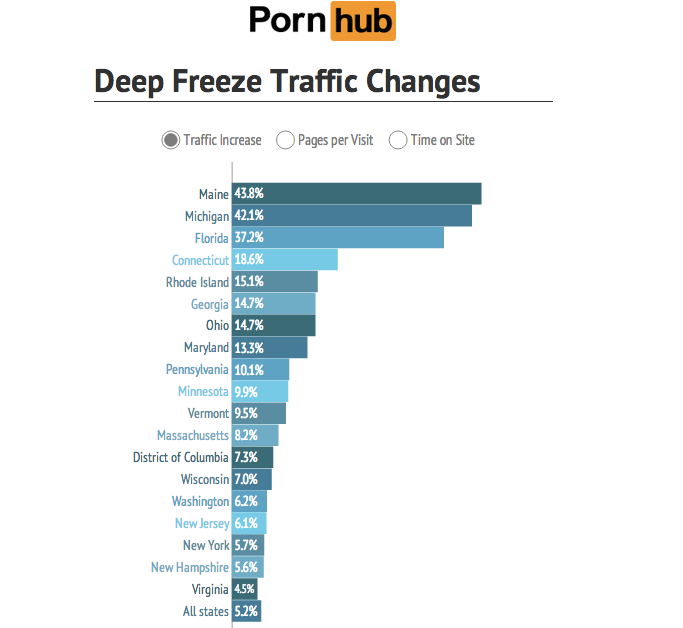 Screengrab via Pornhub
As you can see, the biggest increase in viewership was in Maine, where site traffic increased by nearly 44 percent compared to the January average. Even in Florida, where temperatures were in the balmy mid-30s, traffic increased by 37 percent: apparently, Sunshine staters were so freaked out by the temperature drop that they didn't know what else to do but go home and watch porn (Florida: where "watching porn" replaces your "fight-or-flight" response). 
Of course, it's possible that those afflicted by the polar vortex didn't spend all of their time indoors making violent, yet tender, love to themselves. It's possible that some people read books, or watched movies, or had face-to-face interactions with their loved ones instead. 
But judging by the data, if you lived in Maine, Michigan, Florida, or Connecticut, it's far more likely the 2014 polar vortex will forever be associated in your memory with two blondes going down on each other. Now there's a story for your grandkids.