With well over 3,000 backers in less than a week, Period Panties is one of those viral Kickstarter projects that leaves you asking, "What, seriously?"
Created by designer Anthony Hall of Harebrained Inc., Period Panties apparently "high-five you for being a woman, and serve as a warning to others" while you're on your period. They come in a variety of cartoonish, horror-themed designs with names like "Bleeder of the Pack" and "Shark Week." 
Hall came up with the idea after a "really long talk" with his girlfriend, after she got sick of repeatedly having to reject his advances while she was on her period. Along with looking badass, the Period Panties are meant to let erstwhile boyfriends know when their partner is on the rag.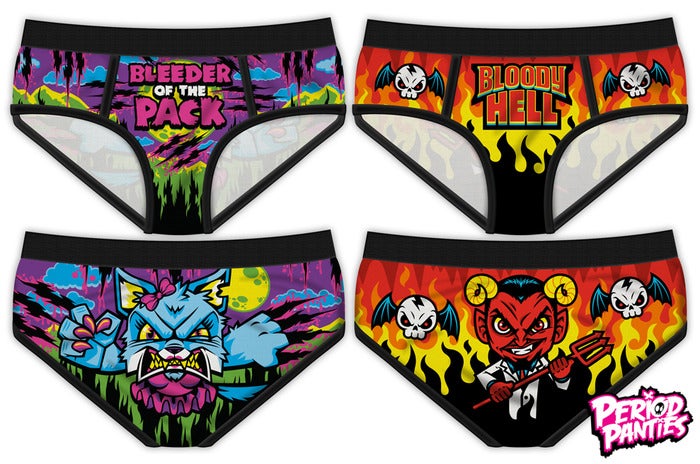 Photo via Kickstarter
His limited run of original designs was so popular that Hall turned to Kickstarter to get them manufactured wholesale. The original goal was $10,000, but since he's already reached over $130,000 in less than a week, it looks like Period Panties are going to be his life for the foreseeable future. 
Despite being designed by a dude and having no real purpose other than to look cool, they're clearly super popular—although one has to wonder how many are being bought by men for their girlfriends, rather than women buying them for themselves.
Thanks to being perfectly located on the intersection between crowdfunding and vagina-related social media chatter, it was inevitable that Period Panties would catch the attention of Amanda Palmer, Kickstarter queen and noted oversharer. "i definitely have sex when i'm on the rag," she wrote on Facebook, puzzled as to why Period Panties were even necessary. "doesn't everybody?"
Good question, Amanda. Although more to the point, are there really that many dudes in long-term relationships who need special underwear to clarify the vagaries of a simple monthly cycle?
Photo via Kickstarter