A 16-year-old girl from New Jersey started a ruckus on Twitter Sunday night when she allegedly tweeted about someone being inside her house.
Kara Alongi, from Clark, New Jersey, sent the tweet at about 6:12 pm to about 30,000 followers (her followers have grown to more than 91,000 overnight).
"There is somone in my hour ecall (sic) 911," said the message, which has since been retweeted more than 31,000 times.
New Jersey police responded to Alongi's home Sunday night and have since dismissed claims that she was kidnapped.
"There was nothing disturbed inside the home," Clark police chief Alan Scherb told the Star-Ledger.
After sending the tweet, the hashtag #helpfindkara trended around the U.S. and collected more than 180,000 mentions between 9pm and midnight, according to statistics from Topsy, a social media search engine. The hashtag was also used to spread rumors that a man mentioned in a tweet from Alongi on Saturday was a suspect.
"SAMUEL GUSKIND WE ARE NOT GOING OUT! stop taking to me in gym, stop looking for me after school, and leave me the fuck alone," read the tweet. "YOU ARE SCARY!"
A fake Twitter profile for Guskind was created Sunday night after 4chan's notorious random image board, /b/, found Alongi's tweets. The 4chan thread has since been deleted but the following is a screengrab of a user urging the community to create the fake Twitter profile.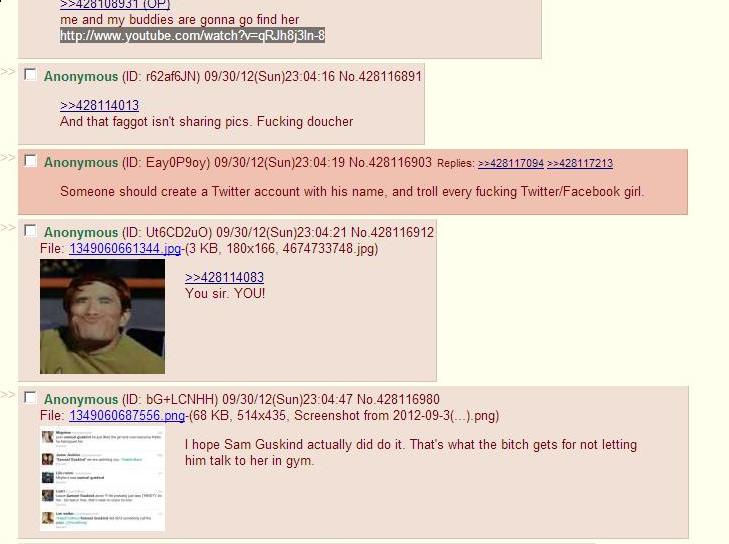 Alongi remains missing and has been instructed to call 911 immediately.
"Obviously, our concern is for your safety," Scherb added.
Update: New Jersey police have determined that Kara Alongi's tweets for help were a hoax, according to the New Jersey Star-Ledger. Around the time the tweet was sent, a taxi was ordered to her home. It is not clear where Alogi is or went, but a teen matching her description was reportedly seen at a local train station. The Daily Dot altered the original headline to reflect this new information and will continue to follow this story.
Photo via Twitter