The NBA fined Dallas Mavericks owner Mark Cuban $50,000 after he slammed the league's officiating in a tweet.
Cuban hit out in the wake of his team's overtime loss to the New Orleans Hornets Saturday, the Mavs' second straight loss: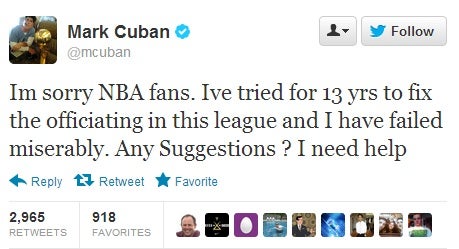 An NBA spokesman confirmed the fine to the Associated Press. The fine comes just a few days after Cuban celebrated his 13th anniversary as Mavs owner.
Cuban has been vocal in his criticism of NBA referees over the years, with the league not holding back from fining the billionaire. In total, the NBA has fined Cuban almost $2 million since he took control of his team—including a 2009 fine for a tweet criticizing NBA refs over a missed call.
"Can't say nobody makes money from Twitter now. The NBA does," he tweeted at the time.
He's typically matched his NBA fines with donations in the same amount, equalling his $500,000 fine in 2002 with donations to cancer research.
After the Hornets game, Cuban spoke with referee Bill Kennedy at halfcourt, though it is not clear what Cuban was unhappy about. It remains to be seen whether another fine is headed Cuban's way over that incident.
Cuban's $50,000 fine is twice what the NBA usually charges its players for their Twitter indiscretions. Knicks guard J.R. Smith was fined $25,000 in March 2012 for tweeting a scantily-clad photo of his girlfriend, and the Spurs' Stephen Jackson racked up a $25,000 fine last month for Twitter threats against another player.
It also matches the $50,000 Knicks star Amar'e Stoudemire had to pay after calling one of his Twitter followers a "fag" in a direct message last June.
Photo by Keith Allison/Flickr