A hundred years ago, an estimated 10,000 African Americans marched through New York City in silence, protesting mob-led lynchings and mass violence against black Americans. Today, Google has commemorated the "Silent Parade" protest in its Google Doodle, sharing the parade's history, as well as a comprehensive look at how this reign of racial terror still affects the United States today.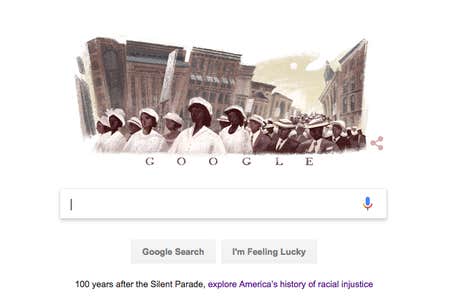 The protest, led by the National Association for the Advancement of Colored People and black leaders such as W.E.B. Du Bois and James Weldon Johnson, traveled down Fifth Avenue in Manhattan. Women and children led the front, wearing white to represent innocence. Men helmed the back, wearing black to symbolize dignity and determination, according to the Miami Herald.
And instead of marching to chants or songs of resistance, protesters held up banners with phrases such as "Memphis and Waco—Centers of American Culture?" and "We have fought for the liberty of white Americans in six wars; our reward is East St. Louis."
The powerful signage referred the mob-led lynches of Jesse Washington, a black farmer, in Waco, Texas in 1916, and of Ell Persons, a black woodcutter, in Memphis, Tennessee one year later. Then two months later, in July 1917, white mobs killed an estimated 200 black men, women, and children in East St. Louis.
At the time, activist Marcus Garvey called the St. Louis riot a "wholesale massacre of our people."
Take a look through Google's Doodle link-through on the Silent Parade of 1917 here, and read more on the protest here.
H/T the Root