Last spring, Dallas photographer Dylan Hollingsworth was working on a storytelling series about Holocaust survivors. His work took him to several countries, and he eventually ended up in Palestine. When he got back to Texas, he shared some of his photos online, and received a lot of negative responses.
"And I thought, 'OK, this is a community that isn't understood very well. I'd love to explore Muslim-American communities.'"
Months later, while looking for a story to explore, he came across a photo of several Muslim men at a Dallas anti-domestic abuse rally. He reached out and spent a week with the men of Alpha Lambda Mu, the country's first Muslim fraternity, founded by Ali Mahmoud at the University of Texas at Dallas in February 2013. Mahmoud started the chapter as a way to fit in, after realizing there was "this void for Muslims on campus." He told NPR:
"I don't really see how this could be [keeping] us from assimilating into American culture because we have nothing to assimilate to. We are American. We are American Muslims. Those two don't contradict each other at all. And so we're not hiding away ourselves, we're just living with people who have the same beliefs that we do."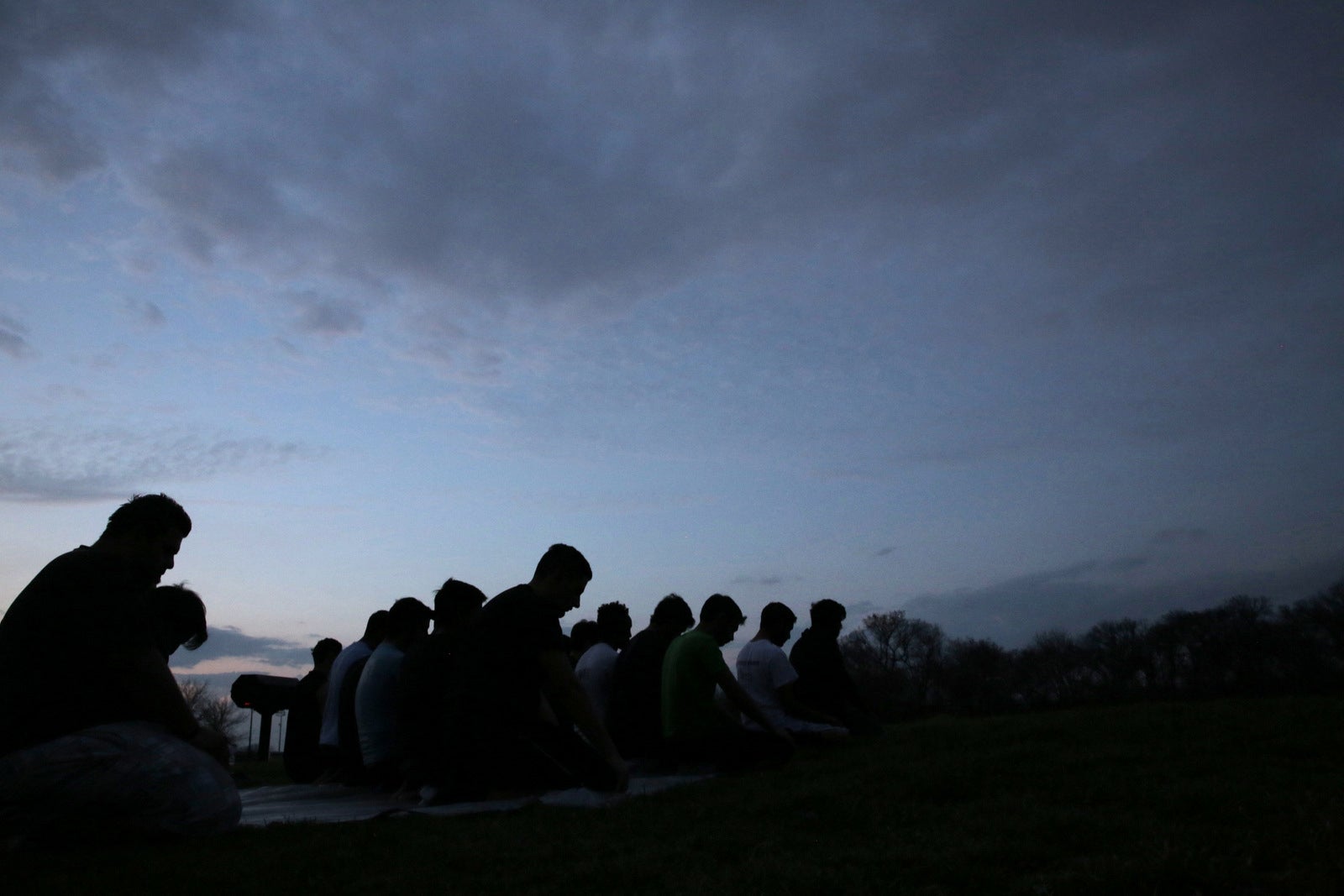 Hollingsworth took photos and got to know the guys, but felt there was a bigger story there. He and his documentary partner Wheeler Sparks recently turned to Kickstarter to fund a documentary on ALM. With one week left, they're still only roughly halfway to their $50,000 goal, which would enable them to acquire the right equipment for a shoot that's been on their tab for the last six months, and do more extensive reporting.
A Muslim fraternity in the middle of Texas has, of course, gotten some press. The New York Times took notice earlier this year, and Cornell and San Diego State University are now opening up chapters. While ALM is opening up what it means to be "a good Muslim," they've also carved out spaces for dialogue on social media. Their "Kufi Krew" YouTube series explores Muslim traditions in a humorous, relatable way.
Most recently, they released their take on Jimmy Kimmel's "Mean Tweets" series, based on tweets directed at the ALM.
ALM is also reshaping the narrative around American college fraternities, and what they've come to represent.
"I think it's really refreshing for a lot of people to see this group of guys," Hollingsworth says. "They spend their free time doing service in various communities. They don't date, they don't drink; they've found other ways to have pure, clean fun. I guess my hope is that other people their age, and other fraternities, will maybe be challenged to step their game up, or consider their objective."
Hollingsworth hopes to travel to the schools opening up new chapters, and spend more time with the families of these men.
"We're documenting who they are, what they do together, how they're establishing themselves," he says, "but a lot of the film is focus on relations in their personal lives. We're looking at the issues manifesting themselves in real time in their lives.
"It's this broader umbrella of looking at Islam in America, but it's also about what it's like for a young person in a Western, secular society to attempt to live by faith, while being human."
Photos by Dylan Hollingsworth