One of the most tiresome double standards in Hollywood is nudity on screen: While nubile young actresses are often expected to strip down for a role, bankable male movie stars can spend their entire careers fully clothed, without flashing so much as a glimpse of side-peen. But the folks behind Mr. Skin, the nudity guide of Knocked Up fame, are doing their part to correct this irksome gender imbalance with Mr. Man (NSFW, obvi), a companion website that catalogues onscreen male nudity.
At this point, you might be wondering: "Wait, Mr. Skin has been around since, like, the dawn of dial-up. [It was actually launched by creator Jim McBride in 1999.] Why in the name of Ewan McGregor's flaccid ginger Trainspotting wang did it take so long for them to come out with a version for straight ladies (not to mention gay men)?"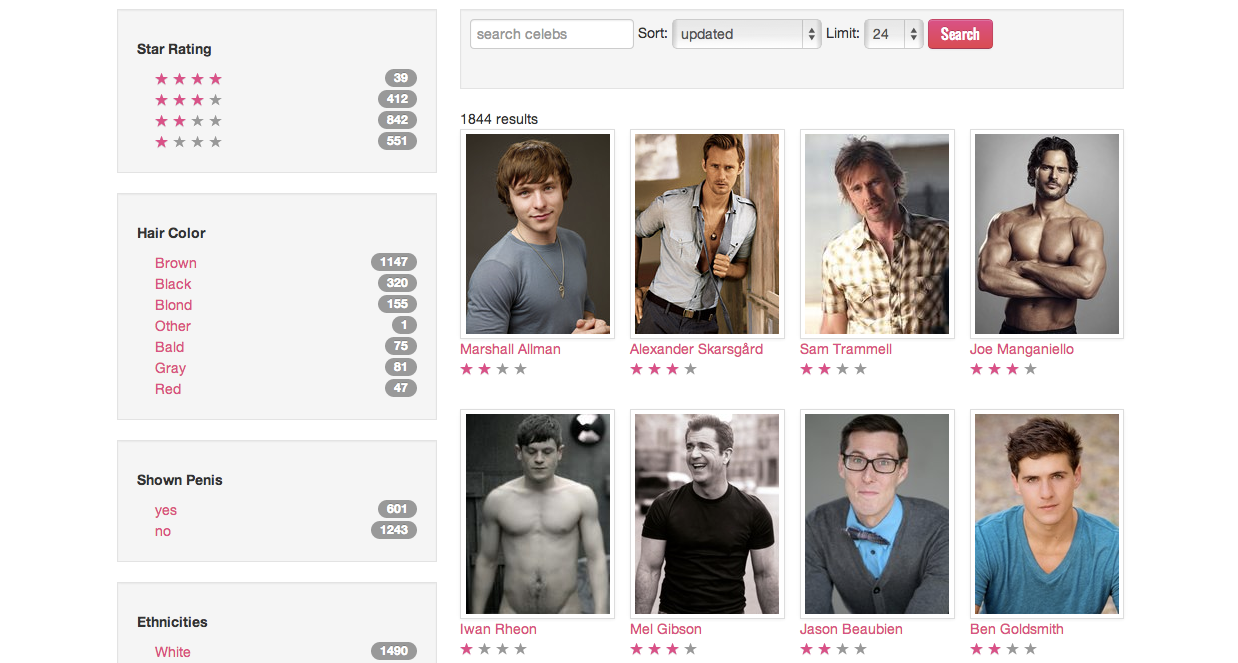 But McBride says that onscreen male nudity hasn't been in vogue for very long. It's only been until fairly recently, with the rise of lurid premium cable dramas like True Blood and Game of Thrones, that it's been considered OK for male actors to strip down.
"Traditionally movies were written, directed and owned by men, so the nudity was mostly female," McBride told the New York Daily News. "Now society has changed and it's a different era where it's totally acceptable for guys to do nude scenes."
But how acceptable is it really, though? To answer that question, we need only look at Mr. Skin's catalogue of nearly 700,000 female nude photos and video clips, versus Mr. Man's paltry few thousand photos and videos. If we crunch the numbers and analyze the data, it doesn't take long to conclude that the Hollywood gender-to-nudity ratio still heavily skews female. (And a good 45 percent of it probably stems from the Littlefinger sexposition scenes in Game of Thrones).
If these numbers aren't enough to convince you that there's still a significant male-to-female nudity imbalance in Hollywood, I'd like to direct you to Mr. Man's list of the top 5 "choicest beef" on their website, ostensibly a sampling of the hottest male actors stripping down in Hollywood today. I say "ostensibly" because all of the stars on the list are over 40, and most of them could be considered B-list at best. For instance, Antonio Banderas is listed as No. 1 because he's stripped down for a record 14 scenes, but I'd be loath to refer to him as the "choicest beef" in Hollywood, unless I was a twice-divorced retired social worker with four cats and a Redbook subscription. And Stephen Baldwin? Are you kidding with this? Is it 1992? Is the elder Bush in office? Am I wearing JNCOs and a scrunchie right now?
Don't play us like this, Mr. Man. We women have been waiting 15 long years for this website. For an annual membership of $96 (as opposed to Mr. Skin's paltry $60 membership, NB), we want to see all the top-shelf, USDA-approved peen that Hollywood has on offer. So while we commend you for your efforts to close the nudity gap and further the cause of gender equality in the United States, we urge you not to half-ass it by giving us blurry crotch shots of actors our moms liked in the '90s. Go big or go home, that's all we're saying. Or else we'll just keep our hard-earned money and look at James Deen GIFs on Tumblr.
H/T New York Daily News | Photo by Nicolas Calderon/Flickr (CC BY SA 2.0)