In a shockingly graphic and powerful demonstration, the rapper, actor, and activist Yasiin Bey—better known as Mos Def—was force-fed under standard Guantánamo Bay procedure.
Filmed by the Guardian and published in time for Ramadan, the video gives a raw and visceral look at how prisoners on hunger strike are fed twice daily. More than 100 prisoners, many of which are Muslim, are being held Guantánamo Bay, and since March, between 40 to 100 prisoners have been on hunger strike in protest against the U.S. government and their seemingly endless captivity.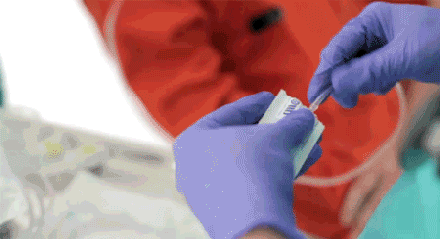 According to the Guardian, 44 individuals are currently being force-fed against their will.
The prisoners are put through a brutal two-hour regimen that includes harnesses, chains, and a feeding tube. In the video, it clearly takes a toll on Bey, who calls for it to stop, tears in his eyes. The video ends with his clasping his head in hands, crying.
"I really didn't know what to expect," Bey relates in the video. "When the tube went in, the first part is not that bad. But then there's this burning. And it gets to be really unbearable. It feels like it's going into my brain. …
"I really can't take it."
GIFs made by Fernando Alfonso III using video by the Guardian