Minecraft has played many roles since its inception, effectively breaking its confines as merely another video game. Dedicated players have turned the blocky strategy game into everything from a tour guide to a help center.
Now, one player has used it to mourn his late wife.
When a gamer known only as "Gas Bandit" lost his wife Pauline in 2013 at the young age of 41, he decided to memorialize her on Minecraft. With the help of eight generous donors of materials, Gas Bandit created a towering bust in the image of his late wife. The likeness, which overlooks the ocean, is holding a pickaxe high and is surrounded by torches (which we suspect are standing in place of candles).
He shared a video of the virtual memorial with the YouTube community, where people continued to express their condolences and praise his in-game efforts. The video takes viewers and mourners alike on a complete exterior tour of the bust before plunging into a subterranean room that is brought to life by more candles, a moat, and even music.
In a final gesture, the camera zeroes in on a plaque.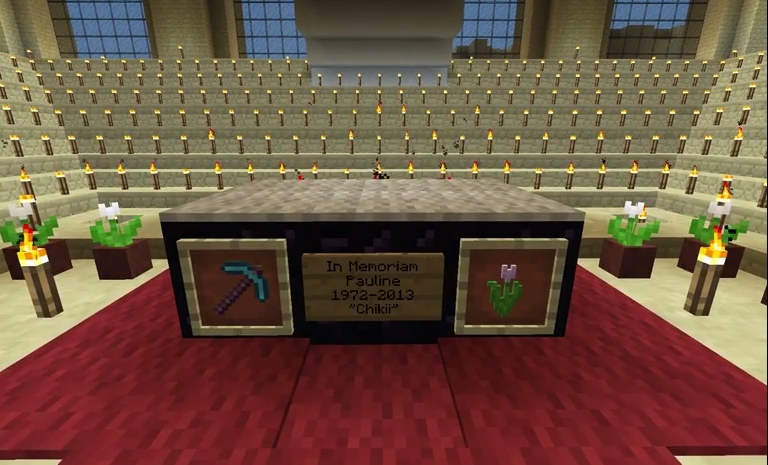 In-game tributes to those we have lost are rare but certainly not unprecedented. In March 2006, for example, several World of Warcraft players eulogized a fallen member of their guild by holding an in-game funeral—which was sadly and savagely raided by another group of players.
"Chikii," on the other hand, will rest eternally in a block-filled paradise.
Screengrab via Gas Bandit/YouTube