The Internet feels like it's everywhere today. Almost 2.5 billion unique individuals accessed the Internet last year alone, so the chances are good that wi-fi data is floating along in front of you, saturating the air you breath.
But of course, it wasn't always this way. Fifty years ago, the Internet was just transforming from idea to reality. As @HistoryInPics shows us with a map that's been shared in thousands of retweets over the past few days, the beginnings of the Internet were humble indeed.
In 1969, the technology that would lay the foundations for the Internet was almost a decade old.
Born out the U.S. military's demands to connect their main computers across the country, Defense Advanced Research Projects Agency (DARPA) set their minds and money to solving the problem in 1962.
Seven years later, ARPANET was born after three years of planning and building. In October, the first connection was made between University of California, Los Angeles (UCLA) and the Stanford Research Institute. The first message sent was "LO," the first two letters of the word "login," after which the system crashed.
In December, the University of Utah and the University of California, Santa Barbara were added to the network. Here's a map of the embryonic Internet in those early days: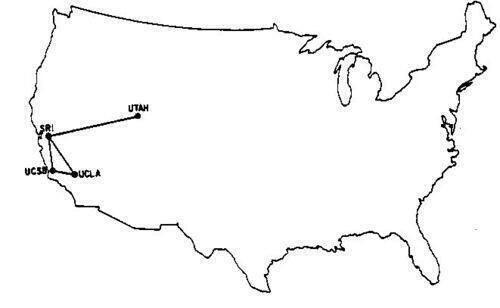 In the 1970s, the network grew rapidly. By 1981, 213 hosts were present. New hosts were being added every 20 days. Since then, the Internet has seen more than 1 billion percent growth to reach 2.5 billion people today.
H/T  @HistoryInPics