Cards Against Humanity comes with a tagline that reads "a party game for horrible people." It lets players pair words and phrases together to create the most outlandish combinations they can muster, and it is not a game for the easily offended. If there were ever a card game that facilitates jokes about bodily fluid and Gandhi, this is it. It was created by a group of friends and Kickstartered into existence, and despite its glossy box, you can tell Cards Against Humanity sprang from an especially witty and alcohol-soaked night among friends.
It's many things to us: the best twist on Apples to Apples ever, an excuse to say horrible words, and something to hide at family get-togethers.
One thing it doesn't contain, in the current version: cards with an explicitly feminist outlook, and cards written by women. The game was created by the aforementioned friends at a high school reunion… but that group didn't include any women.
But things may chance, though, if the Cards team decides to take a cue from the Internet. Political consultant and screenwriter Kate Stayman-London has created a collection of supplementary card choices called "Ladies Against Humanity" by soliciting more female-centric jokes for the game on Tumblr. The site has only been up for about a week and has already received hundreds of thousands of hits, and thousands of submissions, some that would be fantastic additions inserted into the game. I mean, how could you not want to play "Magic ovaries that shoot down rape sperm like lasers"?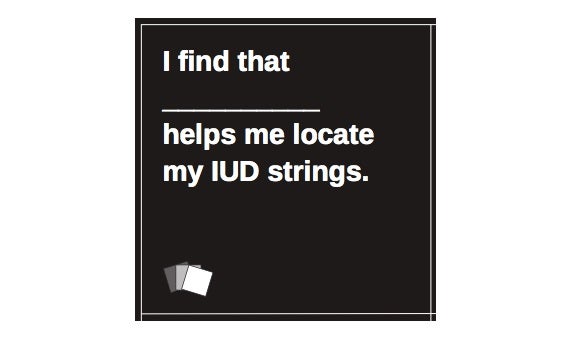 Let it be known that Stayman-London didn't start the project out of anger at the creators. "I'm a huge fan of them, their comedy, their charitable work," she tells me via email. Her's is a fan's labor of love, to a good game even better, rather than an indictment—in fact, she was thrilled when Cards Against Humanity re-blogged one of her new suggestions on their Tumblr.
While Stayman-London has an admirable career already, the project started when she said she'd like to get a job writing for Cards Against Humanity. "My friend was just saying it just sucks that there aren't more women, female-centric jokes in the cards. And I thought, 'Oh, I should have that job,' and my friend said, "If you make the Tumblr, you will have that job," she told New York Magazine.
Well, she made the Tumblr, so hopefully Cards Against Humanity will come knocking soon, because many of the cards Stayman-London compiled round the game out to be more inclusive without dimming the ribald, anything-goes vibe.
I asked Stayman-London if she thought other famous games could use a feminist makeover. "I'd really like to see a version of Battleship where you have to find the clitoris. 'H4?' 'No, honey. Miss.'" she wrote. She also had a more serious answer: "Any game where you get points for beating sex workers could probably use an overhaul. I'd like to see a game where sex workers navigate the degrading, sexist legal system that puts them in jail for earning a living. If someone made that game, I'd buy an X-Box."
H/T New York Magazine | Photo credit: Flickr/jareed