A viral photo that showed a Kroger receipt with a 59 cent "BLM charge" was debunked as a Photoshop.
People who shared the doctored image alleged that the grocery chain was charging customers a fee to support Black Lives Matter, Heavy reported.
In actuality, the fake charge was edited onto a real receipt that was making the rounds earlier, with claims that Kroger was overcharging customers with a "change shortage" fee.
Now this one is true, but it's not exactly a random overcharge.
In June, the Federal Reserve System, the country's central bank, announced a coin shortage and said it would impose a temporary cap on how many coins a business could get. While there's an "adequate overall amount of coins in the economy," the pandemic has "disrupted" coins' normal circulation patterns creating a shortage, according to the reserve website.
Associations representing grocery stores, convenience stores, vending machines, and gas stations—all deemed essential businesses— expressed their dissent at the new policy in a joint letter to the Federal Reserve and U.S. Department of the Treasury.
Cash makes up more than a third of their transactions, the associations stated. The coin shortage will have the greatest impact on people with lower incomes who don't have access to bank services and rely on paying with cash as well as those who can't afford to forgo the change they're owed from a purchase.
Until the shortage is handled Kroger implemented a system in which customer purchases are rounded up to the nearest dollar and the additional money either goes on a customer's loyalty card for future purchase or is donated to charity, Heavy reported.
In the Facebook post popularized by Freda Ballard, April M., the woman who uploaded the original photo, said she only stopped by the store for a gallon of milk and was surprised that she was being charged $3 for her $2.41 total. April wrote that she offered to pay the cashier $2.50 so there wouldn't be any change to break but "the clerk refused the quarters, explained 'due to change shortage' policy & demanded another dollar instead."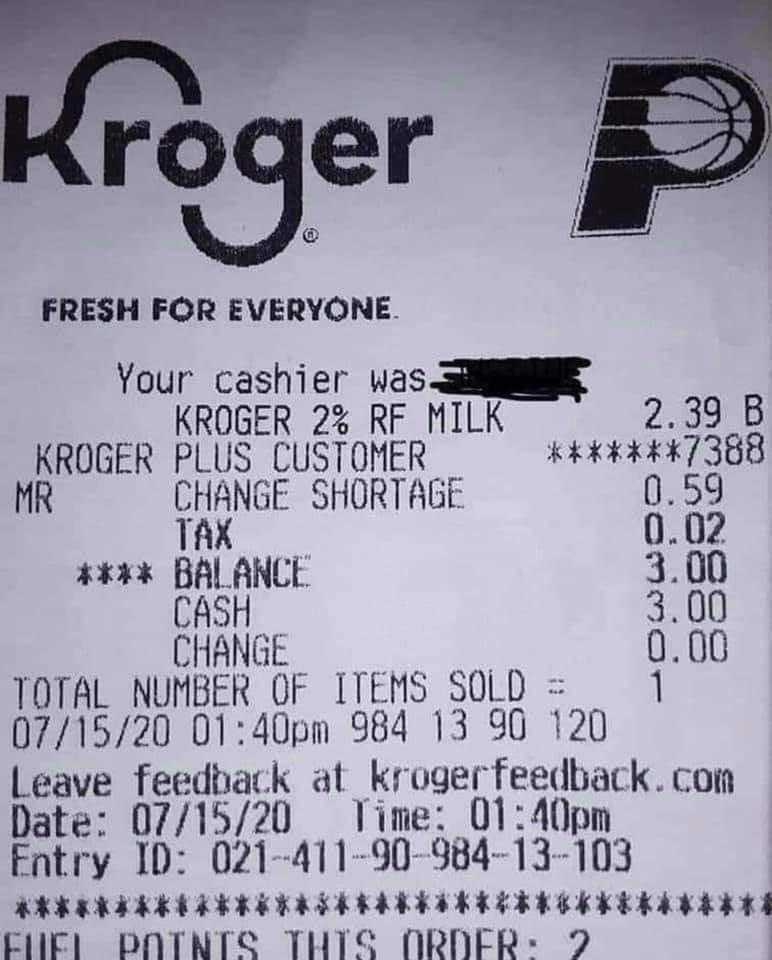 April said she was never offered the loyalty card or donation options.
"So if you are limited funds, live by cash bases & no credit cards, your screwed," she said in the post.
READ MORE: