Are you a "marshmallow girl?" 
If you're plus-sized in Japan, one fashion magazine wants you to try the label on—as a new way for girls to feel good about themselves in a culture full of fat-shaming. 
The Japanese fashion magazine La Farfa is trying to change the way the nation thinks about plus-sized Asian women by adopting the new term as a positive description for larger women. And despite intense ridicule and dismissal from an intensely fat-phobic culture, women all over the world—and all over the Internet—are starting to listen.
In recent years, Asian and Asian-American women have begun speaking out about the pressure they face to live within the stereotype of the ultra-thin, petite Asian girl. In Japan especially, the increased reach of unhealthy Americanized fast food has brought with it even greater pressure for women to be thin. There's even a fat-shaming weight loss app that Japanese women can download: Unlike its male counterpart, which features hot anime girls gently encouraging men to lose weight, the app for women features hot anime boys yelling fat-shaming phrases at women to encourage them not to eat—including addressing them as "fatty."
But things are slowly changing: Lolita fashion is popular among plus-sized women, and La Farfa recently became the country's first plus-sized fashion magazine. Last year, La Farfa threw the country's first plus-size fashion show.
Now, La Farfa is trying to change the way Japanese women discuss their body types. In its most recent issue, the magazine featured plus-size model Goto Seina, labeling her "marshmallow girl."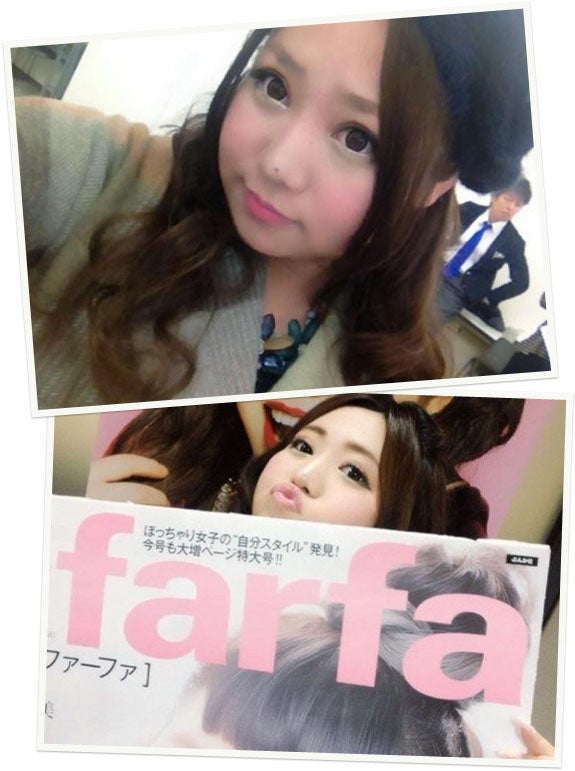 Photo via Parfait Girl
In the magazine, Seina spoke about how refreshing she found the term. "Of course there will be different opinions — people who say 'you're a pig' or 'you're a fatty,'" she stated. "But for me, [marshmallow girl] makes me really happy."
Seina also stated she hoped the term would spread. As reported in Audrey and Japan Crush, the term instantly gained popularity among Japanese netizens, though not without controversy: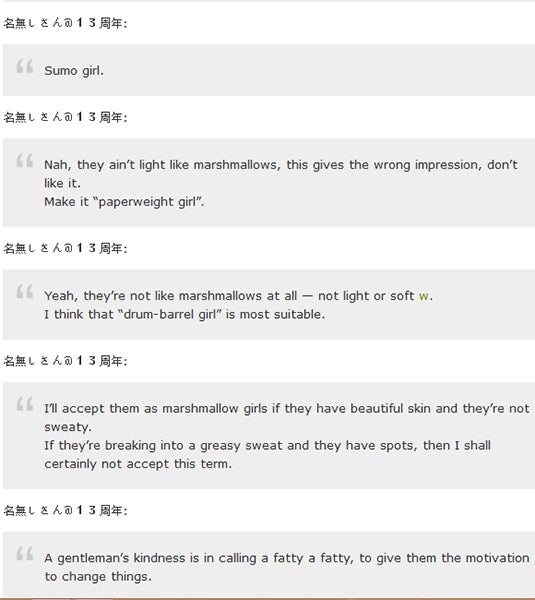 Screengrabs via Japan Crush
But women seemed to react much differently. "So excited about this!" commented a reader, Annika, on Parfait Doll. "And it's actually adorable, and super empowering!"
On Tumblr, velma-dear found the 'marshmallow girl' fashion style remarkable as well—because like the term itself, the clothes they wear are marketed as normal:
the thing that gets to me about marshmallow girls is that they dress like all the 'other' girls. they wear thigh highs and short shorts like no ones business! they don't wear clothes specifically 'designed' for over weight girls, the[y] wear clothes for wom[e]n in general.

and that is skipping a whole step unlike the the usa where we have shitty ass torrid or our really bad local plus size shops making and only offering plus size woman wear basics and pants and long skirt and sometimes long pencil skirts.
The "marshmallow girls" of La Farfa are active on Twitter and Instagram. Here's one of them, Nao Poppa, posing with the magazine's editor-in-chief, Harumi Kon:
Photo via Instagram
"We don't promote losing weight or gaining weight, because there are women that look gorgeous regardless of what they weigh," Kon told Japan Times last month. "Our view is that people should not be defined by the size of the clothes they wear."
Kon's message has caught on, along with the word. Last week, fyeahmarshalllowgirls appeared on Tumblr, "a blog devoted to the appreciation of all the super cute, fabulously fashionable, and down right gorgeous marshmallow girls in the world."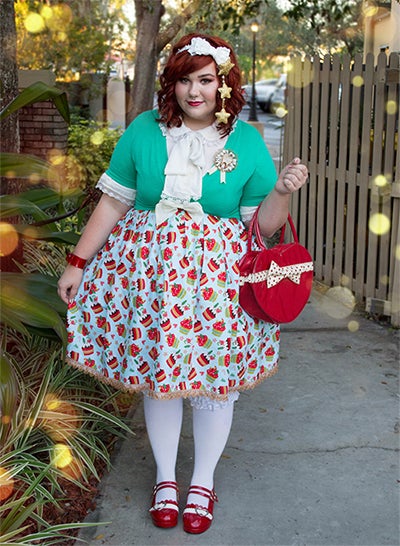 Photo via ThePrintFiend/Tumblr
Like other similar blogs, fyeahmarshmallowgirls is a space for positive images of larger women. But fyeahmarshmallowgirls isn't just reblogging fat-positive Tumblr: it's rebranding. The community appears to be catching on fast: "i just learned the term marshmallow girl and I love it!!!!!" Tumblr user gwych submitted to the blog.
On Tumblr and Instagram, the tags caught on fast.  But the term wasn't for everyone. 
"After browsing the 'marshmallow girl' tag, I found myself sitting in a stupor," wrote c0gnag-lilac. 
I understand that it makes being of a larger size seem fun, cuddly, and youthful even, but when did it become okay to not only accept but embrace being called a name that is actually a food item?
Perhaps Japanese culture is onto something—but it might want to keep searching around if it hopes to find the right 'one-label-fits-all' word to describe women of size.
H/T @noblebeast via @aicnanime | Photo via Instagram