I came out to friends when I was 11. Knowing and accepting myself wasn't a challenge so much as the years of loneliness that followed as the only openly gay person at school (that we knew of, anyway). It was rare to see a gay person IRL or who wasn't a caricature cast on shows like MTV's Next.
This was long before "bussy" and #instagays, and Grindr only hit the app store just a few months before I turned 18 in 2009.
As a teen and even a young adult, the internet was my only source of positive representations of queer life—and early YouTube was in its gay era.
Read the entire
Internet's Queer Era
series
YouTube's many awesome gays
Will and RJ stole our hearts with the ups and downs of their couples' vlogs. Hannah Hart and Laci Green popped bottles and talked lesbian porn. Conspicuously shirtless and sponsored by Wet, Davey Wavey shared gay life advice. And, apologies to disturb the deep recesses of your memory, but who else remembers "Bad Gays Club"? Or Miles Jai's "Like Mah Status"?
Sure, the parodies are a bit cringe, and it feels like time travel listening to a rant about Facebook statuses from 2011. But these uploads were sincere slices of life and lighthearted commentary that made up for the lack of queer community many of us had at the time.
One of my earliest introductions to gay YouTube was 5 Awesome Gays, a collaborative channel featuring a relatively fixed rotation of Stevie, Greg, Korey, Joey, Tyler, Michael, and Johnny over the years. They talked about life, performed skits, posed questions for the rest of the group to answer throughout the week, and held meetups with each other and fans. The channel felt like something between appointment television and today's TikTok stitches.
I remember watching several of them announce they were moving across the country, something I'd do just a few years later. A bunch of Midwest gays moving to the West Coast? Groundbreaking.
When The Advocate named Tyler Oakley in their 40 Under 40, the magazine noted how many viewers considered Oakley the first gay person they'd "ever met." That may seem quaint or even hard to believe today, but this was a major shift in representation that felt more real than TV and movies for queer and allied viewers.
Though he may have been the mainstream face of gay YouTube for some time, Oakley never actually had a "coming out" moment in front of the camera. Troye Sivan, Joey Graceffa, Ingrid Nilsen, Connor Franta, Daniel Howell, AmazingPhil, and others did, posting their own coming-out videos that inspired their followers to do the same.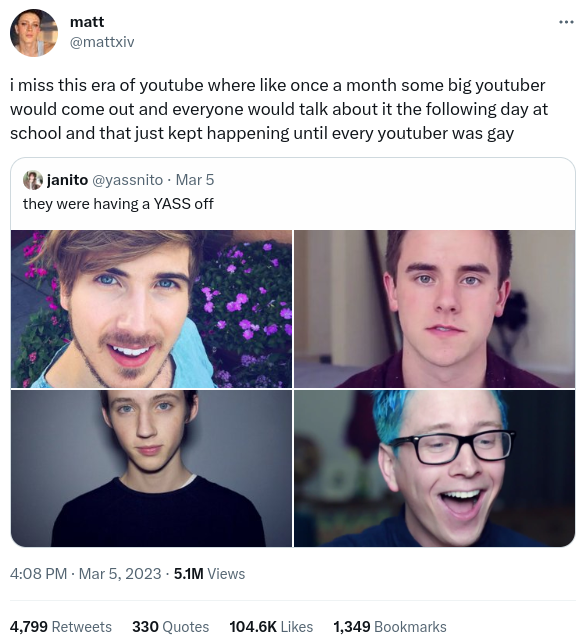 These YouTubers fostered online communities of LGBTQ and allied viewers. Some still upload on YouTube or stream on Twitch. Some have unlisted their old videos. In many cases, they continue to play a part in the lives of their dedicated followers.
Now, the gaystalgia hits different
It recently occurred to me that not only were many of these channels part of my early gay experience, but they have been cultural touchstones for the last 15 years. These YouTubers who once posted "boyfriend tag" challenges and collabs from Playlist Live are adopting pets, changing careers, and settling into very different lives from the ones shown us through a webcam in their dorm rooms.
MarkEMiller is a mainstay I discovered through the video "Asking Guys if I'm Gay," in which he interviewed random people on his college campus at Ball State. The interviewees' reactions ranged from surprise to clocking him for being well-groomed (remember, this is 2013 in Indiana).
In a reaction Mark posted last summer, he laughed, cringed, and reflected on this video's role in his life. His long-time subscribers joined in on the nostalgia, with one comment calling the video a "defining moment for the closeted and very confused high school me."
The video blew up Mark's channel, where he would later post with his then-boyfriend, a duo the community called Methan (Mark + Ethan). When the two broke up, I remember feeling devastated. I've since randomly stumbled upon tweets or Reddit threads that still talk about it.
To me, this is less about parasocial fan bases and more a point of access to the queer community, to role models or pseudo-older sibling figures who would talk about sex and relationships in a way no one would IRL.
There's a decade-long throughline with these YouTubers, and all it takes is a quick read of their comments sections to see how they've maintained this influence.
I noticed more and more creators like Nickalaws uploading 10-year reactions to old videos, spilling tea, and updating audiences on what they've been up to since they stopped posting as much or left the platform entirely. Nickalaws' return to an otherwise dormant account reached 130,000 views.
"I'm 30. I'm 30 years old," said Connor Franta, opening a video this past January and reflecting on what life is like now versus what he imagined at the start of his career.
Collectively, the reflection videos remind us that we are the first and only generation to experience this happening at scale, finding community with gays from all over the world. That these creators and their followers are still invested after all this time says it all. It's yet another unique experience for the generation born without the internet but who later grew up on it.
Here's to the next generation
Arguably, it may never happen again, at least not like this. The dynamics of being online have changed. It's no longer rare to have a camera and iMovie; everyone is a creator. It's less of a spectacle to come out as gay in a YouTube video, and affirmative queer content online is more accessible than ever.
Though, in light of all the nostalgia, I recognize the overwhelming cisgender whiteness among the creators I followed back in the day.
The next generation will be more dynamic and intersectional, important as ever, considering the obscene onslaught of anti-LGBTQ legislation that makes being queer exceedingly dangerous online and off.
The surgeon general recently warned about social media's "profound risk of harm" to young users while calling out one exception: that social media can be a vital source of belonging and connectedness for people of color and LGBTQ youth.
A lot has changed, but the queer or trans kid who feels all alone hasn't. We have to put in the work to build that same affirmation and support for the next generation of our queer and trans friends and family. The platforms do, too.
With this in mind and gay YouTube memories on rewind, I hope to see the next era for the platform mean as much to young queer and trans people as it did for this gay boy when he logged on to Youtube.com.

We crawl the web so you don't have to.
Sign up for the Daily Dot newsletter to get the best and worst of the internet in your inbox every day.