Back in May, the Toronto Star reported on a disturbing Instagram community in which photos of children and babies are often stolen or re-appropriated, and sometimes used in physically and sexually abusive roleplay scenarios on the site. One horrified mother came across her daughter's photo, which claimed she was up for "adoption."
This is part of the fantasy in these circles. But it's a harsh reality for parents.
Six months later, many of those roleplaying accounts remain active on Instagram. The campaign to shut them down has ramped up again, as more evidence of abusive roleplaying has come to light. In mid-November, a Florida mother discovered Instagram photos of her 6-month-old daughter were being used on roleplaying accounts.
Many of these roleplaying or "rp" setups involve the premise of virtual adoption, or "finding" an abandoned baby with no family and "adopting" him or her. One user will pretend to be the "parent," while another might pretend to be the "baby," and then others can add to the story.
There are a few different narrative threads within this community: Those who adopt and proceed with normal parental tasks, or express empathy for their virtual babies; those who want to become physically abusive in their parental role, or sometimes, in the baby role; and those who use roleplaying as a means to act out "dirty" or sexually abusive fantasies.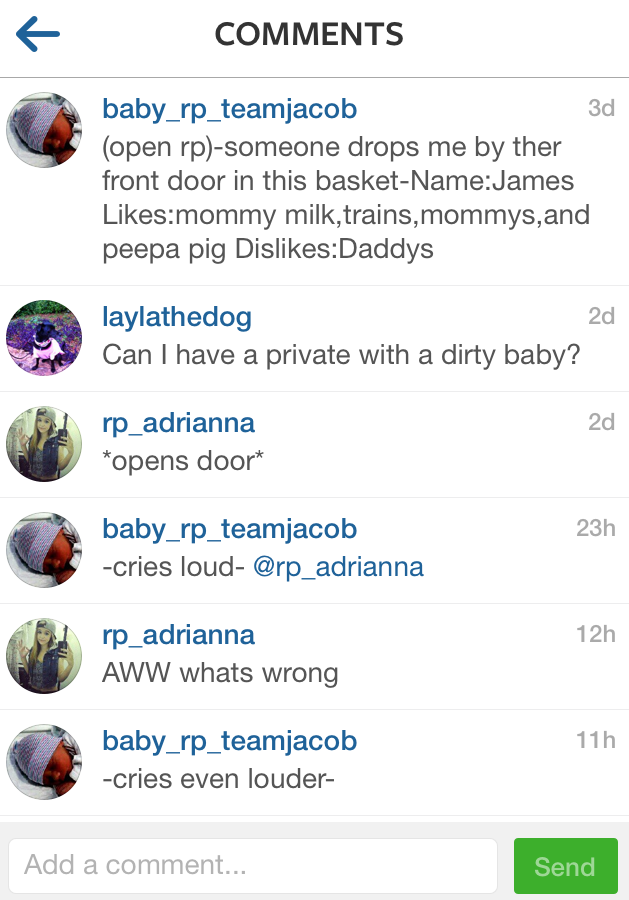 That this content continues to exist on Instagram, while a photo of a woman's bikini line is grounds for deletion, speaks to how inconsistent the company can be in dealing with offensive accounts. Same goes for Facebook, which owns Instagram. Facebook famously banned photos of women breastfeeding, but it currently allows videos of beheadings and is often slow to remove or acknowledge pages devoted to rape culture or acts of abuse and violence.
There's also the matter of volume. These accounts often disappear and then reappear with different names, or are changed to private, which makes them hard to track and report. Back in April, a mother in Melbourne, Australia found her 18-month-old daughter's photos were linked to questionable roleplaying accounts. Only after a cybersafety consultant contacted Instagram were the accounts in question shut down. But when one is shut down, another usually pops up in its place.
The idea that "It's just roleplay"—an activity that's the foundation of many gaming and fandom circles—compounds this debate. A representative from Instagram told the Daily Dot it doesn't comment publicly on specific accounts, but that the company has "a dedicated team who review incoming reports and if the content violates, will remove immediately." The team also scans every photo uploaded to the site using PhotoDNA, "to ensure that this illicit material can't be distributed."
(After reaching out for comment, at least three of the more abusive roleplaying accounts were disabled.)
Instagram's help center suggests that if you see photos exploiting children, not to share or comment but instead report them to Instagram and the National Center for Missing and Exploited Children's cyber tip line. But these images aren't necessarily exploitative on their own; they're recontextualized via the narratives these roleplayers spin. So how do you report a sick fantasy? And does it mean it will become a reality?
The users @babyrp_revealed and @stop_babyrp have compiled some of the offending roleplaying accounts. The hashtag #downwithbabyrp is making the rounds, as is a Change.org petition to ban these types of accounts. Diana Cha started the @babyrp_revealed account and is part of a small community of mothers who buy and sell baby and kids' clothes on Instagram. After a fellow mother found her daughter's photo on a roleplay account, she asked for help getting it removed. So a few of the mothers commented on the account.  
"The user commented back to me and said that they're just pretending, it's not real and for me to get a life," Cha explained. "Of course I commented back but they immediately closed their account. … That's when I began looking into these accounts and came across hundreds of baby roleplaying accounts.
"Initially I thought the roleplays were pretty G-rated. I was so wrong."
Randi, a Los Angeles-based photographer, said the roleplay community came to her attention after she had a baby.
"Some seem pretty harmless and do not bother me too much, besides the fact that they are stealing photos," she said, "but the accounts where people are playing out sexual or abuse storylines are just awful. These people clearly are not right in their mind. Who knows how many of these weirdos have molested children in real life; obviously they think about it and it is a 'turn on' for them. I don't understand how it is OK for people to run accounts like this. It's basically child pornography.
"I have reported many of these images and accounts and have not been contacted by anyone from Instagram, and all of the accounts I've reported remain active."
The Toronto Star article mentioned that the roleplayers might not be adults, but teenagers trying to escape real-life problems by retreating into a fantasy world. Indeed, some of the accounts involved include handles like @baby_rp_teamjacob and @onedirectionrpx, or use avatars of teenagers. Within the baby roleplaying community are several accounts devoted to roleplaying with teens, and within those, accounts devoted to abusive roleplay involving bullying storylines. There are also hashtags for rape, death, and suicide roleplay.
The @babyrp_revealed account recently had an exchange with a roleplayer defending a 13-year-old boy who was allegedly pretending to be "babytrina," claiming he "loves kids and babies." Other exchanges were more combative and expressed the opinion that this community just wants to be left alone, that what it's doing is harmless.
But the anonymity of Instagram ensures the line between fantasy and reality remains blurred.
Photo by vice1/Flickr