Bente Engelsoft's selfie project is beyond #nofilter. She makes #nomakeup photos look like glamour shots. For exactly one year, the Chicago comedian has been taking a picture of herself right when she wakes up. No matter what it looks like, she posts it on Instagram. 
Let's be honest: For a lot of us, taking selfies is a daily practice. But for Engelsoft, it's a legit art project—and she came up with the idea six years ago, an Internet lifetime before selfie culture became a thing.
How did you come up with the idea for #ijustwokeup?
In college I studied theater, and we had to write an artistic proposal for a durational performance piece. At the time we've been learning about Tracey Emin and Tehching Hsieh. Tehching, for an entire year, would clock into a machine in his apartment every hour on the hour and take a photo. So he shaved his head, and the result was a six-minute video of his hair growing. By having to clock in every hour on the hour, it meant that he never slept for more than 58 minutes at a time, because he would have to wake up and go clock in. He couldn't leave his house for longer than that small window to go back and clock in. 
Emin did a project called Everyone I Have Ever Slept With. She made this tent with appliques of everyone's name. Not necessarily in a sexual sense—her grandmother's name was in there—just anyone she slept next to our with. I loved that; it got me to thinking how your bed is probably the place where you're the most yourself and the most vulnerable. 
So my proposal was: I would take a photo every morning when I woke up for a year, and it would be this autobiographical story told in photographs of this one moment of my day. [This is] when, in my mind, I'm most myself, because I haven't done anything for anyone else. Cellphone cameras aren't as they are now, so my original proposal was to use polaroids. Six years later, my friends who I went to college with were visiting me and we were talking about the idea. Instagram had really just become popular about a year or two years ago, and we were saying it's kind of the perfect medium for this.
So you had the idea six years ago and the medium kind of fell into your lap?
Yes. Exactly.
That's incredible! I imagined the reasoning being more along the lines of "I thought it would be funny."
I think that's actually what it's turned into, with me being a comedian now. I wasn't necessarily doing comedy then, at least I didn't think I was. People told me I was funny and I was like,  "I'm not trying to be funny, I'm an artist." Doing comedy now, that's become part of it. Also, we didn't have a selfie culture until now. That word didn't exist three years ago. Having this idea and having Instagram and selfie culture it all just kind of fell into place at the right time. I decided I was just going to do it, and do it for myself.
Did you miss any days?
I missed one day in April because it was my roommate's birthday. I planned to get up and make her breakfast in bed and surprise her, but I slept through my alarm. I woke up and heard her in the shower and I ran down to get everything ready to surprise her. Then I got ready and on the way to work I was walking toward the bus and realized I hadn't taken my photo. There was just nothing to do about it. I decided if I miss one in a year that ain't so bad.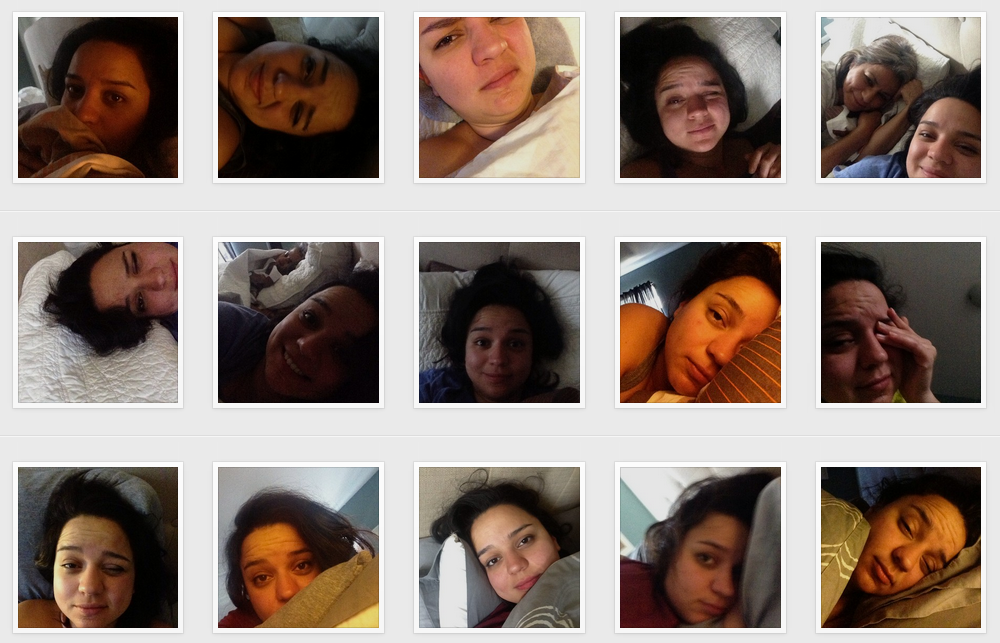 I would have missed 100 of them. I saw that your boyfriend was in a few of the photos. Did he like the project?
He did. He was very sweet to participate. We had started dating about half a year before the project and we're long distance, so it's kind of fun that is shows when we're in the same city. It's funny, I never did this to get likes, and I didn't think anyone would follow it—but the most popular photo was when my mom was visiting and she stayed in my bed. There's a photo of the two of us where she is sleeping. My boyfriend got kind of jealous because she got more likes. 
How much do you think this inspired Beyoncé's "I woke up like this" lyric?
This did exist before the album came out, I'm just saying. When the album did come and everyone was saying "I woke up like this," I was like, "Dammmmmit, what a great handle that would have been for Instagram." I can't change it now, but ah, Beyoncé! At least I did it before that came out; it gives me a little more credit. 
Is there anything you learned from the project or that you hope comes out of it?
Yes, there was a really cool thing that happened. My roommate from college Michelle works with This Little Bird, which focuses on education about self-confidence for young people. When she first started, she asked me if she could share the Instagram. I told her of course she could, but I couldn't imagine why she would want to for her purposes. I think it was great, she managed to make it very cool. I hadn't thought as much about it as much until she brought it up, but you know we have these young girls that are taking photos of themselves, young women that are trying to look their best. They're showing how much fun they're having if they're at a concert, and they're proving that they're "good," if that makes sense—that you're happy, having fun, have friends, and are cute. They kind of have this stigma attached to them. Michelle and I turned it to be like: Here's a woman doing selfies who is not trying to show that's she's beautiful or super-fun or cool, she's just trying to be really honest with them. It made me feel really good that I could be seen in that light. 
I dig it. Once the year is up, are you going to continue the project or just let it be what it is?
I think I'm just going to let it be what it is. It will just be for the year, and then I'll allow myself to be inspired by another project. 
Claire Linic is one half of the @WeFoughtAbout Twitter. The Awkward Phase, which will be published by Skyhorse in fall 2015, would love it if you sent in a photo or story celebrating your most awkward years. You can submit here. 
Photos via I Just Woke Up | Remix by Jason Reed