As if taking a cue from Texas A&M University's giant "maroon wall," organizers in Colorado enlisted the help of thousands of people via Facebook to form a human wall to keep out members of the Westboro Baptist Church who planned on protesting a vigil for the victims of the mass shooting at an Aurora, Colo. theater last Friday.
The event, which took place at the Aurora Municipal Center on Sunday, July 22, at 6:30pm, was organized by Debra Quintana. Quintana created a Facebook page entitled "Block [the] Westboro Baptist Church from protesting the Aurora, Co Memorial" after learning that members of the Church were planning on crashing the memorial service.
"According to multiple tweets," Quintana wrote, "Westboro Baptist Church is planning on picketing this memorial. While it's not on their official picket schedule…,I don't think we should risk it."
In addition to Facebook, people were asked to show up via Reddit. Redditor RKstarfox submitted a post to r/AskReddit called "So the Westboro Baptist Church is planning on picketing the Memorial for the victims of the Aurora shooting tomorrow. Who is coming with me to make a giant wall of people that will keep them from getting anywhere near it?" The submission garnered 5,435 comments.
The social media campaign seems to have worked, too. Examiner.com stated that over 10,000 people showed up. Members of the Westboro Baptist Church, according to commenters on the Facebook post, weren't amongst those 10,000.
That, however, hasn't stopped members of the Church from claiming that they were there. At 6:28pm yesterday, Twitter user @WBCSteve posted a photo that shows the Church's infamous "God Hates Fags" signs over 12 white crosses, along with the following tweet:
"#WBC protests Aurora memorials! God sent the shooter! Worse is coming against doomed USA! Fear God! Obey Him!"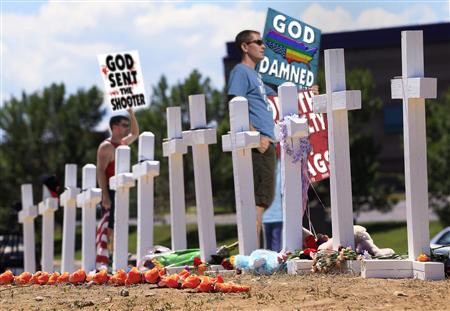 The legitimacy of the photograph was quickly debunked. Earlier today, Justin Lawson posted an image on the aforementioned Facebook page arguing that @WBCSteve's photo was Photoshopped. The picture shows a side-by-side comparison of a photograph taken by Reuters that shows the 12 white crosses and the uploaded photo that has members of the Church holding their signs superimposed onto the original image.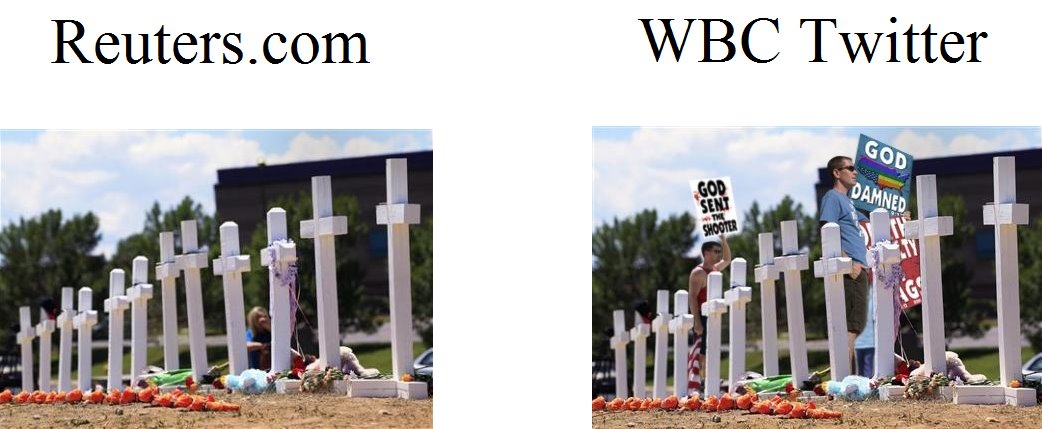 The Daily Dot reached out to Margie Phelps, a prominent member of the Westboro Baptist Church and daughter of founder Fred Phelps, for a comment via email. As of this writing, we have yet to receive a reply.
Photo via Twitter