Necessity begets innovation. Only days after the Philippines was devastated by the category-five typhoon Haiyan, hundreds of volunteers have begun building out digitals maps of damaged areas. There efforts, the Atlantic reported, will likely save lives.
Haiyan was one of the most powerful typhoons ever recorded. So far, there have been at least 1,700 confirmed deaths from the storm. It is estimated that that number may climb above 10,000 in the coming weeks.
Haiyan caused storm surges of 13 feet and wind gusts of up to 230 mph, erasing roads and leveling buildings in its path. Using, OpenStreetMap—the "Wikipedia of maps," as the Atlantic called it—more than 400 volunteers digitally traced this lost infrastructure in order to help rescue workers determine where houses and shops used to be.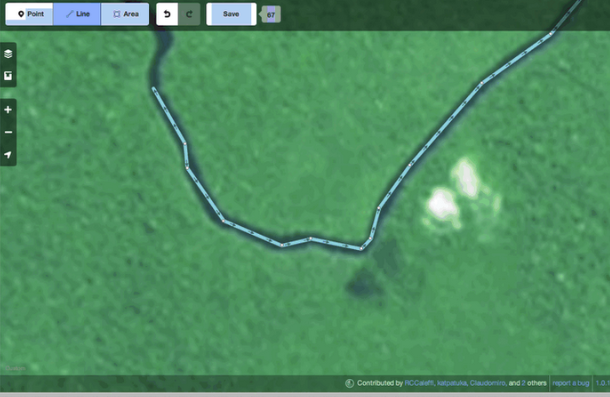 Screenshot via MapBox, a site that provides directions for those looking to join the mapping effort.
These "ghost buildings" tell rescuers on the ground where to search for survivors. In the past few days alone, volunteers have traced some 30,000 structures.
Many of these volunteers were correlated using Twitter by the Humanitarian OpenStreetMap Team. According to the team's press release, it is working in close coordination with the American Red Cross to organize its map building efforts.
As the Atlantic pointed out, similar, more loosely focused efforts to use OpenStreetMap was deployed after the earthquake in Haiti in 2010. However, these most current efforts used Twitter and open source mapping to directly incorporate online volunteers with on-the-ground search parties.
Over the past decade, online humanitarian organization has been increasingly deployed in protests, charities, and now rescue operations. Its effectiveness has been questioned—often with good reason—along the way. But the recent embrace of OpenStreetMap by volunteers and institutions alike reflects the world's growing willingness to embrace Internet technologies.
To join in the effort to map the Philippines, check out the tracing instructions at MapBox.
Photo via EU Humanitarian Aid and Civil Protection/Flickr