Since when do the living have a monopoly on romance? That's the assumption roundly rebuked by GhostSingles.com, a dating site geared toward a slightly more deceased demographic. Replete with profiles, a chat room, and an official Twitter account, it's also "100% free" and "the ONLY website dedicated to matching up those who have passed on."  
Here, ghosts can search for other ghosts by gender and whether they died "horribly," "mysteriously," "tragically," or "suddenly." Users tend to post an old grainy daguerreotype of themselves along with a little information about themselves, whom they're currently haunting, and what they miss most about having corporeal form. There's even a ghost-spam profile.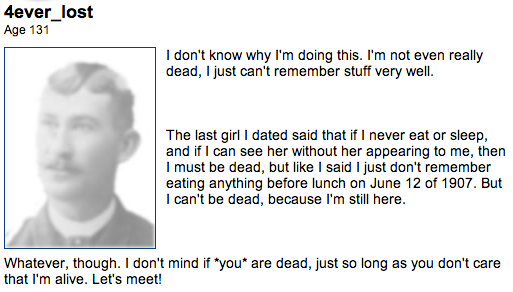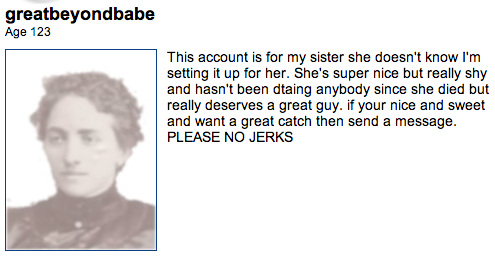 Those who wish to join will have to be willing to divulge both their heights (standing and floating), whether they have a "wispy" or more "ethereal" build, and if they were ever married—till death did them part, that is. (You can also just elect to make a spooky noise for this answer.)
But becoming a member at GhostSingles.com is not as simple as it looks: there's a rigorous screening process that weeds out anyone still breathing. Typing your name into the system directs you to this page. "You are not a ghost!" the application page will eventually inform you, while an insistent party will be told: "Sorry. You can't actually join GhostSingles.com. We were just kidding."
Even the chat room is fiercely guarded, what with the ghosts keenly aware of the presence of any intruding "mortal"—before you know it, the ghosts have taken control of your keyboard and monitor, projecting various haunting images. Other sorts of undead, including zombies and vampires, are similarly excluded, which makes this a very elite if not downright snobbish dating pool.
Yes, the only way to get into the mix is to hurry up and die. Still beats OkCupid!
H/T The Frisky | Photo by Troy/Flickr